The Ranch is located 7 miles from Cache Creek Casino. Within 30 mins from Clear Lake, 44 miles from Wilbur Springs and 1 mile from Full Belly Organic Farms. You'll love my place because of the Beautiful Capay Valleys rolling hills, 3 minute walk to Cache Creek on property. Our place is good for couples, solo adventurers, business travelers, artists and families (with kids) and dogs. Dogs are not allowed in the house. Their is a kennel and a dog house close to the studio. Organic Snacks available
We sit between two very beautiful mountains. Our summers can be super hot 105 or hotter, but the nights always cool down into the 60's. It starts to cool down in September and by October you'll need a coat. Here on the Ranch you can walk down to Cache Creek or even try your luck at fishing (requires fishing license) and go bike riding. You will see wild turkey's, deer, rabbits, squirrels and maybe even a skunk. Your children will love it up here. We're looking forward to your visit.
Full Belly Organic Farm half mile walking distance. Miles of walnut orchards all around the ranch.
We arrived a little early on the first day and Greg was kind enough to allow us to check in and get settled. His guest house was even better than the pictures show. It was very clean and had everything we needed for a quiet relaxing weekend. The property is amazing and there are many animals to befriend. Patches the dog was very welcoming and always had a smile for us. Saddles the goat followed me around the pasture and was very friendly. We were able to get a lot of writing and drawing done over the weekend as the ranch is an oasis. I look forward to visiting again. I highly recommend this little slice of heaven in Guinda.
Nicole
2016-10-02T00:00:00Z
From the moment we arrived it was clear Greg and Hannah's Guinda ranch was an oasis in the area. The thoughtfulness in decor, amenities and comfort was much appreciated. My kids and I enjoyed relaxing on the Ranch. The hospitality from Greg and Hannah was wonderful. This place is a hidden gem. I will defineitly be back.
Fatima
2016-09-05T00:00:00Z
Nice place to getaway! it is secluded and off the highway on a nice Little farm. Very secure place with a great host ! The casino down the road is cool and Greg says there is a some other farms and attractions around but we didn't have time to see them all. If you are into hiking or riding it's a great place to stay and explore cache creek natural area and maybe go up to stonyford.
Nathan
2016-11-17T00:00:00Z
This is an idyllic, very private country getaway. We loved waking up to the sounds of bleating goats and watching the dogs herd the goats. It's an ideal location for visitors to Cache Creek or Full Belly Farm, or for those looking for a quiet retreat. It would be perfect for writers or artists looking for inspiration. Greg and his wife are absolutely lovely people. They provided baskets of snacks and toiletries in case anything was forgotten, which was a nice touch. We loved our stay and would absolutely book again!
Amanda
2016-09-18T00:00:00Z
Greg was great. He is just getting his AirBnB going and it didn't have some of the kitchen stuff that I was hoping to use since I purchased groceries. I texted him and he gathered the supplies and dropped them off within 20 minutes. The stars at night are gorgeous, very relaxing place to stay and the dogs that I met were really sweet.
Amber
2016-10-08T00:00:00Z
Everything was great! Very cute, comfortable, and clean place to relax! We had a really nice time enjoying the creek, stunning property, and animals.
Margaux
2016-10-28T00:00:00Z
House was very clean and quaint. Greg was super chil,he and hus wife were very thoughtful. The nearby Creek and beautiful stars were our favorite Thanks
Brian
2016-09-25T00:00:00Z
This place is a great and quirky farm experience. It is just outside a very small town and near a giant casino, but the place itself is very bucolic. The hosts are really nice and very helpful with getting you there. There's a little creek, lots of trees, and beautiful land and hills.
Sarah
2016-12-31T00:00:00Z
Kamertype
Gehele woning/appartement
---
Type woning
Pension
---
Geschikt voor
2
---
Slaapkamers
Guinda, Californië, Verenigde Staten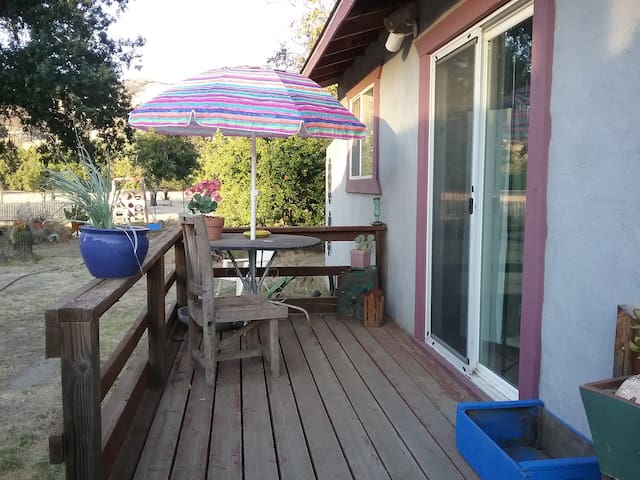 Great summer home on 20 acres tucked under the cottonwood trees. In addition to the house we also have a cottage with adjoining courtyard for entertaining that will hold up to 75 guests. Check us (EMAIL HIDDEN)
4 Bedroom house amid the cottonwood trees in Capay Valley. Full wrap around porch with cottage in the courtyard. Do long walks in the day and star gazing at night. 9 miles to Cache Creek. Next door to Full Belly Farms Full kitchen, bedroom, living room and dining room. Also 20 acres of beauty. Upon arrival. Full Belly is one neighbor. Stroll thru their orchards and go down the road to the lavender farm. No public transit pass Cache Creek Casino.
We have Full Belly Farm as our neighbor. Walk thru their orchards in the early morning and smell the fragrance of the organic vegetables and fruit. Go down the road and pick lavender; rafting as well as hiking right there.
Rented the house for our wedding at Full Belly Farm and everything was wonderful. The patio in the back was perfect for hosting our rehearsal dinner group, and it was so conveniently close to the farm. Sharisse was easy to communicate with whenever we had questions. Would definitely stay here again!
Leslie
2016-08-08T00:00:00Z
The host canceled this reservation 18 days before arrival. This is an automated posting.
Lindsey
2016-08-29T00:00:00Z
Kamertype
Privé Kamer
---
Type woning
Huis
---
Geschikt voor
8
---
Slaapkamers
Guinda, Californië, Verenigde Staten
Only an exceptional place can offer many pleasures of life and enjoyment of nature all in a day. Breathing the freshest air in California, waking up to the sound of birds singing in the rhythm of water gently tapping the shore. On the deck for a sip of local wine, from the vineyard of Lake County, while you watching the magnificent sunset behind the unforgettable Mt Konocti. Gazing at the navy blue hue and the silver sparkle of the moonlight on the lake before bidding everyone goodnight..
Second floor apartment right on the water, close to the city center, park, shopping center, bars,restaurants ,hospital, police station and post office. Its a lake front property with private deck, ambiance and privacy. Perfect for vacation or overnight stay, equipped with all new appliances for you to feel at home. Bedroom has comfortable king bed with private bathroom and the living room may host your guests.
Our stay was wonderful! Ben provided the information needed to enter the property in a timely manner. The space was clean and as described. There were beautiful views of the lake and an amazingly clear sky to see the stars. The housekeeping staff and other residents were very sweet and helpful. Although located right on the water, swimming seemed limited on this side of the lake. We drove to Clearlake state park and went for a swim. I would happily recommend Ben's space to other travelers :)
Sara
2016-08-01T00:00:00Z
Me and my parents stayed at Ben's lovely place for 2 nights and loved every minute of it! I definitely love to come back at stay at this amazingly sweet condo :)
va
2016-10-16T00:00:00Z
We stayed a week Ben was good with communication before we arrived and although we didn't actually meet him he let me know the housekeepers were there and then contacted me to see if we met them and got checked in ok. The housekeepers were very nice and helpful and the neighbors were friendly. The apt was clean, comfortable, and quiet it was a nice size for the three of us. The view was gorgeous and there was a nice cool breeze most of the time we only used the a.c. once. I would definitely stay here again given the chance.
Stephanie
2016-07-26T00:00:00Z
We enjoyed our 2 night stay at Be's place right on the water. Great view of sunsets and Clearlake. We spent most of our time out and about at hot springs and wine tasting, so the place was perfect for cooking dinners, relaxing in the evening and enjoying the view.
Ken
2017-02-12T00:00:00Z
This simple little apartment is well worth the price as the main feature is the breathtaking view of the lake and volcano! We looked up the geographical history, very interesting. The sunsets are glorious! Every few moments the light changes. I took tons of photos. Ben was attentive and kind. We'll be back!
Elizabeth
2016-12-03T00:00:00Z
No TV in apartment. During the off season did not feel it is the safest area in town. Does have a beautiful view & Ben keeps it clean.
Sharon
2017-02-19T00:00:00Z
Ben and Shakila were very accommodating.
Laura
2016-11-05T00:00:00Z
Ben was so responsive and easy to coordinate with! The place was comfy and safe, with everything we needed.
Catherine
2016-10-23T00:00:00Z
Kamertype
Gehele woning/appartement
---
Type woning
Appartement
---
Geschikt voor
3
---
Slaapkamers
Clearlake, Californië, Verenigde Staten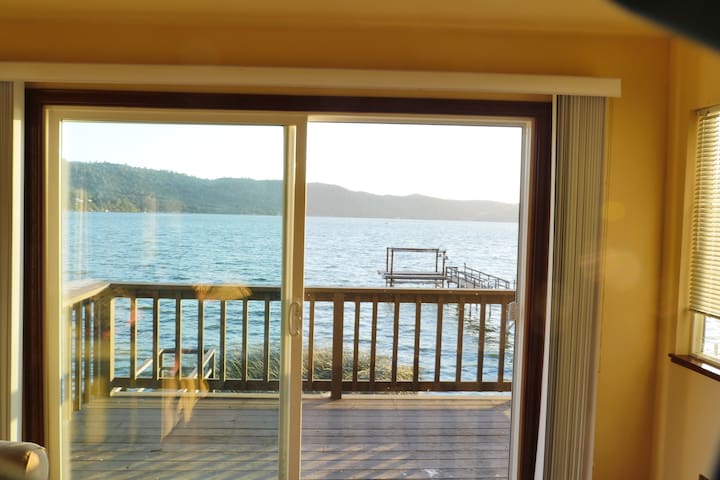 Adventure on your own or with a couple of friends. We have remodeled this house to maximize our joy and serenity when here. Everything about this 60's era lake getaway makes us smile and we hope it makes you smile too. From our sunlit rooms to the starry nights on the patio this is a great getaway. Right on the lake and just miles from almost 40 wineries, hiking, and more. Items may vary from the picture since we are constantly making additions and renovations.
This house has a little bit of everything. We adore our little getaway and we strive to make it as stress-free and inviting as possible. This merry home is just minutes from town and sits in a quiet neighborhood in a relaxing fish filled Cove. Everything you need for a fantastic adventure is provided at the house. Lifejackets and paddle boards are available upon request. The game room has a television, Nintendo Wii (with garage band!), vintage bumper pool table, darts, and a pinball machine. Master bedroom includes a queen size bed and master bath with clawfoot soaking tub. The sitting room converts into a large second bedroom and the living room has a futon couch for additional sleeping. When headed outside there is a charcoal barbecue available on the side of the house. Numerous comfortable chairs for lounging in outdoors and a portable Hammock for my evening nap by the fire pit. An outdoor shower area also allows you to rinse off as soon as you get out of the lake. The only room that is not available is the wet room where we keep our personal storage. The interior of the house is entirely rebuilt and remodeled. We are continuing to work on the exterior of the house throughout the year. Expect there to usually be a small lumber pile on the side of the house for work currently underway. No work will be done during your visit.
Very quiet neighborhood and an amazing little fishing cove. Houses on both sides are vacation homes but please be respectful of neighborhood.
Kamertype
Gehele woning/appartement
---
Type woning
Huis
---
Geschikt voor
4
---
Slaapkamers
Clearlake, Californië, Verenigde Staten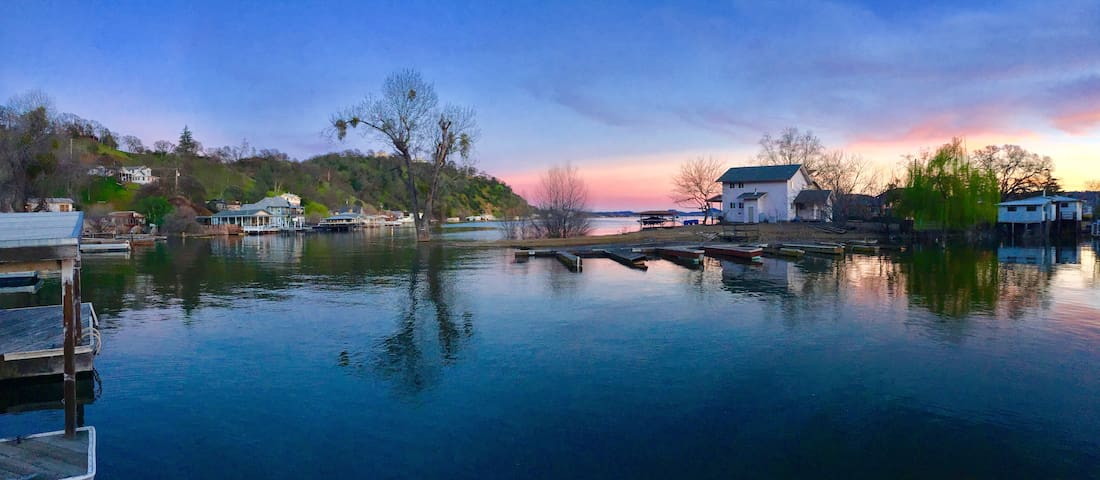 Our home is located on the lake with a private beach and amazing views. There is a lot of outdoor space to enjoy the lake, and the house is appointed with everything you could need to enjoy your stay. While modernizing the infrastructure, we have intentionally left the decor as it would have been when we were kids. Just bring your clothes and food, & be ready to relax, enjoy the quiet and take a step back in time.
The locating was great and overall a decent cottage. The only concern we had was with the second bedroom having ant/bug problem and bunk beds(should be explicitly mentioned on the listing description). Adding pictures of bedrooms will help guest to have right expectations.
Ashwath
2017-02-26T00:00:00Z
Absolutely wonderful! Could not get enough of the view. You're right on the lake from the comfort of the coziest living room.
Erika
2017-03-05T00:00:00Z
A dream of a vacation home! I walked in and everything is boat themed! It is such a comfortable place to relax and enjoy the lake. The big windows look right onto the water and every space in the house is warm and welcoming. Can't wait to go back!
Greg
2017-02-19T00:00:00Z
The first thing you notice as you enter the home is the beautiful view across the lake to the hills beyond, we were taken back by how stunnning the scenery is. Loved the rustic decor and comfortable seating - lots of areas to sit outside too, even right down by the lake. It was a bit chilly over the weekend - so being able to use the wood burning stove was fantastic. It was so peaceful and serene, we couldn't wait to return to the cabin after a day of exploring nearby wine regions. Kitchen and all facilities were great, very spacious and well equipped - we are already looking forward to visiting in the summer!
Daniel and Helena
2017-03-26T00:00:00Z
We loved our stay at the Lake House. The views were awesome and the accommodations super cozy. The retro style added to the charm. We recommend going on a walk and taking one of the long dirt roads before sunset. There was a super quiet and peaceful winter vibe, but this house and the lake must be a lot of fun in the summer.
Kate
2016-12-26T00:00:00Z
Susan is super friendly, easy-to-communicate host. The lodging was speechless especially with respect to the location. Can enjoy a sunset over the lake in the living room and the lakefront view is astonishing. Though not being fancy, upscale house, this lodging is neat, cozy and well-maintained. So don't worry about the condition even if only few pictures are shown. I and my family spent unforgettable holiday here and hope to stay again!
Tj
2016-11-24T00:00:00Z
Kamertype
Gehele woning/appartement
---
Type woning
Huis
---
Geschikt voor
4
---
Slaapkamers
Clearlake, Californië, Verenigde Staten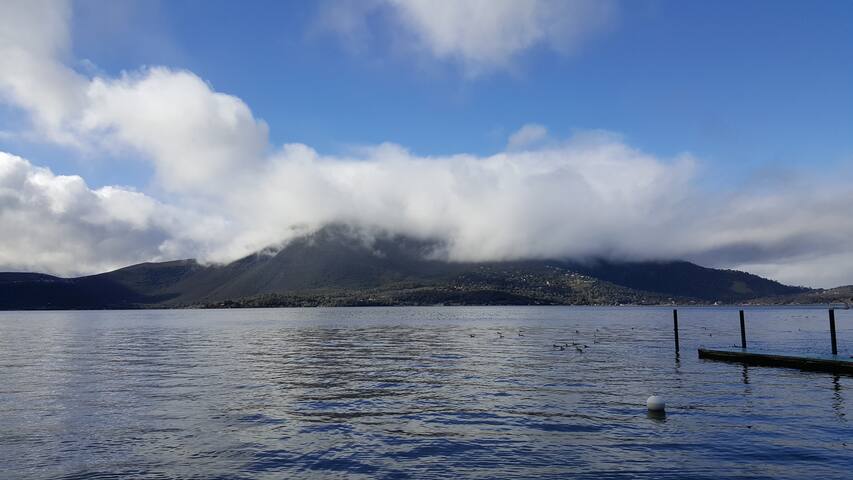 Enjoy 400 feet of gorgeous lakefront with expansive lakeside lawns, 2 beaches and a breakwater sheltering a private bay and dock. Great swimming, boating, fishing and birdwatching. Sleeps 15 with cots on sleeping porch. Great for families.
There are two types of lakefront properties - houses on lakes and lake houses. Houses on lakes are great for beautiful water views and vistas and barbecues and cocktails, but are more about looking at the lake than using the lake. Lake houses are built around using and interacting with the lake in as many ways possible. This property has been in the family for 45 years and is a true 'Lakehouse'. Our family of 7 grew up spending summers here swimming, sailing, windsurfing, watersking, fishing and rowing. We do have unmatched views of the lake, including Rattlesnake Island and sunsets framed by the Buckingham narrows, but much of the magic comes from the beaches, lakeside lawns, breakwater, private bay and protected dock that let you directly experience the lake in many ways.
Paul was a great host to eight fisherman!! The house is beautiful and very spacious. We caught many fish and had a great time on the water. I hope to bring my family back to enjoy. Thanks again!
Beto
2016-05-16T00:00:00Z
Great hiking around the Lake House! Saw a Bald Eagle. The fire place and boat house game room were really fun. Bring a boat, the lake is beautiful in the winter. Our group of 12 had a epic birthday celebration.
Tim
2017-02-20T00:00:00Z
This house was perfect for our group. 15 people slept easy not even using all the cots. We were able to keep 5 boats in the water all weekend great location out of the wind. I will be using this same place again for sure! Booked the place a couple months in advance and the hosts kept in touch very well making it easy to ask questions and very quick to get back to me.
Malcom
2016-04-10T00:00:00Z
Paul's place was inexpensive and right on the water. Very family-friendly and packed with fun in the sun. The comfortable cots in the back room are tight with a full house, but you can make a little extra room by sleeping outside (there are no bugs that bite in this area). The boat house in the back allowed the adults to stay up late and do karaoke without waking the kids and early risers in the main house. We had a great weekend at Paul's lake house and would love to come back next year.
Mike
2016-06-27T00:00:00Z
Enjoyed our stay. Nothing fancy and very private. Boathouse has a ping pong table
Lior
2016-11-20T00:00:00Z
Awesome place
Nathan
2017-03-05T00:00:00Z
Great location for skiing for the summer with large family
Brent
2017-03-29T00:00:00Z
My family and I had an awesome weekend. Paul was very quick to respond to any of our emails. When I arrived at the lakehouse everything was just as described. If your into fishing like I am this place was amazing!!! Not only did it kept me busy, but my wife was also content. She had everything needed to prepare our meal in the kitchen. Our kids were also kept entertained with the board games and projector screen was a plus!! I would definitely recommend this place. Thanks so much Paul
Sophal
2016-06-13T00:00:00Z
Kamertype
Gehele woning/appartement
---
Type woning
Huis
---
Geschikt voor
15
---
Slaapkamers
Clearlake, Californië, Verenigde Staten
Located in the charming town of Colusa CA, a short stroll from the Sacramento River and near the refuges in the Sacramento National Wildlife Refuge complex and Grey Lodge. Perfect for bird watchers, and anyone who enjoys the relaxed pace of small-town life. Walk to restaurants, original one-screen movie theater, explore historic neighborhoods and the 1860s courthouse, setting for movie To Kill a Mockingbird. Jay House has two bedrooms and can accommodate up to 9 people comfortably. The kitchen is fully furnished and all linens are provided. We also offer free WIFI. And Jay House is DOG FRIENDLY! Colusa is the seat of Colusa County and is 100 miles NE of Santa Rosa. The most direct route is also the prettiest, through Middletown to Hwy 20. Or take I-5, exit at Williams.
If you have reason to visit Colusa as we did for birding, the Jay House is a good value with all the amenities one could need. It is a fully equipped little house. Connie is excellent about returning communications and answering questions. Colusa is a typical small San Joaquin Valley town, its charm in the small town feel, leafy trees lining the streets, and old, cottage style houses. The Jay House's proximity to major birding refuges is an outstanding draw.
Kris
2016-10-03T00:00:00Z
Though it was a brief visit and we did not have time to take in all of the sites we had a thoroughly relaxing time. The home is very comfy, has all the amenities you could want, and the quality of items for the guest's use - from the soaps & shampoo to the Fair Trade organic coffee, shows that Connie treats her guests as she would treat herself. We also appreciated the thoroughness of the guest information binder which included very detailed information on the property, as well as directions, menus' maps - +++. From Connie's instant response to the cleanliness and pet friendly atmosphere, we would definitely recommend the Jay House!
Hank
2015-06-15T00:00:00Z
We had a nice little getaway at this lovely and cute house. So happy that our dog liked it too and just a short walk to the nice river, we had a great time. I wish we had time to stay longer and enjoy it a little more . I love that stove looks like an original from the 50's. We hope to return again and spend more days, great first Airbnb experience!
Ricky
2014-09-02T00:00:00Z
Our stay was short but the house was very nice, lots of space and good facilities. It slept five of us very comfortably. We booked very last minute and Connie got the place turned around for us very quickly. Thanks!
Tobi
2016-10-12T00:00:00Z
This is the most central location you can get for birding the winter migration at the various national and state wildlife refuges. Many people stay in Chico because there aren't any hotels in the Colusa area. Jay House changes all that, and Connie's place is geared toward birdwatching. Her info binder provides detailed information about all the local wildlife and birding areas as well as menus from the restaurants in town (we recommend Birriera Michoacán and Don Habaneros). Connie even provides bird seed for her outdoor feeders and has resident barn owls in a nesting box in a tree in her yard. Jay House is a cute, nicely painted vintage craftsman bungalow with wood molding, comfortable furniture, a soothing color scheme, and nice daytime light. The heating and air systems looked brand new and worked like a charm. The house was set at a perfect temperature for us; we never had to touch it after testing that it functioned. While we were only two, the house can comfortably sleep 5 individuals--7 if the group included two couples who could share the two queen beds. The bathrooms could get a little tight for a larger group, as the second bathroom is on the enclosed back laundry room, which is cold in the winter. Furniture and kitchen appliances are basic and unfussy, but cozy and comfortable. Some light bulbs were burned out or missing--especially in front entry. It was confusing to figure out which light switches did what, and some appeared to do nothing. There almost no condiments or other provisions, and appliances are sparse. You'll need to pla ahead and bring your own--other than blender, toaster, and coffee maker. She does have a microwave and a full sized fridge/freezer with pre-made ice. We brought our own coffee, but Connie provides a separate high-quality blend and asks $1 per pot on the honor system. So, at the end of the day, the place is a little quirky as old houses often become, but it has a really nice "feel" to it in the main open floor living space. It's whisper quiet at night despite the central location, and its hard not to just curl up and read or write all weekend. It's THAT place where nature people can kick off their gear and warm up next to the little electric fire with a cup of cocoa in hand. Technology infrastructure is provided with good wifi, many outlets, and a flatscreen TV with cable and a DVD player. Connie provides excellent instructions about how to use everything. One tip, though: For DVD, TV needs to be set to AV2, not AV1 as the directions state (or I may have these reversed...but it is definitely the opposite of what is in the directions. The old cooking stove, while pretty, is, truth be told, a bit of a pain. Looking in the guest book, it appears to have a long history of partial breakdowns. Connie diligently warned us a few days beforehand that the oven...
Julie
2017-01-22T00:00:00Z
Lovely home spacious and cozy all at once. Clean and has everything you can think of. Close to beautiful Sacramento River and wildlife reserve-walking distance! Beautiful neighborhood-slept like a rock it was so quiet! I'll definitely be staying here again!
Kristina
2016-11-25T00:00:00Z
We immensely enjoyed our stay at the Jay House. The interior is spacious, the back yard is pleasant, and good food is within walking distance. It is a great location for exploring Colusa and the river.
Stephen
2015-07-06T00:00:00Z
Jay House was a real delight! All the amenities, very cutely designed inside, and clean & green. Great place for the road weary traveler or the nature lover. Colusa is just the right speed, and everyone in town was very friendly. Would gladly stay there again.
Jillian
2013-10-22T00:00:00Z
Kamertype
Gehele woning/appartement
---
Type woning
Huis
---
Geschikt voor
9
---
Slaapkamers
Colusa, Californië, Verenigde Staten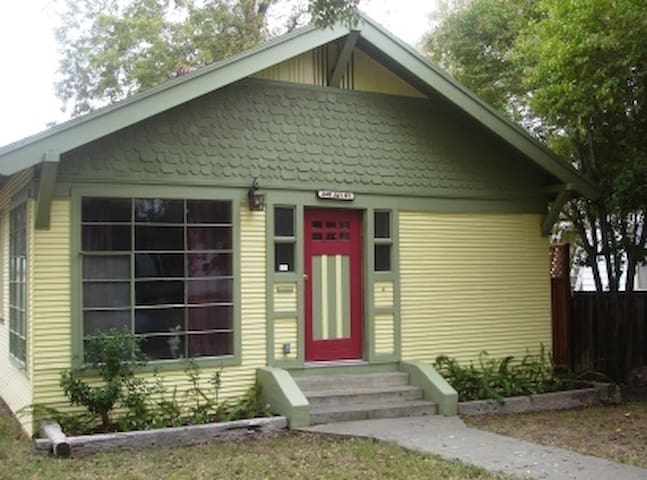 This house is located in a very private area on a private road. It is right on the water. This house is nothing fancy but can accommodate a lot of people. It is a wonderful place for families to get together and make memories. Multi-generational. This house is a complete getaway. It is away from town and the roads are windy and the house is down a dirt road.
In my childhood my grandfather had a cabin on a lake. It was not fancy but everyone had a bed and everyone was welcome. I have memories of swimming all day doing puzzles and cards at night. I wanted to recreate my childhood with this house, I hope that you and your family will create memories at our lake house on Clearlake
Our neighborhood has only 5 houses on our street. We are at the end of a dirt road. It is a complete get away. Fun Facts There's a lot to learn about Lake County – the clean air, Clear Lake, Mt. Konocti, historic hot springs, resorts, and more. Here's a few of the fun facts about the area: Lake County has the cleanest air in California as certified by the State's Air Resource's Board and an abundance of spring water; there are several bottled water companies in Lake County. Located midway between the Pacific Coast and the Central Valley, Lake County rarely experiences coastal or valley fog. This translates into lots of sunshine. In fact, Lake County sees, on average, approximately 265 days of clear or partly clear skies, with an approximate annual average of 78% of possible sunshine. Clear Lake, estimated at 2.5 million years old, is thought to be the oldest lake in North America — and quite possibly the world. Clear Lake is the largest natural freshwater lake in California, with 63 square miles of surface area, and more than 100 miles of shoreline. Average depth is 28 feet. Water temperature averages 61º F and varies from 48º F in the winter to 75º F in the summer. Clear Lake may hold more fish per acre than any other lake in the country. Downed trees, tules, water grasses, and piers provide ideal habitat for sport fish such as bass, crappie, bluegill, and catfish. Native fish include blackfish, Sacramento perch, tule perch, and hitch. Clear Lake has been coined the "Bass Capital of the West" by numerous fishing organizations and pros, and ESPN has rated Clear Lake as the #2 bass fishing lake in the world. First Lady Ladybird Johnson visited Lake County to see the wildflowers at what is now Langtry Estate & Vineyards. North America's only species of eagles — bald eagles and golden eagles — come to Lake County to nest each year. Clear Lake is a eutrophic, "well-fed" lake. For centuries, it was known as "Lypoyomi" — Pomo for "big water" — until nicknamed "Clear Lake" by European settlers. According to an 1877 article in the San Francisco Post, the lake's name reflects the region's clear air — still the cleanest air in the state of California. Between 100,000 and 600,000 years ago, Mt. Konocti formed slowly in several eruptive episodes. Volcanic ash spewed during an eruption of Mount Konocti has been found and identified nearly 3,000 miles away in the state of New York. In 1854, Mt. Konocti was briefly called "Uncle Sam Mountain" by European settlers. Mt. Konocti is sacred to local Indian tribes and is visible from almost anywhere on Clear Lake. In the early 20th century, natural mineral springs became immensely popular, drawing hundreds of thousands of visitors from around the globe to "take the waters." Huge resort complexes were built, and enjoying wide fame were Bartlett Springs, Soda Bay Springs, Seigler Springs, Anderson Springs, and Adams Springs. Many of these grand resorts were destroyed by fire, and most were not rebuilt. Today, Harbin Hot Springs remains in operation, offering guests hot and cold pools, rustic lodging, classes, and even "watsu" massage, all in a clothing-optional setting. Lake County is part of the world's foremost geothermal resource areas. Since the late 1950s, geothermal development has grown significantly in the area known as "The Geysers" in the Mayacmas Mountains near the Cobb Mountain area. The magma body responsible for the steam fields is associated with volcanic activity, which began in the Clear Lake area one million years ago. The Geysers were known as an area of hissing fumaroles and boiling springs in the late 1840s and by the end of the 19th century had become nationally known for its hot springs resorts and health spas. Today, the Geysers is the largest complex of geothermal power plants in the world with 19 units in operation, fueled by more than 350 steam wells, which generates approximately 750 megawatts of clean, renewable baseload electricity. The Calpine Geothermal Visitor Center, located in Middletown, gives visitors an opportunity to learn how electricity is made using geothermal steam, a clean, renewable energy source. "Lake County diamonds," also called "moon tears," are semi-precious stones of volcanic origin found nowhere else in the world. While not equal in hardness to real diamonds (rated 7.5 to 8 compared to a diamond's 10 rating), Lake County diamonds have been used commercially and are capable of cutting glass. They are highly prized by collectors and can be faceted and polished to make beautiful jewelry, nearly as brilliant as real diamonds. According to one local tribe's legend, a Pomo Indian chieftain and the moon fell in love. The moon could not stay with the chieftain because she was needed by the people to light the night sky and mark the seasons. She was so sad to leave the chieftain that she wept "moon tears." Four thousand years before the rise of Egyptian civilization, Pomo Indians were hunting, fishing, and collecting plant foods on the shores of Clear Lake. The lake yielded an abundance of fish, as well as tule reeds from which the Pomos made baskets, clothing, boats, dwellings, and household items. Today, Pomo baskets are widely admired throughout the West. Lake County is the largest supplier of premium fresh pears in California. Since the first commercial Bartlett orchard was planted in the late 1880s, buyers have chosen Lake County pears. This reputation began in 1885 when Lake County Bartletts were exhibited at the New Orleans World's Fair. Tule elk have returned to their native range in Lake County after an absence of more than 100 years. A herd was recently released near the Cache Creek Basin Recreational Area east of Clear Lake on Highway 20. These magnificent animals were bred in Bakersfield and are being released here to bring back the natural population. Tule elk are native to California (and Lake County) and are not seen anywhere else in the world.
Wonderful cozy house on the lake with everything a family could need. We loved our stay! Beautiful spot, and helpful gracious host. We hope to be back in the future!
Lonnie
2015-10-25T00:00:00Z
The house was very spacious and comfortable. The lake was very pretty and just the right size for boating . The town had some restaurants that we really enjoyed.
Andrew
2016-08-15T00:00:00Z
The lake cabin was a wonderful getaway for our group. Clean, simple, and lots of beds. Posting is very accurate but the layout was a bit confusing as explained. Several of the twin beds are in shared space that require passing through other bedrooms to access. It is definitely meant for big happy family and not privacy. The views of the lake are spectacular! Do follow all her rules about max number of people and cars as we had difficulty fitting just 4 cars in her drive space (but the neighbor was very nice!). And if your the sort to get car sick be prepared for the windy drive in. We all loved the accommodations. Thanks for welcoming us into your home. We hope to visit again.
Lauren
2016-05-23T00:00:00Z
We had a wonderful time at Michele's Clearlake house over Memorial Day weekend! Plenty of sleeping room, and was actually roomier than it looked in the pictures. The house was nice and clean, and things were perfect for a Lake House -- comfortable, but not so fancy that we were worried about normal kid activity. There were two paddleboats we could use that the kids completely enjoyed, and great access to the water. We also had a perfect weather weekend and the water was perfect! Michele was responsible to all of our questions. We will definitely come back!
Rebecca
2016-06-01T00:00:00Z
My family, friends, and I had a great time. Michele was a great host and was available every time I needed to reach out to her. The location was a little confusing to get to but the overall property and amenities were just what we were looking for. I would be more than happy to stay here again in the future. I hope to make this an annual trip. thanks Michele! Jaimmie
Jaimmie
2016-09-06T00:00:00Z
Michele was a wonderful host to us. She was very prompt during the reservation process. She gave us clear directions of location as it can be a little difficult to find the place after sunset. We could reach her at all times which was great! Also, Michele was very kind to arrange portable heaters in all rooms after we suggested that it would be cold due to winter days. Though our stay was good and comfortable I would recommend to visit this place mostly in summer or on warmer days as we were cold at night! The place is wonderfully located and maintained well with limited ammenities. We had a great experience overall!
Bilwa
2016-01-02T00:00:00Z
We had a group of 10 stay here, including two kids. The Good: - Dock and whole outdoor area is nice. Has good spots for both shade and sun. Good for stargazing at night. - Being so close to the water was great. We went swimming a lot. - Good amount of outdoor seating. We ate all our meals outside. - Beautiful scenery, views of the mountains and lake. - Pedal boats were nice to have. You'll probably also want float toys. - Kitchen was adequately stocked. If you're picky about such things, bring your own knives. The Bad: - Sleeping areas can be very warm. When it's 90 during the day, the swamp cooler, while appreciated, doesn't do enough to cool some of the sleeping areas, especially the sleeping porch. Fans are provided, but you may want to bring more. - The water worked inconsistently, eventually working once Pat came to fix it. - The blender didn't work, which nixed our Piña Colada plans. Overall we had a nice weekend. Thanks, Michelle, for letting us stay in your home!
Brian
2016-07-05T00:00:00Z
We loved the place, it's simple, roomy, clean and comfortable, amply met our needs. Michele was very available to us and she gave us detail directions to the place, no one got lost. everybody had a great time. Loved the deck and dock,kids had a great time in the water. It has everything you need in kitchen and plenty of linens. The first day we had an issue with the water (pump went out) we contacted Michele and it was immidiately addressed after that the water supply was a 100 times better. You can't drink the water or make coffee with it but Michele provided us with more bottled water than we could use. We all want to return next time we have a family vacation. Thank you Michele
Maria
2016-06-14T00:00:00Z
Kamertype
Gehele woning/appartement
---
Type woning
Huis
---
Geschikt voor
12
---
Slaapkamers
Clearlake, Californië, Verenigde Staten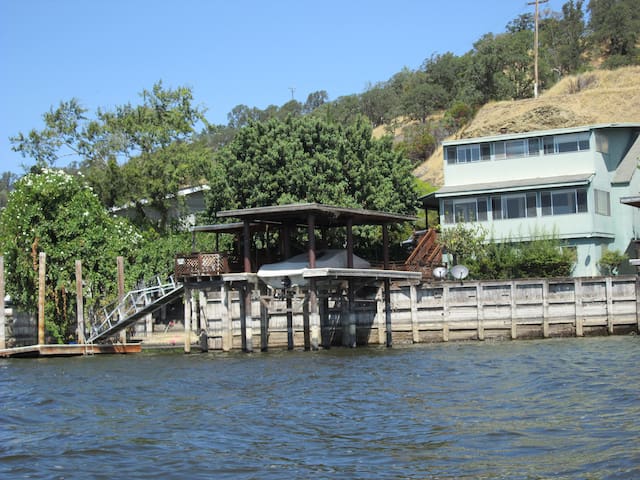 With Mt Konocti, looming on the horizon, the apt. is a beautiful stay for all and is a lake lover dream, romantic retreat. It's a lake front, with communal deck to enjoy the sunset on the lake everyday!
Nice price nice house! Enjoy your staying everyone! :D
Little
2017-03-12T00:00:00Z
Ben's place has a gorgeous view of the lake, especially during sunsets! Our stay was quite comfortable and peaceful. The only thing we were not aware of was how limited the dining selection was in the surrounding area. However, the apartment itself was great and had everything we needed.
Melissa
2016-12-23T00:00:00Z
We enjoyed the outside area the most it's right on the lake.
Denise
2017-03-13T00:00:00Z
Ben's place is cheap and there is good reason for it. Upon arriving at the apartment, there is parking in front and you enter through an unlocked metal gate. The unit itself is a little studio and is not attached to any other units on the sides or above. You retrieve your keys through a key holder that hangs on the doorknob. This key holder was cumbersome whenever I had to close the door because it would always get in the way. Once inside, there is a dining table next to the windows as shown in the photos, and a kitchen. I didn't cook anything so I can't comment on how those appliances are. The bathroom is tiny. The sink is located right in front of the toilet, so if you were sitting and happened to bend forward slightly, your head would hit the sink. The shower is standing only, which doesn't matter to me, but others may be picky. Two pairs of towels are included (face and body towels) as well as toilet paper and handsoap. Shampoo and bodywash are not provided. The bed is a queen size and comes with an assortment of pillows and blankets. There is also a couch with two pillows provided as well. There is a closet in the far corner of the room with hangers for your clothes. ONTO THE BAD: There were bugs everywhere! I'm not sure when the last time this room was used, but it seemed like bugs were coming from all directions! While I was on my computer in bed, there was some grasshopper type thing that jumped from my bed and onto the floor and I killed it. Other times, there were large ants that crawled on the bed and I think I killed at least five of them over my two-night stay. Then when I was sitting on my bed and tying my shoes, a spider ran across the wooden floor! There are spiders in the top corners of the bathroom as well... The wifi crapped out on me after I had used it for an hour. The connection was also quite weak when I did have wifi, which makes me doubt that the router was in the room. I think Ben also has another room located directly in front of this one and the router is located in there. There is also no TV in this place, so I was out of luck on things to do when the wifi was out. Lastly, the town of Clearlake is downright sketchy. Druggies everywhere! I was outside at 6:30 AM and it was a chilly 35 degrees, sure enough a druggie was walking down the street talking to himself. Thank goodness he didn't approach me. I'm sorry, but Clearlake is definitely not the town for me.
Minh
2017-03-03T00:00:00Z
This is a good waterside location at Clearlake but budget accommodation with very small private bathroom and kitchen/dining area...best feature is view of Clearlake
Richard
2017-03-15T00:00:00Z
I made a mixup at arrival, so we ended in unit 8 instead of unit 6. They're both right beside and facing outwards to the lake - but unit 8 is bigger and has 2 terraces. So we ended up staying put in unit 8 and paying 18$ extra pr night. Unit 8 has - besides the best view (because it's on the upper floor) - a full kitchen with freezer, dbl fridge and dishwasher. Nice and very comfy firm bed. Living room that seats 4 and a great sofa in front of the sliding doors. There's mosquito netting (new) in front of all windows and doors, but none around to keep out. The sunsets are awesome - and right in front to enjoy. We had access to washer and dryer (1$ each) on the premises and the nicest neighbor underneath to tell us about everything. In the summer we would he enoyed the bbq under the big shady oaktree and the boatdeck out in the water. Would really recommend this lovely spot to everyone <3
Meggie
2017-02-27T00:00:00Z
Ben was a great host and a great place right on the lake!
Haran
2016-12-18T00:00:00Z
Ben's place is great. It has your basic set up for a nice lakefront trip. The place is in a small apartment building with 8-9 units. Some of the units have permanent residents and they are all very nice people.
celia
2017-03-08T00:00:00Z
Kamertype
Gehele woning/appartement
---
Type woning
Appartement
---
Geschikt voor
2
---
Slaapkamers
Clearlake, Californië, Verenigde Staten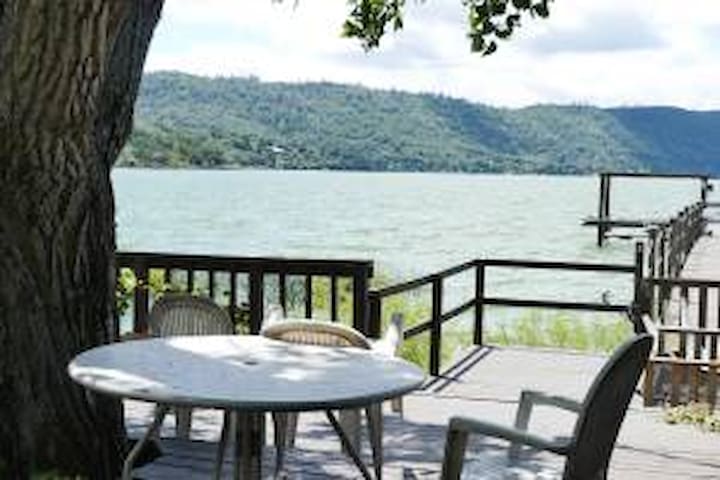 Approx. 900sq. ft. cottage set on nearly 4 acres. Recently renovated with new kitchen and bath. Tile and wood floors and stone fireplace. Queen bed in bedroom, futon and large sofa in living room. Owners live on premises at discreet distance.
We are close to public boat launch and restaurants. We provide ample parking and a secure, well-lit location. If you need any assistance, we live on the same property.
Ours is a neighborhood of small one-family homes. Our property is the largest on the street. We are near Redbud Park, the public boat launch, and restaurants.
Mitch & Patricia are the sweetest and nicest hosts. They are always available and here to help with anything. Their house is charming. Very nice decor and we loved that they provide a very nice breakfast.
Cecile
2016-08-15T00:00:00Z
Mitch and Trish were absolutely wonderful hosts to us while we stayed the weekend in Clearlake! The cottage was absolutely perfect for the two of us, and we especially enjoyed the breakfast and coffee available in the kitchen for us to brew up. Both days were wonderful. The advice to drive around the lake and go through the vineyards was picturesque! I can't wait till we return, hopefully the cottage will be available!
Lalena
2015-08-24T00:00:00Z
We had put in a long drive that day and were ready to collapse, so it was with relief that Mitch was there to greet us and hand us the keys. His cottage is a beautifully restored '20s vintage small home with appropriate upgrades to make it charming and comfortable. The "library" would be reason enough to stay several days!
Bill
2016-10-01T00:00:00Z
Mitch was a wonderful host. The cottage was a wonderful space for 2 of us, and would easily be great for 4. If you're traveling through Clear Lake, or anywhere close by, I cannot recommend this space enough.
Jon
2015-07-03T00:00:00Z
The cottage was charming filled with beautiful art a, books, t& reasures from around the World. It is set in a location of beautifully tended gardens, trees, and many birds. The hosts were delightful and made me feel welcome and pampered. Everything was lovely and I wouldn't hesitate to recommend this location to anyone. Thank you Mitch and Trish(URL HIDDEN)
Judy
2016-10-09T00:00:00Z
Mitch and Trish were fabulous!! The cottage is even cuter than the photos. My kids loved all of the snacks the owners provided! My kids also enjoyed the tree swing in the backyard! We had a great experience and we look forward to coming back next year!
Lorena
2016-08-07T00:00:00Z
We stayed at Mitch's Cottage last weekend on the spur of the moment. Mitch was lovely and accommodating but gave all the space we needed. The cottage is homey and full of warm energy. We lit a fire and kept the phones off. Exactly what we needed for our short getaway!
Nick
2016-10-02T00:00:00Z
The cottage was perfect, every detail thought through. It's spacious, has a great living room with fireplace, and relaxing backyard complete with a porch and tree swing. The fridge was stocked for breakfast, the bathroom fully loaded with toiletries, and the front table with a spread of Clearlake brochures. The lake is beautiful and there are plenty of outdoor activities in the area. Mitch was responsive, kind and welcoming. I loved it and would absolutely stay here again!
Lindsey
2016-08-29T00:00:00Z
Kamertype
Gehele woning/appartement
---
Type woning
Bungalow
---
Geschikt voor
4
---
Slaapkamers
Clearlake, Californië, Verenigde Staten
Property Description: This home sleeps 6 people. It has a sleeping loft with Queen, King and a twin. There is a fold out couch downstairs. It is a newly constructed home, with granite kitchen, and upgraded appliances in kitchen.
Property Description: This home sleeps 6-8 people. It has a sleeping loft with Queen, King and a twin. There is a fold out couch downstairs. It is a newly constructed home, with granite kitchen, and upgraded appliances in kitchen. Lakefront Home overlooking Konocti New dock and deck You will have access to entire home - private beach, private dock, dock ladder, wifi, cable and more. We live off site and may not be there to greet you or assist you in person, but we are always available by text, email or phone. The caretaker will assist you as needed. It is a quiet neighborhood. Parking is available.
It is a quiet neighborhood. Parking is available but limited to three.
Yasmin's lake house was the perfect escape for my husband and I. We arrived at check in time on a very hot day to a well air conditioned, spotlessly clean home, and were quick to settle in. A manager came over later in the afternoon just to pop in and be sure we didn't have any questions. Well furnished with everything you could need, we spent our stay enjoying the breeze off the lake, the view and each other.
Jennifer
2015-06-23T00:00:00Z
We had a great time unwinding by the lake, the actual property is much better that what you see in the pictures on air-bnb. The simple and open floor plan makes your stay comfortable.
Anil
2016-07-01T00:00:00Z
Yasmin was an incredible host -- the house was gorgeous with plenty of space and stocked with kitchen equipment. Felt very welcome, and Yasmin was responsive during the booking process and helpful when I had questions. Absolutely recommend! It was just as described and opened right up to the lake. We had a wonderful time at the house! Thank you so much!!
Elise
2015-10-04T00:00:00Z
We had a great time at Yasmin's lake house. It is in a great location with beautiful views. Our group of 5 were very comfortable for 2 nights.
Guy
2016-08-30T00:00:00Z
Yasmin was very communicative leading up to the trip with all necessary information making us comfortable and ready for our weekend away! The kitchen is incredible with lots of dancing room for those of us who rock out while we cook together! It was a perfect location for my girls weekend away! Sunset and sunrise are spectacular right over the lake. It was the perfect respite from the Bay Area for a long weekend away!
Sarah
2016-09-12T00:00:00Z
The listing description was very accurate. The view and location was amazing and perfect to set up our bass boat on the dock. The home was beautiful, clean and very cozy. We stayed for four nights and my fiancé, myself and 2 year old were very comfortable. I highly recommend staying with Yasmin. The caretaker Ray was very helpful and nice. We hope to be back next year on our annual family trip! :) Thanks Yasmin!
Crystal
2016-09-23T00:00:00Z
The property was everything it was described to be. Had a wonderful relaxing time. I would definitely stay here again. The home is well equipped for a comfortable enjoyable stay.
Tom
2015-07-21T00:00:00Z
Yasmin's place had incredible views from both floors and a peaceful, homey vibe. She was easy to coordinate with via email and made check-in and out a breeze. The grocery store ane bait shop were a bit of a drive, but once hunkered down in Yasmin's place enjoying the lovely dock, it was all worth it. I would definitely stay again.
Michelle
2016-03-08T00:00:00Z
Kamertype
Gehele woning/appartement
---
Type woning
Huis
---
Geschikt voor
6
---
Slaapkamers
Clearlake, Californië, Verenigde Staten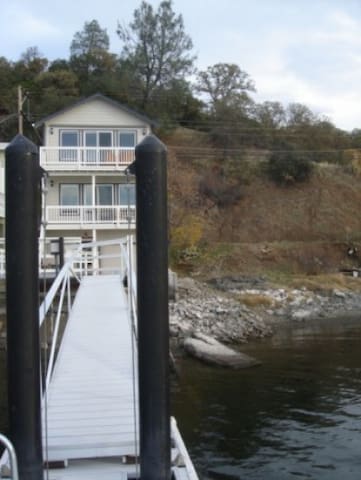 This is a comfortable beautiful lakefront home with a private boat dock and pier. The house has a big lakefront grassy area that leads to the dock. Fruit trees are planted all around. Walking distance to stores, restaurants and parks. Washer/dryer, inductive cooking top. Large fancy charcoal BBQ. You can swim, boat and fish off the pier. The back deck is covered and has patio furniture with small hanging lights that throw a soft warm glow as you sit and enjoy the lake and beautiful surroundings.
This is a comfortable beautiful lakefront home with a private boat dock and pier. The house has a big lakefront grassy area that leads to the dock. Fruit trees are planted all around. Walking distance to stores, restaurants and parks. Washer/dryer, inductive cooking top. Large fancy charcoal BBQ. You can swim, boat and fish off the pier. The back deck is covered and has patio furniture with small hanging lights that throw a soft warm glow as you sit and enjoy the lake and beautiful surroundings. The TV in the living room and master bedroom has directv and all the channels. The couch turns into a queen bed. You also have a queen bed in the master bedroom with a private bath, tub and shower. The guest room has two single beds and we even have a trundle bed in the living room as a second large couch or two additional beds. The hot water is supplied by an instant hot water unit so you will never run out of hot water. The yard is completely fenced in so any animals will be safe. The entire home is for you to use. We do have two locked sheds that hold gardening and boating gear that stay locked. The end of the pier has a fish cleaning station with running water. Fold out chairs and a small table to hang out and enjoy the water. You can call/text me anytime at (PHONE NUMBER HIDDEN) or (EMAIL HIDDEN) The home has an extensive monitored alarm system you can use when you leave for the day or stay in at night.
Everything is close.
Jeff is an incredible host with a beautiful property right on the water. The long pier is ideal for swimming and kayaking and the roses are spectacular! The place is well stocked with everything one might need, as well as, meticulously maintained. It was very fun to listen to the music coming from The Spot and floating in Clearlake is the best! I highly recommend Jeff and his property!
Lisa
2016-06-27T00:00:00Z
The host was nice the house was great. The neighborhood is not your typical us city.
Gedalia
2016-12-27T00:00:00Z
This has been my favorite stay so far, So Thank You Jeff.
Schezel
2016-11-06T00:00:00Z
Jeff was an exceptional host. He went above and beyond to ensure that everything went ok with our arrival by making contact with us. The lakefront view is peaceful and serene and the house had everything we needed. We would definitely stay here again if we visit Clear Lake on the future!
Carolyn
2016-07-18T00:00:00Z
The house was comfortable and the views amazing. Nice that it fully fenced.
Teri
2016-11-13T00:00:00Z
Perfect communication and the photos do not do this place justice at all. Absolutely perfect getaway, gorgeous views and amenities, and everything we had hoped for and more.
Morgan
2017-02-20T00:00:00Z
The house was perfect for a fun getaway. Located right in town, we had front row seats to the parade and were 2 doors down from The Spot to grab dinner. The dock was perfect to fish from and also jump in the lake when it got too hot.
Kim
2016-07-05T00:00:00Z
The place was great, the views were incredible!! Jeff was very nice and accurate
Paraskoviya
2017-01-02T00:00:00Z
Kamertype
Gehele woning/appartement
---
Type woning
Vakantiewoning
---
Geschikt voor
6
---
Slaapkamers
Clearlake, Californië, Verenigde Staten
Romantic 700sqft cottage. Stay @ this super clean studio cottage 45 miles from Calistoga, CA. The cottage is set on a private cove, Lily Cove , with no access to the the beach. The cottage is not on the water, it overlooks Clearlake, with close proximity.
Vacation property on Clearlake with private dock access, and private boat parking. Come stay in this romantic studio/cabin 45 minutes from Calistoga, CA. Clearlake is a highly desirable recreational lake, that is popular with boaters and fisherman alike. Studio, backyard Private Boating Community. Taxis in the area.
Set above the city of Clearlake, 12 minutes up to Clearlake Park
Margaret's cottage is a very beautiful and cozy cottage. It has an amazing view and a great patio. The cottage is done up in a very thoughtful way. The communication with her was stellar. We will definitely try and go back again.
Nishchaie
2016-05-31T00:00:00Z
The host canceled this reservation the day before arrival. This is an automated posting.
Mahtaub
2016-11-25T00:00:00Z
Margaret's cottage is adorable and has everything you need to a relaxing getaway. Highly recommend staying here and applying bug screen liberally if you are going to be outside at night.
Meredith
2016-06-24T00:00:00Z
Margaret's place was fantastic! The views were stunning and the place was decorated and furnished wonderfully. There's even a private backyard with a firepit with great views of the lake. Would highly recommend.
Jonathan
2016-04-17T00:00:00Z
Things we liked about the house: 1. View of the lake from the bedroom was fantastic 2. Apartment was cozy and comfortable 3. The host was very friendly and responded to our messages/ concerns quickly Things we did not like about the apartment: 1. The kitchen and the utensils were not clean. They weren't washed properly and some had residue in them 2. The approach road was narrow, dark and windy (2 miles) which made driving in and out at night very hard 3. There were no amenities provided in the bathroom like body wash, soap.
Sharvari
2016-12-25T00:00:00Z
Margaret was a great host and very responsive to my questions throughout the weekend. We never met her in person but she did leave the key and the place was very clean. Great place. There was a 5 min walk down to the docks, which were usable by other neighbors. We also caught a couple of fish from the docks.
Kevin
2016-05-02T00:00:00Z
The host canceled this reservation 3 days before arrival. This is an automated posting.
Diane
2016-03-16T00:00:00Z
We had a very nice time. The view was stunning, especially while falling asleep. Star gazing was breath taking. It was quite windy that day so our fire pit didn't work out. The house is clean with a well stalked kitchen with all the necessities. Even coffee and tea was provided. Outside I had wished there was maybe one more side shade during sunset, but other than that it was stellar.
Nicole
2016-05-15T00:00:00Z
Kamertype
Gehele woning/appartement
---
Type woning
Bungalow
---
Geschikt voor
2
---
Slaapkamers
Clearlake, Californië, Verenigde Staten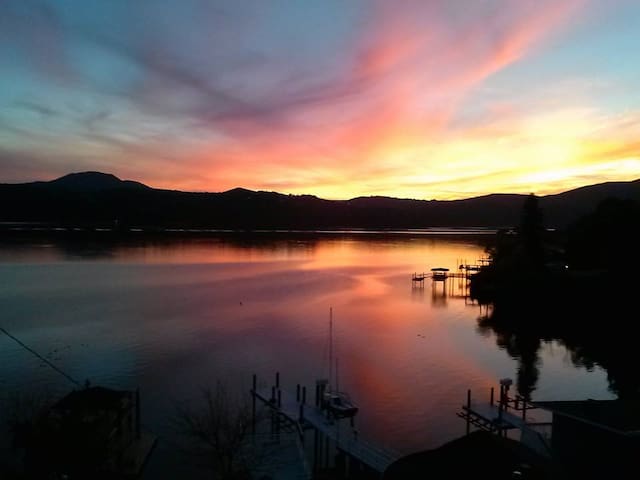 Beautiful 4 Bedroom 2.5 Bath lakefront home with private dock, indoor barbecue, large kitchen, wet bar, fireplace open's to living room & dining room, separate laundry room. Master bedroom on the lake w/ private oversized bathtub Space for RV & boat
On the Lake & completely private
While we did enjoy a lovely weekend in this relaxing setting, we did need to do a fair amount of de-bugging and webbing upon arrival - (kitchen table covered in dead bugs and all the windows and doors covered in major cobwebs and bug nests, etc. we spent a good hour sweeping it all away and cleaning surfaces. I recommend a goodnight wash on the entire outside of the building. That said, we loved the family room and enjoyed its comfortable spaciousness and decor. One should also not expect a beach per say, but rather a brave wading through major algae to access lake water. Once you are out on the water, the setting is beautiful. The dock is great for fishing and watching sunsets and herons. Although I wish I had more helpful details about the house upon arrival (where garbage is, etc), I will say Allison answered every text promptly.
Shannon
2015-08-23T00:00:00Z
Nice house, not boat friendly! We had assumed a lake-front house would automatically accommodate our 24' sportboat but we were proven wrong. The owner states in her description that there is a dock at the house. There is a pier, but no dock, and the two are very different. Docks float and boats can be tied to them. Piers are fixed on pilings and do not have provisions for tying up to. We ended up beaching our boat on the small private spot next to the house. Not too bad, except for the neighbor who was waiting outside for at us when we returned on afternoon #2. She was irate, screaming at us that we were on her side of the property line, threatening to call the police, etc. We had spoken with the owner prior to our arrival, and she never mentioned any division of the beach to us. After calming down the local, we moved the boat closer to the house, although now it sat under a nice but overgrown willow tree and the tree was not kind to our boat's interior. The house is situated in the back of what seems to be a "retired" small resort. There are two gated entrances leading to the large parking area back by the house; one is very narrow, the other is much wider. The wider of the two entrances was blocked by other residents vehicles, an inflatable pool, and the property owner's own small boat. That left the narrow entrance to pull in my 8'6" wide trailer. Let me say, I am a commercial driver and I'm extremely skilled at maneuvering a truck and boat in tight spots. There was less than 2" clearance on either side of my trailer, but I managed to get it inside and off the street. Trouble is, once inside, there is no room to turn the rig around and we had to unhook the boat from the tow vehicle and push our 5500lb boat around the parking area by hand. It was 103°F out that afternoon. Frustrating, because had the larger entrance been made available, it would have been a snap, in and out. The house was otherwise very accommodating. Very nice yard area overlooking the lake. At night from the pier you can look back at the house and imagine what a hot spot this must've been in the 1960s and 70s. Appliances work well given they're original and very retro-cool. AC works awesome and cools down the whole house. Expect to deal with insects, as the lake is notorious for gnats. They don't bite though, just a little annoying. Spider webs are expected with such a large food supply. The pier isn't accessible from the water and the beach is a little dirty, so swimming from the house is not advisable. A ladder attached to the pier would be a welcome addition. Pets are allowed and a big dog is a good idea since the neighborhood is... depressed. Overall, a great...
Shannon
2016-07-05T00:00:00Z
Alison was very quick to respond to any questions I had regarding the property. My family and I loved the house. It was sell stocked with towels, pillows, and extra items for a large group. It was great to BBQ and watch the sunsets. It is close to several hiking trails and fishing spots as well as boat rentals. We had a great time and would recommend it!
Cynthia
2015-07-19T00:00:00Z
The house was amazing, perfect for the amount of people i had, its a beautiful lake home front, its clean and alot of stuff was provided too! Would personally rent this place again!
Chai
2016-04-25T00:00:00Z
Nice house right on the lake with great views. The house was fully stocked with everything we needed and Allison was super responsive. The neighborhood was a little scary to arrive in darkness so recommend coming before the sun sets. Lovely place to keep to yourself as the town itself is quite small. Overall we had a great time, thanks Allison!
Capella
2016-05-23T00:00:00Z
Things we loved about this place: * A superb view of the lake in the backyard * Very nice design and furniture * Specious rooms with plenty of sleeping space * House have everything you need to have a nice stay * Beautiful location and city. Amazing place for doing boating and related activities. * Most importantly Alison were very helpful and made the whole stay very smooth for us
Mohsen
2016-05-31T00:00:00Z
Had a very nice stay, the house is large and roomy. Alison was great easy to get a hold of and very friendly. I would highly recommend.
William
2015-12-23T00:00:00Z
This house was such a spectacular step back in time. It felt like a Mad Men museum. It was much larger than we were expecting and right on the water! It was so perfectly set up for a weekend away with good friends! Alison was incredibly accommodating and helpful. The surrounding neighborhood is what I would call "developing" and a bit sketchy at times, but the house is hidden behind the main street, so you feel safe and secure the entire time. The lake was an unexpected treat and great for boating and swimming. There were two BBQs onsite that are easily available for use, and tons of platters and serving wear for a crowd. We are already considering renting it again this summer. What a find! Book fast and don't tell anyone! :)
AnnaRose
2015-05-25T00:00:00Z
Kamertype
Gehele woning/appartement
---
Type woning
Huis
---
Geschikt voor
14
---
Slaapkamers
Clearlake, Californië, Verenigde Staten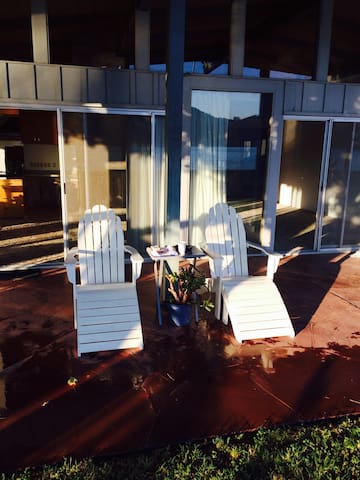 Newly Built 700 sf Studio Apartment above garage with full kitchen and bath. Pool table, wood burning stove, and air conditioner. Minutes from Shopping, parks, and Boat Ramp. My place is good for couples, solo adventurers, business travelers, and families (with kids).
The studio was immaculate, stylish, and a lot of fun. Made even our nights in feel like an exciting vacation! We will definitely be back, and with family.
Dena
2016-09-05T00:00:00Z
What a wonderful place to stay! The bed was comfy, the wood fire was quite warm & cozy, and the studio was very pleasant, plus juice in the fridge & popcorn for the unlimited movie supply! We would definitely stay here again if in the area. Thank you, Carl, Laverne & Ed!
Eluta
2017-01-18T00:00:00Z
Great Hosts! I felt like a visiting relative! A lot of thought has gone into this studio. It has a polished club-house feel to it, very cozy. Wood stove is wonderful. Great Olhousen pool table. I was able to park my bass boat right outside above the room and charge the batteries with a close power source. Perfect for the tournament bass fishermen who want a quiet refuge from the elements.
Zachary
2017-03-31T00:00:00Z
Carl was very attentive and courteous. The unit was clean, cool and quiet. A great place to stay while in town.
Stellifications7
2016-09-18T00:00:00Z
This place is perfect for a relaxing getaway. There isn't much out here in clear lake but we enjoyed how quiet it was
Tatiana
2017-03-22T00:00:00Z
Great place and a great value. The hosts were very accommodating and even had the wood burning stove on for us when we checked in late night. Very clean and functional loft, with a high end pool table in perfect condition.
Dennis
2017-03-26T00:00:00Z
Immaculate studio, with kitchen and great place for the weekend. Minutes from the lake.
James
2017-02-20T00:00:00Z
Carl was very accommodating and responsive, and the studio was nice.
Laura
2016-10-04T00:00:00Z
Kamertype
Gehele woning/appartement
---
Type woning
Appartement
---
Geschikt voor
4
---
Slaapkamers
Clearlake, Californië, Verenigde Staten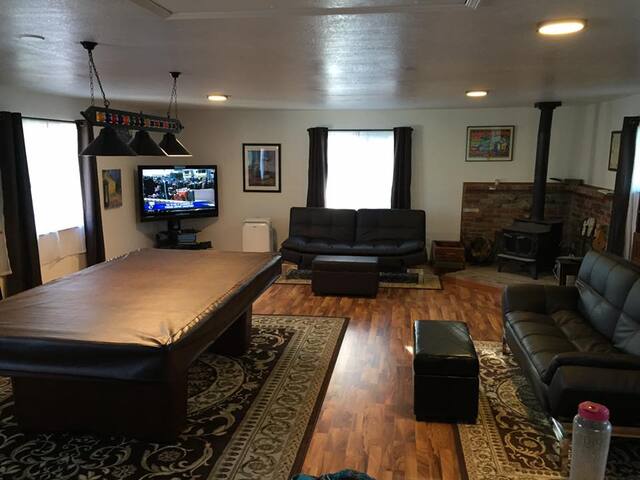 Newly remodeled family retreat. My place is close to 3 Casinos, 20 + wineries, lake relaxation and just plain down time from the cares of your everyday life. There is dining around the lake at Clearlake, Lakeport, and other locations. We are 1 and a half hours from Sacramento International Airport. 1 hour from the Napa Valley. 2 hours from the coast. As viewed in the pictures, the house is in the Clearlake Oaks Keys with a dock and easy access to the lake and surrounding amenities. .
House is located in a quiet neighborhood. Several of the homes are occupied by owners so willing to help if needed.
Very nice place for a family holiday
Luis
2016-12-28T00:00:00Z
Pauls house was lovely. It was so clean, spacious, and nicely decorated. The perfect place to get out of the city and to go fishing. They also provided a nice bottle of wine and coffee to enjoy our stay there. Perfect for a short weekend getaway with family.
Jakki
2017-01-01T00:00:00Z
The host canceled this reservation the day before arrival. This is an automated posting.
Andre
2016-11-26T00:00:00Z
The house was very clean, spacious, and lovely. Paul was super nice and helpful. The only problem was the wifi somehow wasn't working otherwise this place is great. I'd highly recommend it.
Henry
2017-02-18T00:00:00Z
Paul's place is a great sleepover if you are fishing or hunting in Clearlake. The neighborhood is quiet and the home is well-appointed.
Stephen
2017-04-01T00:00:00Z
Kamertype
Gehele woning/appartement
---
Type woning
Huis
---
Geschikt voor
8
---
Slaapkamers
Clearlake, Californië, Verenigde Staten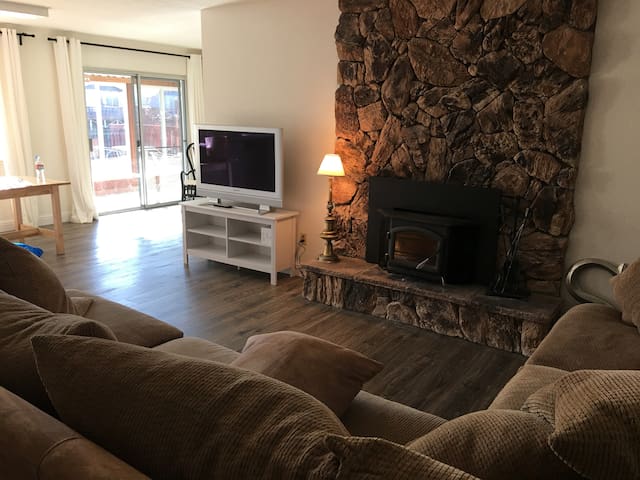 Nice home in nice area. Fenced, new Heater A/C. Partially furnished - couch, table, loveseat, chairs, 2 dressers one single bed and one double. Could add another bed. Near Hwy 20 and I5. Nice setting on 1/4 acre with trees and outside storage as well as a one car garage converted with many cabinets. Washer, dryer, dishwasher, refrigerator. Outside chairs and table, vacuum cleaner and some towels, and full bedding.
Kamertype
Gehele woning/appartement
---
Type woning
Huis
---
Geschikt voor
6
---
Slaapkamers
Colusa, Californië, Verenigde Staten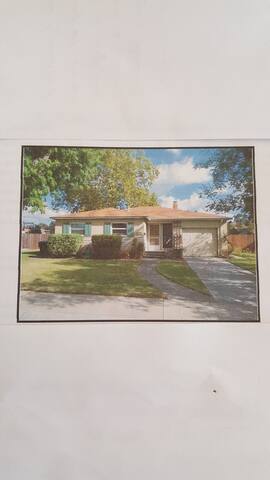 You'll love my place because of the ambiance. My place is good for couples and furry friends (pets).
Kamertype
Privé Kamer
---
Type woning
Huis
---
Geschikt voor
2
---
Slaapkamers
Colusa, Californië, Verenigde Staten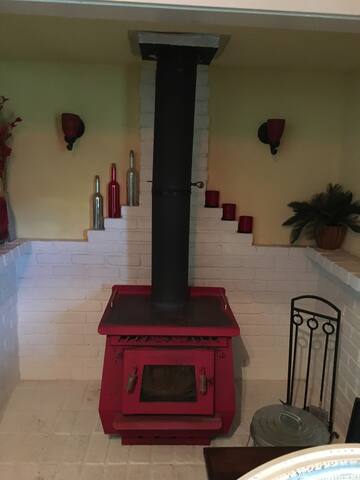 1

–

18

van

206 Accommodaties