I have 2 furnished rooms available in a plain, clean modified cape type home on one acre with a small creek and pond. Shared kitchen, internet and laundry. Also has a deck and grill. It has direct access to the ITS trail system. You can walk, bicycle for miles on groomed trail Atv's and snowmobile are allowed. 40 miles to Sugarloaf, an hour drive to Sunday River. Also near Franklin Memorial Hospital, UMF College, Mt Blue State Park, Dummer's Beach, several box stores etc.
Very clean, easy to find, for cheap money!
Justin
2017-02-18T00:00:00Z
My brother and I stayed at Stuart's place to do some skiing - it is a good location right in the middle of both Sugarloaf and Sunday River. Stuart was very friendly and easy to talk to, and was good about communicating with us leading up to our visit.
Dane
2017-03-12T00:00:00Z
My friends and I enjoyed the stay, clean, comfortable and price is great. Stuart is a great guy.
Houbin
2017-01-26T00:00:00Z
Kamertype
Privé Kamer
---
Type woning
Huis
---
Geschikt voor
3
---
Slaapkamers
Wilton, Maine, Verenigde Staten
Large sunny room with double bed & shared bathroom. Located on a very private 3 acres with access to recreation trails. Pet friendly. Amenities include use of the jacuzzi, work shop for repairs or ski tuning. Massage on site by reservation.
Located about a mile north of downtown and the University of Maine, Farmington. There are many lakes and rivers nearby, a rail trail and single track Mt Bike & running trails, Mt Blue State Park is 40 minutes away in Weld, where there are several well marked hiking trails with gorgeous views of the Western Maine Mountains. In the heart of ski country, Farmington has a small ski area, Titcomb Mt, with 2 T-Bars, night skiing and 25 km of groomed XC skiing trails. Saddleback, Sugarloaf, & Sunday River, 3 of the best ski resorts in the East, are all between 45 min & 1 hr drive.
The privacy on this 3 acre property and the proximity to town, (1 mile).
Nathalie and Ron were great hosts and made us feel welcome and at home. Their home is delightful, warm and inviting. Very comfortable bed as well! It was a pleasure to meet them and also a privilege to meet their son. I highly recommend this pleasant western Maine foothills home!
Phil
2015-10-12T00:00:00Z
It was a very warm and welcome right from the very beginning. We arrived a little after 9 Pm and the host was nice enough to stay up, give us the tour and made sure we felt like we were at home. The listing was accurate and it's a quiet area.
Stephen
2016-03-16T00:00:00Z
We had a lovely time with Nathalie (Ron was away) and Pepper. We would have loved to stay longer - next time. We had a lovely sleep in the very comfortable bed after a fabulous massage from Nathalie, our room was very spacious, the garden large and relaxing. We talked and talked all evening and morning too (over breakfast and a wonderful real coffee), practising our french as well. As they are both motorcyle enthusiasts as well, we had much in common.
Karen
2015-08-15T00:00:00Z
This is a lovely home set back from the main road with a nice private feeling. The Hosts are super friendly and I felt very welcome and comfortable. The property is accurately and well represented by the pictures. I would definitely stay here again and I would certainly recommend this for anyone else.
Jared
2014-12-15T00:00:00Z
Ron and Natalie were easy going, warm, welcoming. The house is lovely, the vibe casual, friendly.
david
2015-07-24T00:00:00Z
Nathalie made us feel very welcomed! She gave us a tour of her house and chatted with us for a while. It was nice getting to know her over the night that we were there. This would be a fantastic base to ski from, but otherwise look for things to do in Farmington and look forward to getting to know Nathalie and Ron while staying in their lovely home!
Gillian
2015-03-16T00:00:00Z
It was very nice - Natalie was very welcoming and sincere. I was comfortable. Their home is one I would expect in Maine - warm and cozy.
John
2015-04-26T00:00:00Z
Hosts were fantastic . Very helpful, courteous and friendly. Accommodation was superb as was the tremendous conversation and breakfast
Irene
2015-10-14T00:00:00Z
Kamertype
Privé Kamer
---
Type woning
Huis
---
Geschikt voor
2
---
Slaapkamers
Farmington, Maine, Verenigde Staten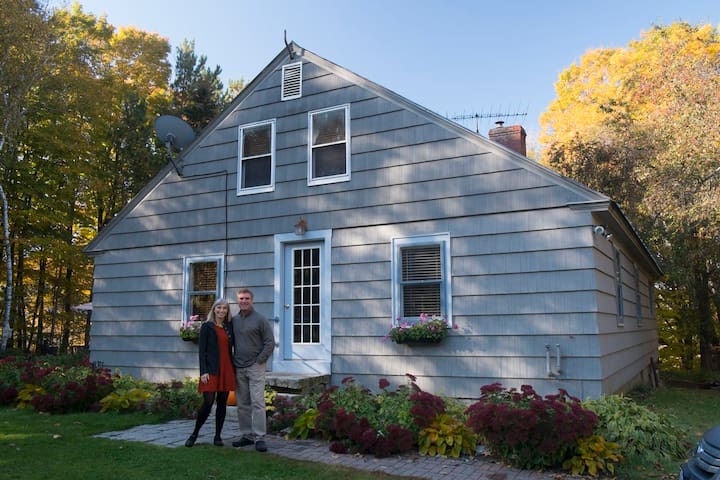 3 br, 2 ba house on Wilson Lake in Wilton, Maine. Fully furnished with bedding provided. Washer and dryer available on site. Outdoor fire place for relaxing by the water on a warm summers night! Private dock. Access to two kayaks and a standup paddle-board. Convenient to Sugarloaf and Sunday River (URL HIDDEN) (URL HIDDEN)
The host canceled this reservation 165 days before arrival. This is an automated posting.
Brian
2017-02-22T00:00:00Z
Sarah was great from the very beginning of the process- very honest and helpful with recommendations for things to do in the area. The wine and fixings for smores was a great touch and we felt very welcomed when we arrived! The house was spotless and updated. We were a little surprised to discover no dishwasher but no big deal. The location of the house on the main road was really the only drawback for us. We had to leash our dog for the whole week. You can hear the cars and trucks go by even when on the dock and in the house with the windows open. If you don't need total quiet, this house is a great bargain and Sarah was a great hostess!
Ann
2016-08-15T00:00:00Z
Kamertype
Gehele woning/appartement
---
Type woning
Huis
---
Geschikt voor
6
---
Slaapkamers
Wilton, Maine, Verenigde Staten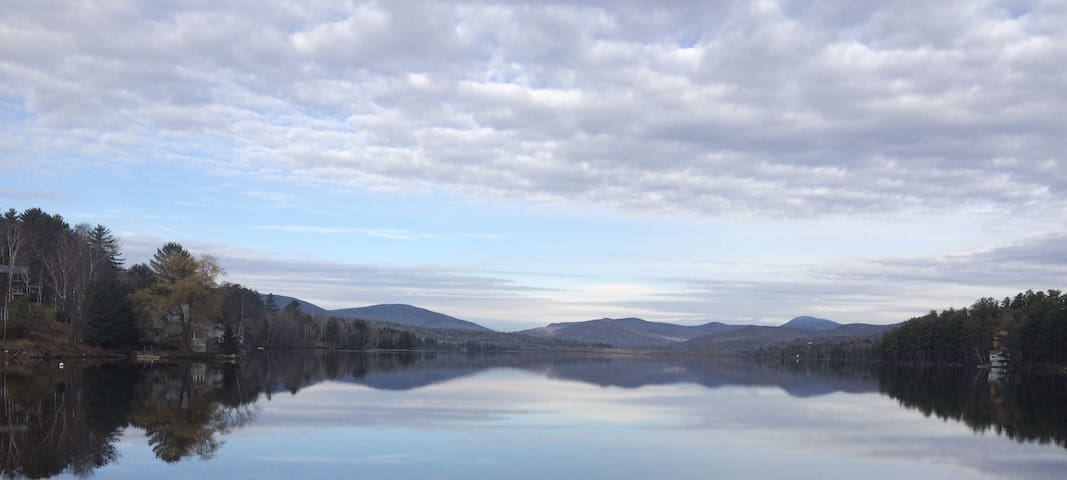 My home is close to the best hunting grounds in the State of Maine, hiking, biking, snow mobile trails, pristine lakes, 60 minutes from ski resorts, and other magical western Maine destinations. You'll love your visit because of the privacy, mountain views, gardens, natural beauty, the big yard abutting hundreds of acres of forest. Leave your stress at home and take your family on a true vacation in the heart of Maine's peaceful mountains. Only 2 hours from Portland jetport. Southern Exposure.
Our home is a new construction with large back porch overlooking the forest and views of the mountains. We've seen moose walk right up to our doorstep, wild turkeys cross the yard, and a multitude of deer. I love to work on my back porch and listen to the birds sing--from blue jays to owls, sparrows to geese.
My neighborhood is the forest! Perfect for hunting out the back door, hikers and kayakers. We have a small lake across the road which is perfect for a quiet morning kayak trip. Bald Mountain, one of Maine's favorite hikes, is less than a mile away. This is a great place for men/hunters who want to hunt while their non-hunting friends have a beautiful place for relaxing and enjoying views of the Maine woods.
The host canceled this reservation 2 days before arrival. This is an automated posting.
Alexander
2017-02-15T00:00:00Z
Kamertype
Gehele woning/appartement
---
Type woning
Huis
---
Geschikt voor
12
---
Slaapkamers
Unorganized Territory of Perkins, Maine, Verenigde Staten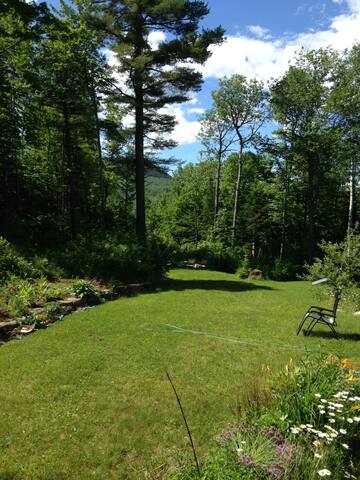 Dave's Place is located at the edge of the woods near Clearwater Lake on a dirt road just one half mile to store, public boat launch and beach. It is approx. 5 mile to downtown Farmington which has restaurants, shopping, groceries, laundry, banks, hospital, police, and a post office. The interior on the main floor has a kitchen, diningroom, bathroom with a shower, master bedroom with a queen size bed, the spare room has a double size bed and the downstairs living room has a pullout couch.
The livingroom is downstairs. Enter through garage, daylight basement. There may be a few of our personal belongings in the garage, for we are constantly trying to upgrade the space. Suggestions are encouraged! We have been adressing a musty odor in basement. Thank you for everyones suggestions, and costructive criticism.
There are only 2 neighbors in sight. One across the road, and one is through the woods a ways. Great neighbors, and a wonderful neighborhood! There always lots going on arond the lake. Don't be suprised to hear the loons or owl's at night. you might even spot a whitetail deer in woods out back.
A rustic charm in a great part of the Maine woods
Mariann
2017-03-29T00:00:00Z
Jane and Dave's place is located near a beautiful lake in a secluded area. The house is simple and has most everything you'd need in a home for a woodsy vacation. Jane and Dave were very helpful, bringing us muffin tins for baking and giving us the wifi password from their neighbor's (there is no private wifi for the cabin). The odor downstairs where the living room is located was a bit strong with the musty basement smell covered up with air freshener, so we spent all of our time upstairs. The cabin gave us what we needed and was affordable. They plowed the driveway before we arrived and live in the house right across the street, so they are right there if you need anything!
Traci
2017-04-02T00:00:00Z
Kamertype
Gehele woning/appartement
---
Type woning
Huis
---
Geschikt voor
4
---
Slaapkamers
Farmington, Maine, Verenigde Staten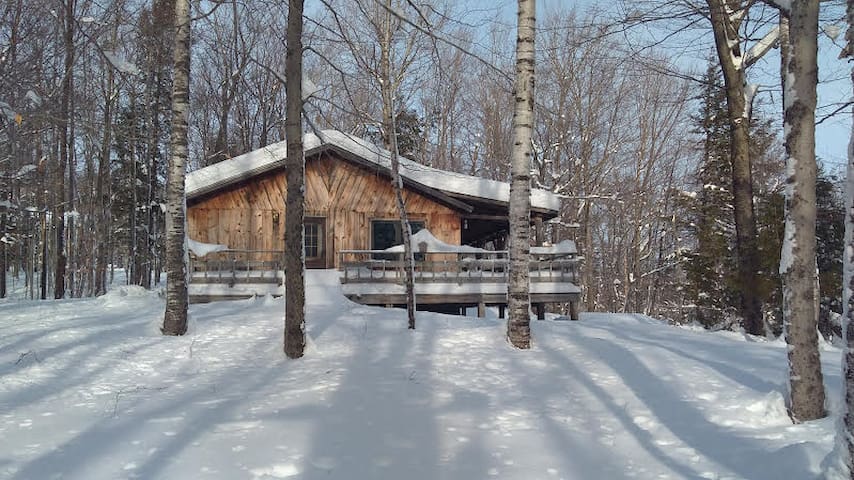 One furnished room available in a plain, clean modified cape type home on one acre with a small creek and pond. Shared kitchen, internet and laundry. Also has a deck and grill. It has direct access to the ITS trail system. You can walk, bicycle for miles on groomed trail Atv's and snowmobile are allowed. 40 miles to Sugarloaf Mt. Hour to Sunday River. Near Franklin Memorial Hospital, UMF College, Mt Blue State Park, Dummer's Beach, several big box stores etc. 30 miles from Sugarloaf Ski resort.
Stuart was really nice. We arrived pretty late to check in. Room and bathroom was clean. He has such a great vibe make you want to hang out with him. Too bad we only stayed for one night. Thank you for the fresh blueberries.
Ann
2016-08-08T00:00:00Z
Stuart is a very great host and a really pleasant person. It was a real pleasure, to me and my friends, to spend an evening with him talking about Maine, USA, and life in general. More, he made us visiting his garden with delicious blueberries and blackberries. There is Farmington, a nice place, next to Stuart's house. We could find any conveniences. We recommend this place without any hesitation !
Sandra Lily
2016-08-01T00:00:00Z
Stuart's home is a perfect location for me since I need to attend to issues relating to an elder family member. My partner and I found him to be friendly and welcoming. AND we loved Buddy, the kitty. We will absolutely be coming back.
Wendy
2016-10-13T00:00:00Z
Farmington is a nice little town next to Stuart's home in East Wilton. The mountains and lakes around there are beautiful. Stuart's place is ideal to discover this beauty. He and his cat are perferct hosts. The house is confortable with a large garden, where Stuart has a fireplace. Enjoying the fire and the stars in the evening was fantastic.
Roger Bernhard
2015-08-17T00:00:00Z
As mentioned in a previous review, this location (and price) is perfect for us. Stuart is very welcoming. On this trip had a little time to explore the path that is accessible from his back yard.
Wendy
2016-12-02T00:00:00Z
I stayed 1 night with Stuart as I had business the next day about 15 minutes away. I drove up and the lack of traffic in the big cities put me there a few hours early. Stuart mad arrangements to allow me to check in early, even though he wasn't home from work yet. He had a beautiful piece of property, with a small stream and walking trails adjacent to his land. It was a beautiful day and I enjoyed spending some time outside. When Stuart came home, we sat down at the table and visited. He had great stories about the Maine wildlife and how they are affected by the local flora. I had work to do, so he gave me his wi-fi code which worked exceedingly well. I had worried unnecessarily about slow internet due to the remote location. The room was clean and comfortable and had obviously been remodeled recently. I love the house with its wood stoves and New England character. I would love to go back and visit for pleasure.
Marc
2015-11-05T00:00:00Z
Stuart has a small, modest, older home in the late stages of some remodeling. It is on a major road just outside a small town, it took me a little while to find it after dark. The house and rooms are nothing to write home about, but it is quite comfortable and Stuart is a gracious and accommodating host. He was very flexible and was very willing to consider additional guests, although that didn't pan out on my side. His price is outstanding. Although I was only there for one evening and not able to really sit back and relax, I would definitely recommend a stay here for the casual traveler.
Brian
2016-11-05T00:00:00Z
We had a blast staying at Stuart's place. He went out of his way to ensure we had a fantastic stay in Maine. Great conversations with him and this friend at the fire place and a very yummy breakfast, as well as the breathtaking nature around his place will cause lasting memories for us. Thank you!
Tobias
2015-10-12T00:00:00Z
Kamertype
Privé Kamer
---
Type woning
Huis
---
Geschikt voor
3
---
Slaapkamers
Wilton, Maine, Verenigde Staten
Located just 1 mile north of Farmington center, this comfortable home sets on a very private 3 acres with access to recreation trails. This is our second listing as we have 2 rooms available on the entrance level of our home.
Had an amazing weekend in Farmington with Ron and Nathalie. They have a beautiful property just outside of the town. Farmington is the perfect home base for exploring the area. I was snowboarding and explored a 3 different mountains in one weekend. Sugarloaf, Sunday River and Saddleback are all appriximately one hour away. (Saddleback is the best for powder and glades!) Ron and Nathalie are very kind and generous. They are coffee lovers and Nathalie would make me a wonderful, traditional cafe au lait every morning before I would go boarding. Add to that their picturesque hot tub outside among the snow and trees and you've got yourself the perfect little getaway! Would stay again 10/10!! Thanks again!
Isaac
2015-02-03T00:00:00Z
I love staying at Nathalie's house. She and Ron are laid back and friendly. The room is clean and comfortable, the hot tub is a joy. I feel like a family friend when I stay there.
david
2016-05-14T00:00:00Z
One of the best hosts I've ever had
matthew
2017-02-20T00:00:00Z
Nathalie was very welcoming, showing us the house and her pet turtle. She did her best to make us feel at home. She also introduced us to another couple staying in her other room. The house is on a beautiful property, with delicious apples on the apple trees. And a nice hot tub a short hop from the house. The bed was very comfortable and firm and the bedroom was cozy.
Matthew
2015-10-17T00:00:00Z
Amazing home with incredible hosts.
Scott
2014-10-05T00:00:00Z
Lovely place; very pleasant people. Sorry we couldn't stay longer.
Sandy
2015-07-28T00:00:00Z
Our stay with Nathalie was great! She was exceptionally welcoming and warm, and made sure we got in and out okay with the snow storm. The room and bed were comfortable and homey, and a very quick drive to downtown Farmington. We'd definitely go back!
Amelia
2016-12-18T00:00:00Z
Nathalie was so warm and welcoming we felt at home very quickly. Her home is lovely and the room was cozy and inviting. The bed was super comfy!! I would recommend Nathalie and her home to anybody, and will definitely stay there again whenever I'm in the Farmington area. Thanks so much Nahalie!
Gila
2017-03-12T00:00:00Z
Kamertype
Privé Kamer
---
Type woning
Huis
---
Geschikt voor
2
---
Slaapkamers
Farmington, Maine, Verenigde Staten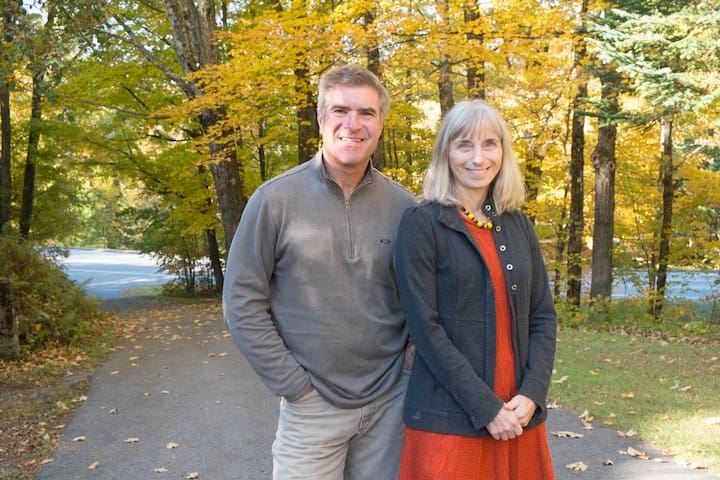 Located on the edge of pristine waters with a beautiful sandy beach. Has access to trails around the five mile long lake. This lake boasts many islands and make for some great fishing or a quite get away.
Cottage in the edge of pristine Parker Pond a five mile long lake, with great fishing, many islands accessible for exploring. A large tract of conservation land with over a mile of lake front and hiking trails within a five minute walk. The cottage is a two bedroom, one and a half bathroom. A large screened in porch overs looks your gradual sandy frontage. The master bedroom comes with its own private sitting room and balcony over looking the pond. Multi week discounts are available.
Kamertype
Gehele woning/appartement
---
Type woning
Huis
---
Geschikt voor
4
---
Slaapkamers
Fayette, Maine, Verenigde Staten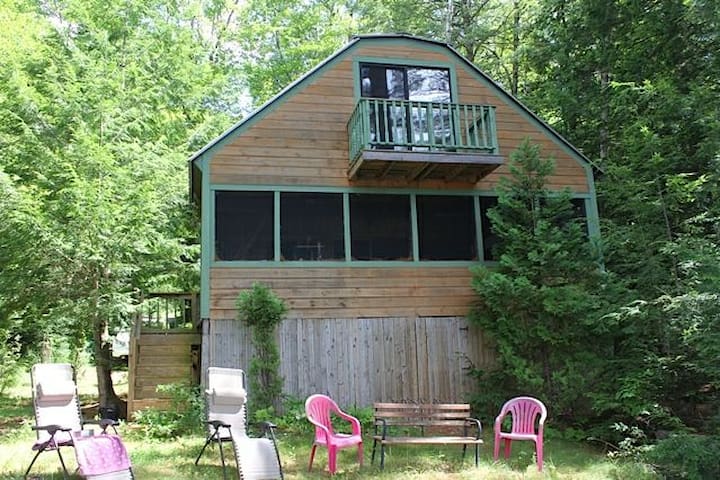 A beautiful get away. Surrounded by natural beauty, on shore of a wooded lake, warm, well appointed with all modern conveniences, great view of the lake and woods through floor to ceiling living room windows. Accessible to winter sports.
Lake House Getaway Do you want a kid-friendly place for a family vacation? In search of a spot for a romantic getaway, a spiritual retreat, time with a group of friends who love skiing and/or being together? Do you need a quiet beautiful setting in which to study, read, write, create, reflect, recharge, work, or pursue a spiritual quest? Do you like skiing and/or other winter sports? Do you want an escape surrounded by natural beauty? Would you like a personal spiritual or yoga retreat? Are you an artist, writer or musician who wants to tap into your inner well of creativity? Our beautiful, year round vacation home is located in The Western Maine Mountain Region on 19 wooded acres on Clearwater Lake, one of Maine's most pristine, spring-fed lakes. The lake has six-and-one-half miles of shore line with a depth of 135 feet. It is near the culturally rich college town of Farmington, Maine and a little under 200 miles distant from Boston. It is nourishing at Clearwater Lake. Here, we can slow down and not be interrupted. One can both commune with mother nature and their our own inner being. We love how deeply we sleep, and how rested and revivified we feel when we return to the city. We love how we feel connected with nature and each other after visiting. We love how kids respond by finding adventure and fun outside their usual activities. Enjoy a morning cup of tea or coffee out on the large deck in the warmer weather. In cooler or inclement weather gaze at the lake and its surrounding wooded hills through the floor-to-ceiling living room windows. In winter weather, enjoy the panoramic view from inside looking through the picture windows at the surrounding mountains, the trees, the snow and ice, and sky. The scene is always changing with mist appearing and disappearing, with sunsets and sunrises, and with visiting birds and other wildlife. The house has a large deck with a grill and a large picnic table. You can enjoy the deck, reading and resting or simply watching the lake. Surrounded by stunning natural beauty, the location abounds in opportunities for outdoor play and nature viewing. Accommodations: * The home is fully winterized. * There are sleeping accommodations for at least 9 people. * It has 2 downstairs bedrooms, a romantic master sleeping loft and a daybed and convertible futon sofa bed in the living room. * It sleeps 3 couples (4 if the sofa bed is used) plus one person on the day bed. * The bathroom with natural wood has a skylight, a shower and a clothes washer/dryer. * The house has a gas furnace, a thermostat, is fully insulated and offers with radiant floor heating as well as a fireplace/wood-stove. * The wood burning stove in the living room has a glass front and screen, functioning as both a cozy fireplace and a source of extra warmth. * There is a land-line phone with toll-free calling throughout the US and Canada. * The house has wired and wireless high-speed Internet. * In the large, comfortable living room one can curl up on the day bed, couch or in a chair and enjoy a book, music, a warm fire and the many views of the lake and surroundings. * The living room has a well-stocked board game cabinet filled with chess, checkers, monopoly and many other board games. * The full modern kitchen has a refrigerator, stove and microwave along with utensils, pots and pans, a blender, and most everything you have at home for cooking. * The lake side of the house has floor-to-ceiling picture windows so you can be safe from the elements inside as you view constantly changing beautiful outdoor vistas. Year Round * The views of the lake and surrounding mountains around are always stunning, no matter the season. * The house is remote and private yet easily accessible by car. * It is a perfect spot for a romantic getaway, a spiritual retreat, a group of friends who love skiing and or being together, or as a place to recharge one's creative juices. * Visitors have finished writing projects and written songs inspired by the location. * Enjoy the romance of the wood stove and the comfort of warm floors. * Feel cozy, safe, and nurtured in every season. * On clear nights one has spectacular views of the stars. * The house is very private as it is surrounded by acres of woods on three sides and the lake on the fourth. * The nearby town of Farmington has a campus of The University of Maine and always has a variety of diverse cultural offerings including adult theater, children's theater, dance and live music(URL HIDDEN)variety of restaurants are available along with grocery shopping, book stores, gift stores, and more. Winter Use: The house is on a dirt road accessed from a paved road. The dirt road is about one mile long and goes down a hill to reach the house. In the winter this road is plowed and year round residents drive it daily. However, it can get icy. Four wheel drive and/or snow tires are advisable. Skiing "ALL IN ONE" SEASON PASS HOLDERS--WHY PAY MOUNTAIN RATES(URL HIDDEN)Ski on nearby (within 15 minutes) Titcomb Mountain with 16 alpine trails for all skill levels and many cross-country skiing trails(URL HIDDEN)Sugarloaf Mountain Ski Resort, on Maine's second highest peak is the only lift-serviced above-treeline skiing in the East. It is 40 - 60 minutes away(URL HIDDEN)Saddleback Mountain with 66 trails and 5 lifts is an one hour and 23 minutes away(URL HIDDEN)Sunday River Ski Resort offering 132 trails, 671 acres, and 8 interconnected mountains is an hour and 20 minutes distant. Cross-country skiing Ice skating Snowshoeing Ice fishing - see our webpage at (URL HIDDEN) to learn about local fishing laws and regulations Spring, Summer and Fall Use The house is available for rental from September through mid-may. It is usually occupied by our family in other months. It is great for a variety of water sports(URL HIDDEN)Swimmin(URL HIDDEN)Boating. The house has a canoe, two kayaks, a child's canoe, a row boat, and by special arrangement the use of our two sailboats(URL HIDDEN)Water skiin(URL HIDDEN)Hiking - on our property and from the property to nearby trail(URL HIDDEN)Bicyclin(URL HIDDEN)Fishing see our webpage at (URL HIDDEN) to learn about local fishing laws and regulations Fall Foliage is spectacular! The lake is surrounded by a quilt of incredibly beautiful foliage colors. Most evenings one is serenaded to sleep by the loons that call the lake home. Travel The house is a 200 mile drive from Cambridge, MA. We usually drive it in a bit under four hours. The nearby town of Farmington (6 miles) is a college town with friendly people and local happenings and eateries. Features Phone Wired and wireless Internet connectivity Washer/Dryer Canoes, kayaks, sailboats and rowboat Outdoor fire pit for story telling, marshmallows, and more Suitability Dog Friendly, no cats Kid Friendly We love how kids find ways to entertain themselves here, creatively and without a television! The house has lots of books and games for children, with a basket of toys and a box of Legos. Smoking Not Allowed Seasonal local activities Golf Tennis Shopping Restaurants Rafting Kayaking Sailing Boating Waterskiing Jet Skiing Swimming Snorkeling/Diving Windsurfing Hatha Yoga: mats, inversion swing, and props at house with free community class in town. Biking Mountain Biking Cross Country Skiing Downhill/Alpine Skiing Snowboarding Snowmobiling Sledding/Tubing Wildlife Viewing Kayaking and canoeing Table Tennis Hiking Fishing Rock Climbing Fitness Center/Gym Health/Beauty Spa Basketball Court in town, at park, and at the University of Maine, Farmington fitness center Antiquing Six screen local cinema Museums and galleries Horseback Riding Golf Tennis The weekly rental rate reserves the house from 4:00 pm on a Friday afternoon for seven days until noon on the following Friday. The "weekend" rate reserves the house from 4:00 pm on a Friday afternoon for two days until noon on Sunday. The minimum stay is for two nights. Two or more individual nights can be reserved at our nightly fee. Dogs, with approval, cost an extra fee. Please provide us with a deposit of at least 50% of your full rental cost with your reservation. The remaining balance is due no later than two weeks prior to your scheduled arrival at the property. There can be a maximum of 9 people sleeping at the house during your stay unless you have made alternative arrangements with us. Note: Until your reservation has been confirmed, our rates are subject to change without notice. Availability The house is rented from September through mid-may of the following year, subject to our regularly updated availability calendar. Before contacting us, please check our calendar for your desired dates. Contact Send us a message through airbnb to request further information, with questions, or to reserve your dates.
The location abounds in natural beauty. We are always struck anew with the beauty of the sun rising and setting over the lake, the mystery and majesty of weather systems crossing the hills on the other side of the lake and approaching the house from the opposite shore. Sunny days during the winter are magical. We love to observe the winter wonderland populated with ice fisherman, cross country skiers, prancing dogs, and laughing children through our floor to ceiling windows from the cozy living room.
This is the perfect place for a peaceful getaway! The house is exactly as described, and the beauty of the location cannot be put into words. Loved doing yoga and kayaking on the lake. We didn't want to leave by the end of the trip! Exactly what we were hoping for!
Ainsley
2014-10-15T00:00:00Z
I headed up to the lake house for a weekend with some friends. The house is amazing. It is beautifully designed, with nice details and finish work. It sits right on the side of the lake, and floor ceiling windows offer views of the lake. The house is just as nice inside as it is outside. There are canoes and kayaks, and plenty of outdoor activities. The location is also great, not too far from Boston, and it is only 10 minutes to downtown Farmington, which is a cute college town with a theater, shopping and restaurants. In all, we had a perfect weekend. I can't wait to return.
Joshua
2011-05-23T00:00:00Z
Excellent place for a weekend away. Highly recommend.
Adam
2016-01-18T00:00:00Z
Victor's place was all we had hoped it would be and more. Peaceful, serene, relaxing. The pics don't quite do it justice. We were looking for a relaxing, romantic weekend and that's what we got. We enjoyed the views of the lake from inside and out which were absolutely stunning. We spent time reading books, playing games and enjoying the lake. Check in wad a breeze and we had everything we needed. We can't wait to return in the summer to really enjoy the lake.
Melissa
2014-09-22T00:00:00Z
Lovely place with a beautiful view of the lake. The floor to ceiling windows make is easy to enjoy the surroundings while staying warm by the fire. Victor's instructions were thorough and clear, and we definitely recommend his house.
Steven
2014-02-18T00:00:00Z
The house was great. We used it as our base camp for skiing the several close by ski resorts. We also spent a lot of time there sitting inside by the wood stove and enjoying the beautiful scenery through the living room windows. Victor was quick to answer phone calls as well as messages through airbnb. For winter renting Victor makes sure it is warm and cozy for your arrival. Hope to spend some time there during the summer.
Allen
2015-02-16T00:00:00Z
Being from the immediate area and back home for my brother's wedding (our farm is 7 miles from this house), the first thing to note is that although I may be a tad biased I'm pretty sure that this is among the most beautiful areas of the state. The house itself was gorgeous. As others have noted the pictures do not quite do it justice. It's hard to convey how on-the-water the place is, but if you jumped off the front porch you would literally land in the lake. The PDF manual for the appliances and general information regarding all details of the house (wifi, wood stove, etc) was helpful and flawless. Everything worked and we found there to be a LOT of extra non-perishable stuff (bathroom, kitchen, pantry goods) left there from previous tenants and well organized by the professional housekeeper (or perhaps even Victor himself) between Airbnb rentals. The only thing I would note is that the beds (main bedroom and living room) are futon-style and extremely firm (potentially viewable as rock-hard), while the twin mattress and perhaps the entire bed itself in the guest bedroom is in need of replacing. Overall, the place was great and Victor seems to have a good thing going. (Thanks for everything Victor!)f
Kristopher
2015-09-29T00:00:00Z
The house was well located and great for what we needed. I really enjoyed it and the place was the perfect chill spot for us. We used as a base while touring the USA on music tour from the UK and the owners where so on the ball and made sure we got what we needed.
Oliver
2011-11-02T00:00:00Z
Kamertype
Gehele woning/appartement
---
Type woning
Huis
---
Geschikt voor
9
---
Slaapkamers
Farmington, Maine, Verenigde Staten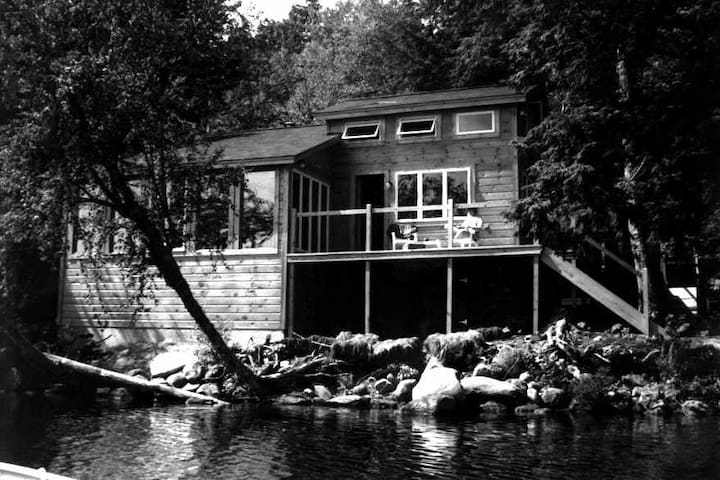 Beautiful year-round home, located on waters edge with all the popular and modern amenities to feel at home. Located just 10 yards from the water's edge, this home is sure to please.
Located right on the water's edge in Livermore, Maine! Enjoy beautiful views from the spacious deck overlooking the water.
Located in a safe and friendly community; our unit is situated in Central/Western Maine. We are close to biking and hiking trails, fishing, golf, and shopping areas! We are also within an hours drive of casino gaming, the state Capital, and the Maine coast!
Tim and his family are so lovely, and greeted us on arrival. The house is incredibly clean! The was a fire place in the back yard, along with deck chairs, beanbag and washer toss games, a picnic table and grill for outdoor cooking. The neighbors were welcoming and one woman even brought over a few toys for our son to borrow. The pond is shallow enough at the shoreline so as to make swimming easy for the kids, and a dock to fish off of too. There were ample linens including beach towels. There was also plenty of pots, pans, dishes, etc. We were pleased to find some family games and puzzles to keep everyone entertained. Wifi signal was great, cable TV was available (although we were to busy to find much use for it!) The queen bed in the master bedroom was comfy and I assume the two beds up in the very large loft area (doubles or queens) were cozy,since the kids slept well. We had a great time and the only drawback for us was that the property is on a fairly busy route. We live in a rural area and aren't accustomed to traffic noise. But even given that, we had an amazing time and slept well. Ceiling fans (and portable fans as well) in each room kept things cool and nice for sleeping, although there is an air conditioning unit in the living room if needed. Thanks for your hospitality Tim and family!
Pam
2016-08-08T00:00:00Z
Tim was very welcoming, and the cottage fit our needs exactly. We were visiting family and needed a place for four of us to stay. There was plenty of room, hot water, a washer/dryer, a fully stocked kitchen and loads of other amenities.
Joyce
2016-08-15T00:00:00Z
Kamertype
Gehele woning/appartement
---
Type woning
Huis
---
Geschikt voor
6
---
Slaapkamers
Livermore, Maine, Verenigde Staten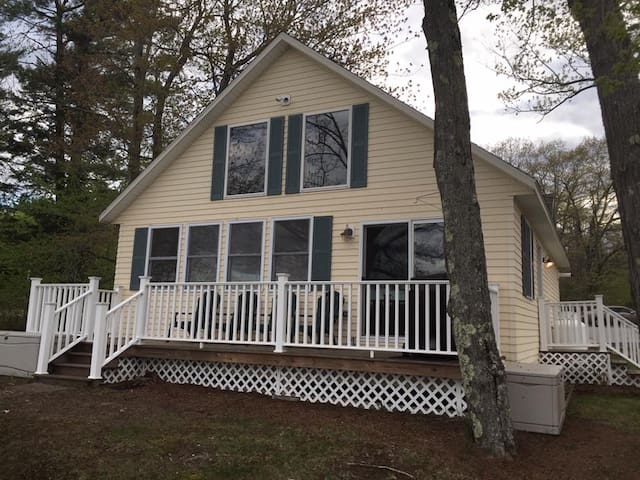 Near Farmington, on 3 acres overlooking the Sandy River. Relax & listen to the birds! Spacious, well-furnished, near summer/winter recreation areas, farmers markets & festivals. Our 200yo house is fully renovated, but retains many original features.
This historic house and barn were built in the Federalist period. It was originally a parsonage, located next door to the village church. Today, the house retains many significant original features, including the half-circle glass over the entry door, the original staircase and banisters, beautiful craft-work in the hand-planed doors, and fine large beams, some of which we have left revealed. Our house has 4 bedrooms (1 quite small), and 2.5 baths. The largest bedroom, on the first floor, is furnished with a queen bed, reading chair, dresser and mirror, writing desk, bookshelf, closet, and a spacious en-suite bathroom, with an over-sized tub. The bedroom has 3 windows, on the south and east sides, and the bathroom has 2, facing east and north. Upstairs are 3 additional bedrooms, and another full bath. There is also a small upstairs kitchen/sitting area that looks out over the back yard and the woods. The sitting area has a separate counter and sink, a coffee machine, tea kettle, and a table for reading/writing/snacking. A bookshelf offers magazines on Maine, and other good reading.
This corner of Maine is full of rural beauty, farming life, and small-town enjoyments. Some of our favorite things include observing birds and pollinators all around, walking around the land under the tall trees, looking closely at the great range of terrain and flora here, taking in a movie at the great local NarrowGauge Cinema, stopping to pick up fresh produce, ice cream or baked goods at the Sandy River Farm Market, admiring the Sandy River as it wends its way through 73 miles of Maine, making pies with the backyard rhubarb, or pancakes with Maine wild blueberries, watching the fireflies in the summer nights, having delicious soup in the nearby Soup for You. If you want to get out and mingle, there are always many choices listed in the event pages of the local online newspaper, The DailyBulldog. On a recent week, these included: parades, festivals, bake-offs, hootenannies, road races, readings, exhibits, concerts, book sales, contradancing, horseshoe tournaments, craft sales, farmers markets, hikes, historical society meetings, book talks, classes! Maine has many agricultural fairs from June to October, and an active farmers market program, pick-your-own farms, and local corn mazes and hayrides.
We had a great time in the house. It's large (for two people, huge!), clean, and well equipped with books, DVDs, kitchen supplies, and blankets and pillows. We felt right at home--the house was very true to the listing--and enjoyed how quiet the neighborhood is. The small town nearby was fun to spend a few hours in (the sports bar and ice cream shop were our favorites), and the $4 matinee at the movie theater was amazing. On top of all that, the owners were very friendly and responsive, and went out of their way to make sure we had everything we needed for a relaxing weekend. I would recommend the house to anyone traveling to Maine!
Josh
2015-07-13T00:00:00Z
Very nice comfortable home. Great communication with Host. Had everything we needed for our stay in Maine. Would recommend it to other guests.
Sarah
2015-08-25T00:00:00Z
The perfect house for a quiet getaway in Maine. The owners are kind, responsive and accommodating. The house is clean, beautiful, and well-designed. This was one of the first houses in New Sharon and features an original staircase and hand-framed doorways in addition to all modern conveniences. I was delighted to learn these facts about the house (and more about the surrounding town) by reading a short "house guide" written by the owner. I give my highest recommendation for the Sandy River House. There's room to stretch out; a large, well-equipped kitchen; a library with books for all tastes (including children's books); and other in-house entertainment including puzzles, wifi, and Netflix. The central room has a large wood-burning stove/fireplace. The house is fully furnished and there are spare blankets, towels, pillows, etc.The beds were comfortable. The house was warm. We had no complaints and would have liked to stay longer. The nearby towns of New Sharon and Farmington feature multiple restaurants, bars, and bookstores (including the impressive Second Hand Tales bookstore), as well as an ice cream stand, a movie theater, and a cheap bowling alley. All in all, there's plenty to do, but the real sell of this house is the quietness. It's practically silent at night. There are a handful of other houses across the street and up the road, but at night you won't hear anything, which is truly relaxing. This is the perfect, peaceful retreat for couples, families or friends.
Courtney
2015-04-27T00:00:00Z
Kamertype
Gehele woning/appartement
---
Type woning
Huis
---
Geschikt voor
8
---
Slaapkamers
New Sharon, Maine, Verenigde Staten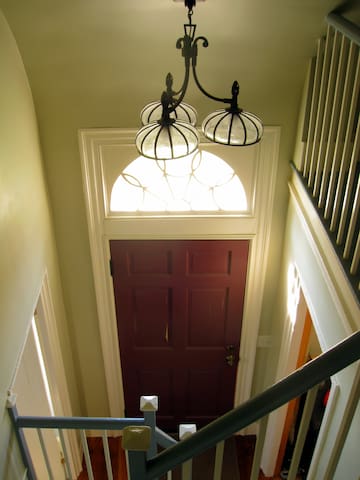 Clearwater Lake, in Industry, one of top 10 pristine lakes in Maine, close to Farmington, charming town and home of UM Farmington. Beautiful view, sandy beach area for kids, comfortable three-level home with modern conveniences. This is not a cabin!
Finished basement opens to yard that faces the lake and beach area. Two large bedrooms on the top floor, with full bath up there. Main floor with one bedroom, full bath, fully-equipped kitchen, washer/dryer, cable tv and wi-fi internet connection, fireplace. Entry to main floor from parking area/garage.
Beautiful view of mountains across the lake, large yard for games and fun.
Kamertype
Gehele woning/appartement
---
Type woning
Huis
---
Geschikt voor
10
---
Slaapkamers
Industry, Maine, Verenigde Staten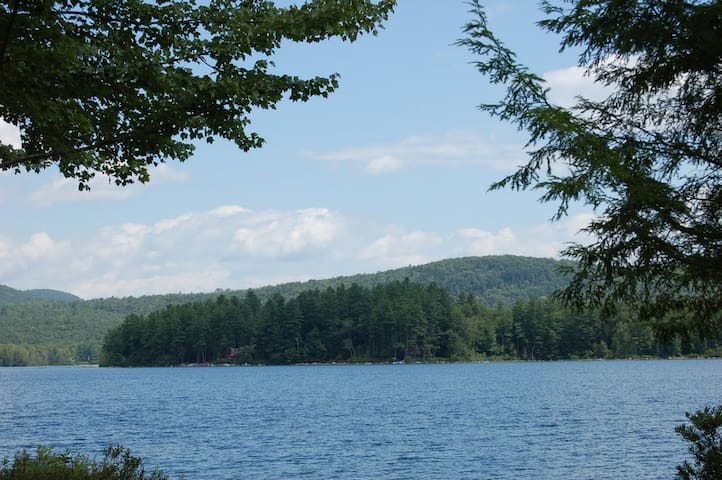 My place is good for couples and families (with kids).
Kamertype
Gehele woning/appartement
---
Type woning
Huis
---
Geschikt voor
6
---
Slaapkamers
Mount Vernon, Maine, Verenigde Staten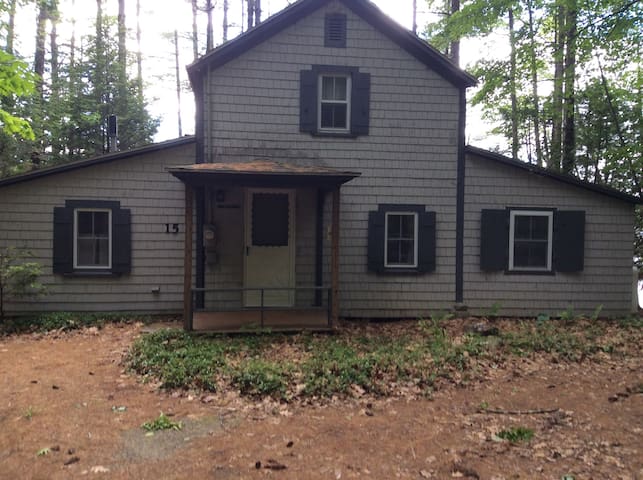 This modern, clean and well maintained home is located only 5 miles from downtown Farmington-restaurants, movie theater, shops, groceries and Univ. of Maine Farmington. Wifi, W/D, grill, and decks will make your vacation great. A canoe is included and a kayak can be rented. There are lots of nearby trails for walking, biking and hiking. There are 5 golf courses within 45 mins. Come relax and unwind! The house has all the amenities needed on a lake that is one of the top 10 cleanest in Maine!
Kamertype
Gehele woning/appartement
---
Type woning
Huis
---
Geschikt voor
7
---
Slaapkamers
Industry, Maine, Verenigde Staten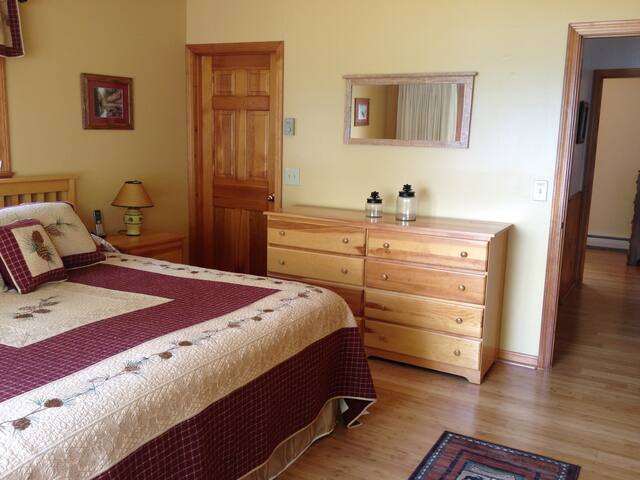 You'll love my place because of 100' of private lakefront - very quiet - great fishing, sailing, canoeing, kayaking, swimming. My place is good for couples, solo adventurers, families (with kids), and furry friends (pets). The camp does NOT have wifi or cable, and cell service is weak. There are several places locally that offer free wifi. (URL HIDDEN)
This is a classic A-frame cabin, with a master bedroom with queen bed, full bathroom/shower with a washer/dryer, kitchen, small dining area, living room, and screened-in porch overlooking the private 100' of lake frontage. We have a 30' dock, and the lake is great for swimming, kayaking, fishing. It is 90' deep in the middle, and gets surprisingly warm off the dock. Surface temperatures reached high 80's in the summer of 2016! Upstairs there is a loft that you reach by ladder which has a full bed and 2 singles.
We are located on a peninsula in the middle of the lake, facing South. The lake is very clean, and is just big enough for outdoor activities but not too big to attract too many water skiers or motor boats. It's got a good reputation for fishing (bass and trout). There is a small zoo nearby (DEW zoo) which had a reality TV show on Animal Planet. There is a gas station and general store about 2 minutes away (1/2 hour walking) and a small grocery store about 2 miles down the road in Mt. Vernon. There is a small cafe that has free wifi, great coffee and lunches. They also have music in the evenings in the summer. 1/2 hour drive is Farmington with a WalMart and Hannafords, and 1/2 hour southeast is Augusta with Home Depot and anything else you'd need. There is also a nice State Museum in Augusta and a Revolutionary fort. The coast is about 90 minutes due east, and we like to visit the town of Belfast, which is a little less touristy then Boothbay or Bar Harbor.
Truly amazing stay at Tir Owen. This place is very authentic but also comfortable and clean. Everything is well organized and set up. It has character, good spirit and intelligence. You can tell Pat has thought about every details to make his place welcoming, warm and convenient. We loved it; swimming in the pound everyday and enjoying the garden was a fantastic experience. I wish we were staying longer to explore more of the surroundings! I highly recommend it.
Pierre-Eloi
2016-09-06T00:00:00Z
Kamertype
Gehele woning/appartement
---
Type woning
Huis
---
Geschikt voor
6
---
Slaapkamers
Mount Vernon, Maine, Verenigde Staten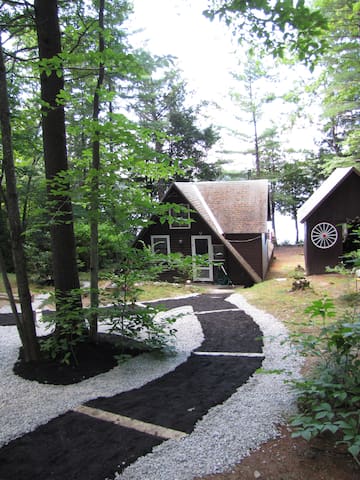 Your comfortable one bedroom is on the first floor. You will be able to enjoy the country atmosphere on a quite dead end street. There is lots to do on the property and you will be within easy driving distance of many area attractions.
You will have a private room with a queen bed and your own bathroom with a shower right across the hall. The kitchen and dining areas are at the end of the hall. There is also a small sitting room for reading and relaxing with a wood stove to keep you warm in the winter months. There is a sun room overlooking the lake, a tv/exercise room downstairs, and a small deck overlooking the back yard and pond for you to use.
If you like the country you will love this area. There are six homes on our street with beautiful trees and fields with views looking down onto the lake and up into the hills. You will have access to hiking, biking, swimming, fishing, canoeing and boating right outside your door in the warm summer months. In the winter months you can use the same areas to snowshoe, cross country ski, snowmobile, and ice fish. If you want to drive a little there is unlimited Maine attractions like ski mountains and hiking trails close by. The ocean and its many beaches is close enough for a nice day trip. Being at the heart of Maine the possibilities are endless.
Denis was a great host. The room was as described and very clean. He even offered us fresh salad from the garden for dinner so we did not have to drive around. Only the wifi was a quite slow and not very reliable (both in the room and in the common area). We can recommend this place.
Antje & Pascal
2016-06-29T00:00:00Z
Very nice place: beautiful landscapes, beautiful lake, huge garden and beautiful home! The breakfast was our favorite moment and it is possible to do all sorts of things out ! All the ingredients are there to spend more than a heavenly stay. Brenda and Denis are very lovely and friendly, we really enjoyed their company.
Louise
2014-06-15T00:00:00Z
Très bon accueil dans un lieu plein de charme!
Audrey et Noé
2014-07-12T00:00:00Z
Denis and Brenda are most hospitable and accommodating hosts. I don't drive so they offered to pick me up and drive me back to the bus station 20 miles away from the house.They made me feel completely at home in their house. I stayed with them for two very enjoyable weeks. The place is gorgeous! The room is very clean with very comfortable bed, dresser, closet and private bathroom. The lake in front of the house is great for swimming and kayaking. The place is so peaceful and pleasant. Thank you, Danis and Brenda, for sharing!
Olya
2014-08-03T00:00:00Z
Beautiful home in Livermore, Denis and Brenda were great hosts. There was a problem with our devices connecting to the wifi when we arrived but Brenda was very helpful and quickly addressed the problem. Loved using the kayaks on the lake and we had plenty of breakfast (and travel snacks!!). Thanks for a great stay, highly recommended.
Katie
2014-07-08T00:00:00Z
I could not have asked for a better stay! I was working at a retreat right down the road and found this place. Well, it was much much better than I imagined! I arrived later on a Wednesday and had dinner by the beautiful pond, had a lovely sleep in an immaculate bedroom, and had breakfast in the sun porch overlooking the pond. Denis and Brenda are super sweet people. I loved chatting with them during my stay. If you are looking for a very relaxing, beautiful bedroom in Maine, this is it! Thank you! I will be back with the rest of my family.
Caitlin
2016-07-09T00:00:00Z
Denis and Brenda were wonderful hosts made us feel right at home. They asked what we were looking to experience and were very helpful in making this a wonderful vacation. There was always a fresh baked breakfast crumble made from local fruit. Their home is sparkling clean and beautifully furnished. The bed was firm and comfortable. We had our own bathroom with plenty of hot water. The Sunroom overlooking the pond featured three active humming birds, several eagles both adult and fledglings. The Kayaks were clean and fast. The location on a dead end street is exceptionally peaceful. It was so nice we spent one entire day there.
Bryan
2016-08-26T00:00:00Z
We had one of the best stays with Denise and Brenda. We have never experienced such great hospitality in any of our previous Airbnb stays. They made us feel right at home. We had a wonderful stay at their peaceful location. Their house is extremely clean & beautiful. The pond is just heavenly. We went kayaking and swimming and spent our day reading in their sun room. They have everything you may need to enjoy your stay. The breakfast was delicious with French toasts, fruits, yogurt and coffee! They even made corn on the cob and freshly made strawberry crisps for us. It doesn't get better than this. If you are ever in this part of Maine do visit them! We highly recommend a stay with them.
Devarsh
2016-07-04T00:00:00Z
Kamertype
Privé Kamer
---
Type woning
Huis
---
Geschikt voor
2
---
Slaapkamers
Livermore, Maine, Verenigde Staten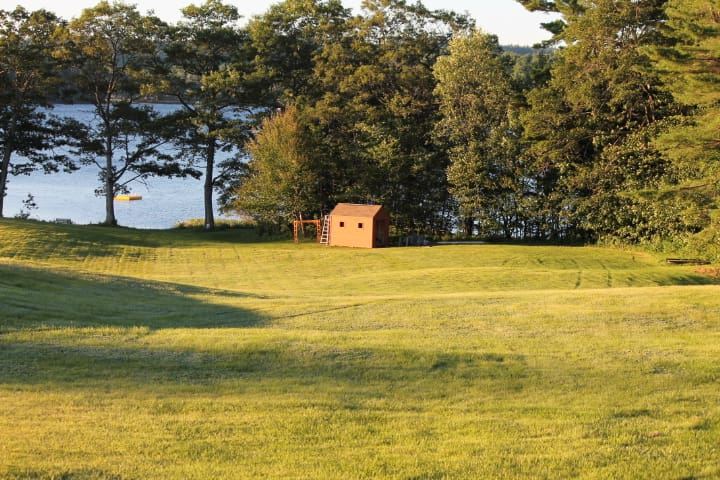 On Lake Minnehonk in Mount Vernon Maine this quintessential, updated 1800s lake home is nestled close to Augusta, Lewiston, Farmington and the Belgrade Lakes region. Moments from Kent's Hill and the State Capitol there is much to do. Rare privacy and scenic views, location, and, the outdoor space is truly peaceful and charming. Great for couples, solo adventurers, business travelers, families (with kids), and groups. Non smoking. Wifi. Roku tv. 3 bedroom home- fully updated. No pets.
This 1,500 square foot Maine Lake Home has 3 private bedrooms, two queen beds and one room with two twin beds. Downstairs, there is a futon and a single twin pull out. The home has two bathrooms, 1 shower. All of the conveniences of home! Spectacular views from every room.
Mount Vernon is a beautiful, quintessential Maine town nestled at the base of Round Top mountain and an easy commute to Augusta, Maine, Lewiston, Farmington and the Belgrade Lakes areas. Lots to do!
Had a great stay. The house is right on the lake, which is beautiful. And the house was very charming & cozy. It was the perfect spot for our weekend getaway
Sandra
2016-09-25T00:00:00Z
The host canceled this reservation 8 days before arrival. This is an automated posting.
Mr
2016-12-23T00:00:00Z
Jennifer was super communicative and helpful before and during our stay. She gave us lots of great tips on where to eat and what to do and described the loons on the lake and the stars at night and more. The house was cozy with interesting books and artwork and maps to look at. The master bedroom and the living room have pretty views of the water. One of the decks was just rebuilt and it looks like more renovations are on the way. Thanks for the great stay!
Deanna
2016-10-09T00:00:00Z
We had a great time! Very cozy feel! Beautiful view!
Cathy
2016-11-13T00:00:00Z
Kamertype
Gehele woning/appartement
---
Type woning
Huis
---
Geschikt voor
8
---
Slaapkamers
Mount Vernon, Maine, Verenigde Staten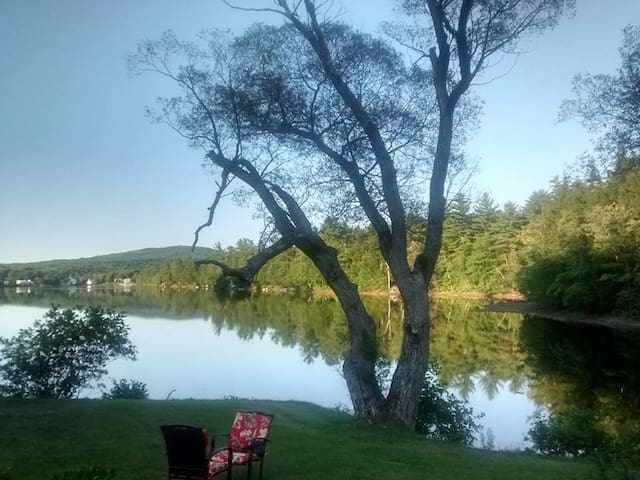 Unser schönes Landhaus befindet sich auf Hunderte Morgen privaten Grundstück und verfügt über einen exklusiven Zugang zu Meilen von Wandern, ATV und Motorschlitten Wanderwege, Angeln und Bootfahren auf dem Halbmond Pond und Webb Fluss und ausgezeichnete Jagd im gesamten Gebäude. Die vier Schlafzimmer, zwei Wohnzimmer und eine geräumige, gut ausgestattete Küche bietet Platz für bis zu 10 Personen bequem beherbergen. Der schöne Garten lädt zum Entspannen und Regenerieren. Einkaufsmöglichkeiten und Restaurants sind leicht zu (5-10min) erreichen.
Das Haus ist ausgestattet neu, um bequem bis zu 10 Personen passen. Es verfügt über eine voll ausgestattete, moderne Küche mit einem historischen Holzofen, eine gemütliche Sonnenzimmer, ein Familienzimmer mit einem großen Flachbild-TV, einen Kamin (Holz inklusive), ein Wohnzimmer mit einem zweiten Kamin, 4 Schlafzimmer (3 im zweiten Stock, eine auf der ersten Etage) und 2,5 Bäder. Waschmaschine, Trockner und eine große "Schlamm Raum" Eingang runden das Haus. Viele Familienspiele, Spiele im Freien, Kinderspielzeug und Bücher sind ebenfalls enthalten. Außerhalb ein schattiger ist, stieg überdachte Pergola mit Außen Ess-Set und ein Combo (Gas / Kohle) Grill. Unser Haus befindet sich am Ende einer ruhigen Straße auf einem malerischen Hügel gelegen. Das Haus ist von gepflegten Feldern umgeben, in denen Schafe und Pferde einmal verwendet weiden zu lassen und die Scheune, die verwendet, um sie noch zu Haus steht. In Abhängigkeit von der Zeit des Jahres, ist der Garten mit reifen Heidelbeeren, Himbeeren und Trauben gefüllt. Apfel, Birne und Pfirsich Bäume säumen die lange Auffahrt zum Haus. Vor dem Haus ist ein Teich mit sauberem, klarem Wasser, wo unsere Kinder lieben es zu spielen. Rundum sind Wälder, Bäche und Wege warten darauf, entdeckt zu werden. Dies ist ein Einfamilienhaus und unsere Gäste haben exklusiven Zugang zu allen Bereichen. Das Haus befindet sich auf einem weitläufigen privaten Ländereien, die direkt vom Haus aus zu Fuß erkundet werden können, ATV oder Motorschlitten (ATV und Motorschlitten Wanderwege sind ein Teil eines der größten Steig Netze in Maine). Das Haus ist ein 15 Minuten zu Fuß oder eine kurze ATV Fahrt vom schönen Möndchen Teich mit ausgezeichneten Angel- und Paddelmöglichkeiten (siehe Bilder) - und sogar Elch Begegnungen. Unser Land bietet auch hervorragende Gelegenheit für die Jagd - Elche, Schwarzbären, Weißwedelhirsche, wilder Truthahn, Nörgelei, Schnepfen und andere kleine Spiel alles gibt es zuhauf. Und natürlich ist der Herbst Blatt peeping absolut spektakulär. Darüber hinaus ist das Haus in der Nähe zu vielen anderen beliebten Outdoor-Aktivitäten wie Abschnitte des Appalachian Trail oder den White Mountain National Park wandern, paddeln die Androscoggin Fluss, der Rangeley Lake Gebiet zu erkunden oder den nahe gelegenen Black Mountain Ski. Mexiko und Rumford sind eine schnelle 5-10 Minuten Fahrt und mit seinen Wal-Mart, Hannaford, bieten viele lokale Geschäfte und Restaurants die Zwillingsstädte ausgezeichnete Quelle für die meisten Bedürfnisse. Farmington und Bethel sind andere in der Nähe malerischen Städten einen Besuch wert für seine Einkaufsmöglichkeiten, Restaurants und Freizeitmöglichkeiten.
Great place for large groups. 40 mins to Sunday river
kyle
2017-01-15T00:00:00Z
This house was amazing and had a scenic view from every window. The owner is very easy to contact and responsive as well as the host who lives not too far who was able to help with all of our questions about nearby amenities, stores and questions about the house overall. Check in and check out was very manageable and easy to set up!
Edan
2017-01-02T00:00:00Z
The house is very spacious. Cheryl and Louise, the property manager, were both very sweet. We thoroughly enjoyed our stay.
Shishi
2017-02-20T00:00:00Z
Kamertype
Gehele woning/appartement
---
Type woning
Huis
---
Geschikt voor
10
---
Slaapkamers
Mexico, Maine, Verenigde Staten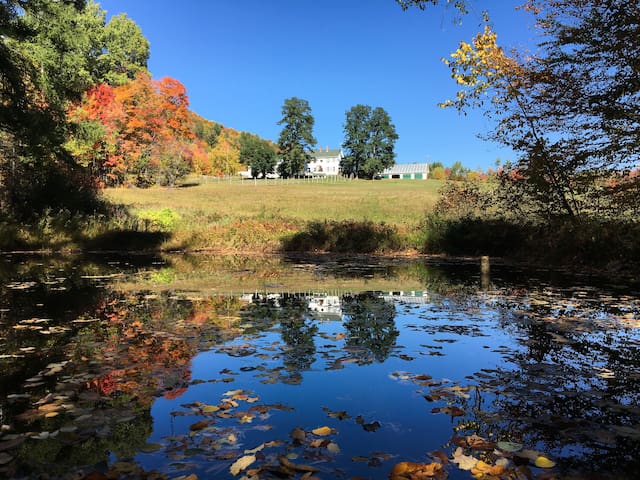 1

–

18

van

64 Huizen te Huur