This 3-bedroom, 2-bathroom house can sleep 6 guests and provide a leisurely lake retreat for families and friends. Featuring outstanding amenities, a hot tub and prime location near Lake Maranacook, shops, restaurants, water sports and more - this alluring abode will not disappoint!
This 3-bedroom home can sleep 6 guests comfortably. The property is bright and airy, and features several updates and modern appointments to give you all of the comforts of home. Perhaps the best features of this property are its stunning lake views. A large, wraparound deck offers spectacular, unobstructed panoramas of the lake. Large windows let natural light flood the interior of the home. You will love being able to cook in the full kitchen and dine with lake views. A small, private dock is great for swimming or lying out, and gives you a convenient place to keep a rented boat moored. The house also works well as a sanctuary to escape, and provides multiple quiet places to sit and read or enjoy the peace and quiet. Other amenities of the home include flat screen TV with cable, Wi-Fi, a gas grill, and onsite washer and dryer. Additionally, rejuvenate your mind and body in the home's very relaxing hot tub - the perfect spot to kick back and unwind with loved ones!
Kamertype
Gehele woning/appartement
---
Type woning
Huis
---
Geschikt voor
8
---
Slaapkamers
Winthrop, Maine, Verenigde Staten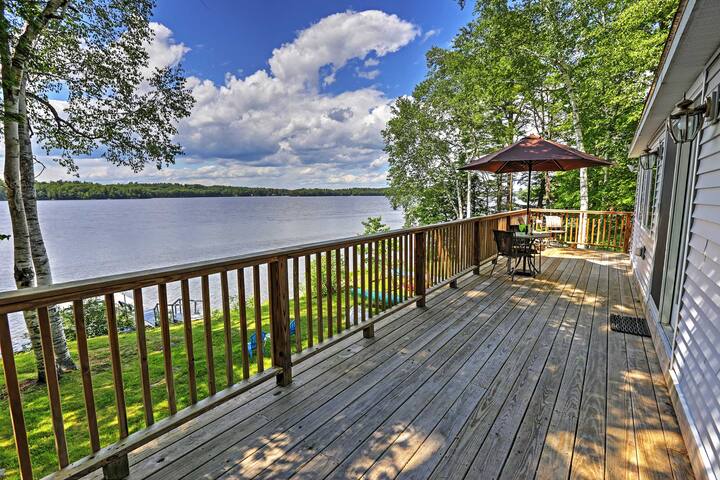 Quiet peaceful lakeside retreat on beautiful Annabessacook Lake in central Maine. Relax on the private sandy beach or swim, fish and/or boat in the clean waters of the lake. Enjoy Maine as it is meant to be. Close to many of Maine's great landmarks.
Beautiful, quiet, lakeside house and property with private sandy beach with access to two sit on top kayaks and a LL Bean 16 foot canoe. Near by boat launch if you need one. Clean water and uncrowded views and lake use. Peaceful and relaxing the way Maine is meant to be. Unwind on the large deck or the sandy beach or on the lake.
We are within three miles of all the major needs for shopping, but we are away from the hustle and bustle with no neighbors close to the house. This is the perfect vacation getaway that peaceful, quiet, yet near to many necessities and within an hour of most Maine landmarks.
Kamertype
Privé Kamer
---
Type woning
Huis
---
Geschikt voor
2
---
Slaapkamers
Winthrop, Maine, Verenigde Staten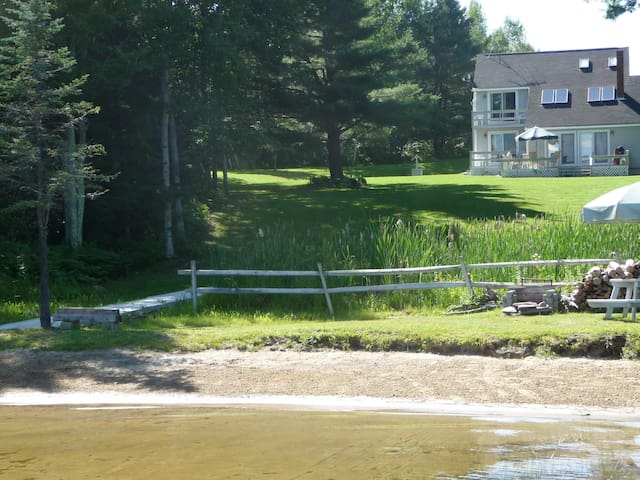 Our home is a few minutes' drive from downtown Hallowell, which offers many restaurants and a bustling nightlife. We are also located near a rail trail entrance, which is a charming way to walk, run, or pedal your way downtown. In the warmer months, cool off in our large in-ground swimming pool. All year round, you may enjoy soaking in the hot tub or playing a game of billiards on our eight-foot pool table. We welcome travelers of all kinds, but our cat prefers the bipedal variety (no dogs).
Downtown Hallowell is filled with amazing restaurants and bars
Incredibly affordable, comfortable, amenity-rich house with friendly, helpful hosts. Highly recommend.
Roger
2017-01-29T00:00:00Z
We had a very comfortable and easy stay with Erik and Rebecca (and the kitty). We were greeted warmly, given a tour, and left to do as we pleased. I loved having access to the kitchen and being able to come and go freely. The home is very comfortable and the view from the room is awesome. The kitty is a wonderful housemate as well. Would recommend.
Christina
2017-01-16T00:00:00Z
Super nice and welcoming family. I wish I could have gotten there during the day light to enjoy the beautiful yard. The bed was very comfortable!
LISA
2016-09-27T00:00:00Z
Erik waited for me despite the late hour at I arrived and helped with my bags. Erik and Rebecca gave me all support I needed: internet, access to paid sites, information about the area according to my interests. We even outings together museum, the zoological park, the outdoor cinema, etc. The quatier was what I was looking for, and having the comfort of the countryside but not far from town. I stayed over 1 month and was touched by the kindness, generosity, tranquility, and finally by the personal qualities of this family. I sincerely thank you. I hope to have the pleasure of seeing you.
Ana Paula
2016-11-03T00:00:00Z
Rebecca, Erik's wife, was very welcoming to my girlfriend and I. I was going to a wedding and would be coming back very late, and she said that was fine. She showed me the hot tub and told me we could use it when we got back or in the morning. All together very welcoming.
Ceara
2016-10-16T00:00:00Z
Eric was a great host. Location a little off beaten track, but acceptable. Price point was on par for accomodations.
Tom
2016-10-02T00:00:00Z
Erik's place was great, they were very friendly and accommodating (we had to check in quite late). We were only there for a short stay, but would have been nice if we had more time. Beautiful house and their cat toothless was great too!
Ryan
2017-01-02T00:00:00Z
Nice place for the value price - casual feeling, clean room, easygoing hosts. Note that the bathroom is shared with the family.
Maura
2017-03-24T00:00:00Z
Kamertype
Privé Kamer
---
Type woning
Huis
---
Geschikt voor
2
---
Slaapkamers
Hallowell, Maine, Verenigde Staten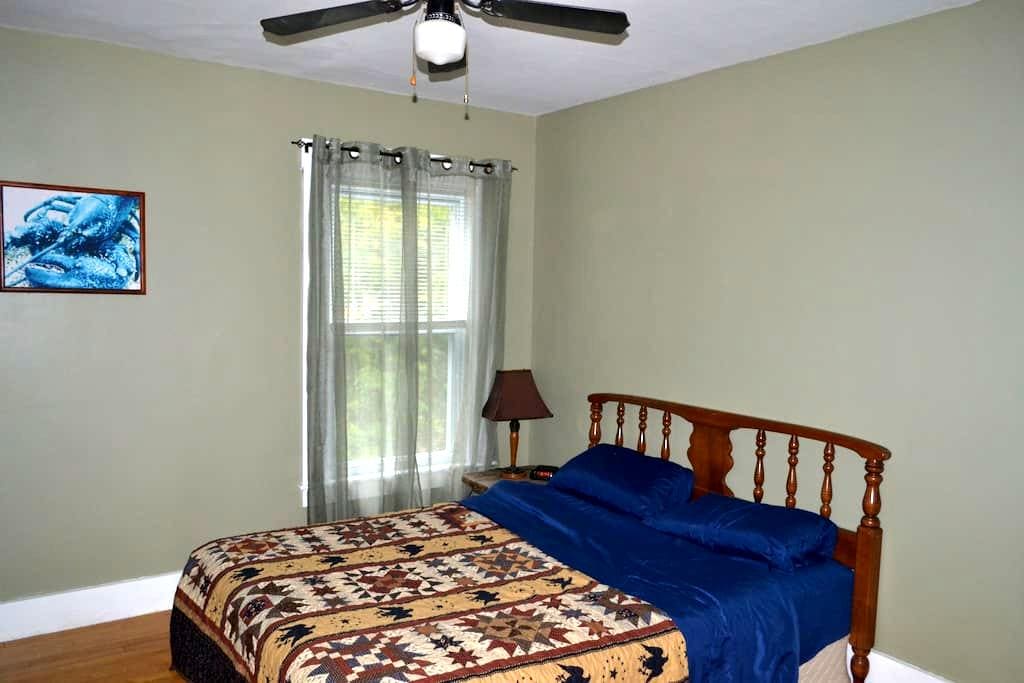 Completely renovated rooming house with exposed hand carved beams, hardwood floors and granite counter tops. Gym with two showers, half bath, new cardio equipment, free weights and lockers. Third floor all wood from the 1800s with theater.
The building is a guest house that was constructed in 1803. Six bedrooms, four showers and two half baths. WiFi. Steam laundry facilities. Fully stocked kitchen for guest use.
Hallowell is full of history. Vaughn Woods was a stomping ground for King George and is full of carriage trails. The historic rooming house is a great center for learning about the historic times and enjoying the natural environment.
Kamertype
Privé Kamer
---
Type woning
Huis
---
Geschikt voor
1
---
Slaapkamers
Hallowell, Maine, Verenigde Staten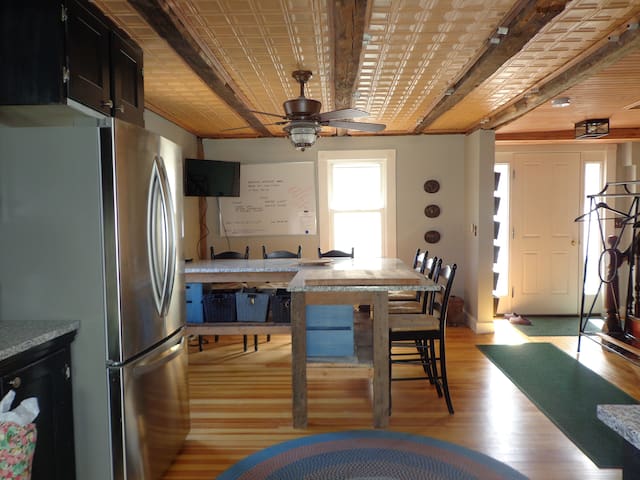 Enjoy the privacy and tranquility of the third floor in this beautiful remodeled 1940's colonial in lovely Lewiston neighborhood near Bates College. Rent one (accomodates 2 people) or both (accomodates 4) of the beautifully furnished sunny bedrooms available!
This lovely 1940's colonial has beautiful wood floors, a spacious rustic kitchen overlooking the garden, dining room, cozy living room with fireplace, a walk-through study, and four bedrooms. Relax on the large deck and enjoy the gorgeous backyard complete with pears, asparagus, berries and vegetable beds.
This exclusive and safe part of Lewiston is a stone's throw to Bates College and close to Thorncrag Bird Sanctuary and Central Maine Medical Center in a lovely family friendly neighborhood.
Losing count of how many times I've stayed here! Always a great stay with great hosts!! Can't recommend it highly enough.
Josh
2016-10-14T00:00:00Z
My friend and I stayed with Kathleen for 2 nights. Kathleen was wonderful. Communication and coordination was smooth and easy. We felt very comfortable and at home. She and her husband were very kind and easy to talk with. Her home was really lovely and very clean. I would be most happy to stay with Kathleen again.
Alyna
2016-06-21T00:00:00Z
Great lodgings and terrific host. Clean, comfortable and cozy (as in welcoming-my room had plenty of space). Kathleen went out of her way to make me feel welcome and make my short stay special. From helping me with a costume for my party to introducing me to a fantastic cafe (forage market) she went above and beyond. Looking for a reason to visit again
Amanda
2016-10-30T00:00:00Z
My family and I (four of us) stayed with Kathleen for two nights from 28-29 May. It was our first experience at an Airbnb and it was fabulous. Kathleen was the perfect host and was waiting for us when we arrived. The two rooms were tastefully decorated and we had all the privacy we wanted. Beautiful house in a quiet location. A very short walk to Bates College where we attended our daughter's graduation. Beds and pillows were very comfortable. She and husband John were friendly and helpful. We felt very welcomed and at home. We are glad we found Kathleen's place and would highly recommend her house to anyone. We will definitely stay with her again if we go back to that area. Thank you Kathleen!!! All the best!
Fiona
2016-05-31T00:00:00Z
Kathleen was great! We arrived much later than expected (3am) and she was very nice about it. Room was very clean and fresh; there were even guest towels, which was VERY much appreciated. It's in a great part of town - quiet street right near Bates College and not far from Auburn.
Lyndsay
2016-08-21T00:00:00Z
Craig and I enjoyed our stay at Kathleen and John's place was incredibly comfortable and relaxing. We got there super late and Kathleen was still awake, showed us where our room was, which was the cutest thing ever! It was super cool up on the 3rd floor which was so surprising! I recommend staying here! It was wonderful! Can't wait to visit again!
Marina
2015-09-07T00:00:00Z
We had a lovely time staying at Kathleen's place for a night. She greeted us at the door late at night and after a long drive, which was really nice. Our room on the 3rd floor was very comfortable and very clean. Her house is gorgeous and the coffee she made in the morning was good! We would definitely stay again :-) !
Oliver
2015-09-05T00:00:00Z
Lovely host and very very comfortable bed! We really enjoyed our night at Kathleen's place. Everything was very clean and a delicious breakfast was provided. Kathleen is very responsive, flexible and nice. I definitely recommend this place.
Cecile
2016-09-29T00:00:00Z
Kamertype
Privé Kamer
---
Type woning
Huis
---
Geschikt voor
2
---
Slaapkamers
Lewiston, Maine, Verenigde Staten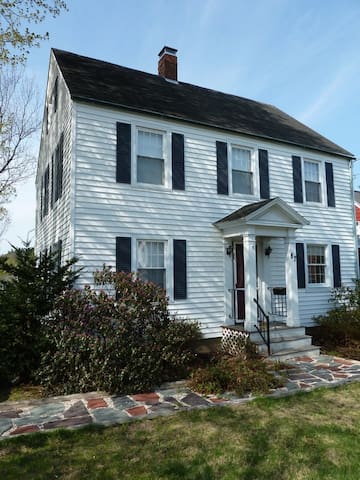 This listing is for 1 or more bedrooms OR the ENTIRE HOUSE. SLEEPS 9 TOTAL! Please inquire and I will work with you! THANK YOU! 4 Bedroom home: Living room Full kitchen w/small refrigerator Office area 1 bathroom (shared) CLOSE TO: Bates College Basilica of Saints Peter and Paul Veteran's Park Androscoggin Bank Colisee City of Auburn LL Bean's 9 people can sleep here Please send me special request Free Wifi Free TV AC in room Host on site until end of October
This home has two living floors. Main living floor: has sun porch, kitchen, two bedrooms, and office area. 2nd floor has two separate spacious bedrooms. 1 person to 9 people are welcome to stay. 1 or more nights is fine. discounts available depending on # of people in party.
This house is close to: Bates College Basilica of Saints Peter and Paul Veteran's Park Androscoggin Bank Colisee City of Auburn LL Bean's Public Theater
The listing of the house on AirBnB was more than accurate, every part of staying at Deans house was absolutely amazing! He fed my band of 4 people and I, was cool with the times we needed to come to and from the house, accommodated us with extra beds and coffee in the morning. Dean did everything you could possibly ask for as a guest, then somehow found a way to go beyond your wildest expectations!! He even tolerated our late night laughing / story time after coming back to the house with my band from playing a rock show! My band can't wait to come back and play in Maine again, because we know we will get to hang out with Dean in his awesome house again!
Andrew
2016-08-21T00:00:00Z
A comfortable stay with an affable host. I was his first guest (and it was my first AirBnB as well) and would go back again. I did make a few suggestions that would make a visit even better: there was a bit of urban road noise but that could be alleviated, I think. The house has an interesting history being from the early 1800s and some nice furniture. Make sure Dean tells you about the walking-distance market's deli specials or walk over with him. I stayed only one night as I was up for a one-day conference so really didn't have a chance to check out Lewiston-Auburn but the house was a short distance to the downtown river district.
Brian
2016-07-30T00:00:00Z
Great, historic and spacious house! Dean was a great host, we highly recommend it!
Nerea
2016-08-22T00:00:00Z
Dean was really friendly and helpful. He made our stay pretty comfortable. I would recommend this place to anyone.
Vinod Kumar
2016-09-04T00:00:00Z
Dean photos were pretty accurate. A very old home, he did indicate that it was being worked on. The home has tremendous potential. Dean was an excellent host. Location very close to Bates College and all other key Lewiston sites.
Sylvette
2016-08-30T00:00:00Z
Dean's place was exactly as represented. He was very nice and accommodating for my short time there. Thanks, Dean
Jim
2016-08-25T00:00:00Z
House is in the city on main street . Large room very comfortable bed quiet neighborhood. TV is in LR on first floor. You have use of kitchen also. Only 1 bath could be a problem if more than a couple. Dean is very personable , gave me a great dinner suggestion. House is being updated so things will be getting improved.
Robert
2016-08-15T00:00:00Z
Kamertype
Privé Kamer
---
Type woning
Huis
---
Geschikt voor
3
---
Slaapkamers
Lewiston, Maine, Verenigde Staten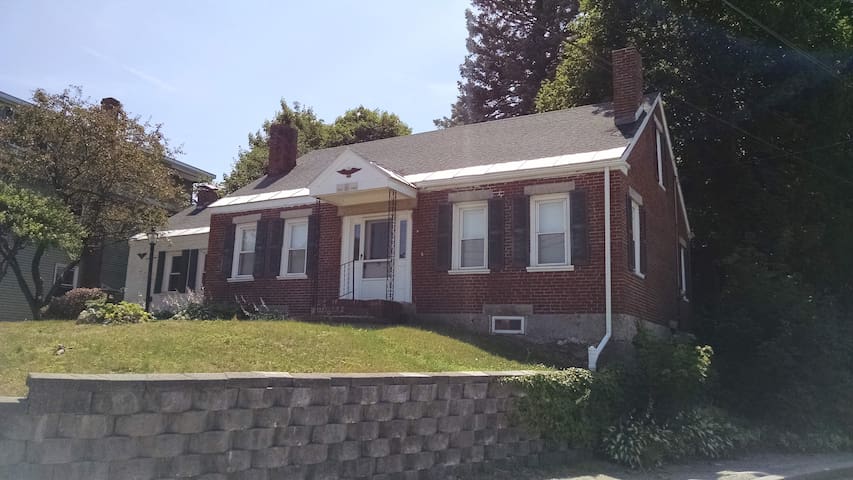 Enjoy the privacy and tranquility of the third floor in this beautiful remodeled 1940's colonial in lovely Lewiston neighborhood near Bates College. Rent one (accomodates 2 people) or both (accomodates 4) of the beautifully furnished sunny bedrooms available!
This lovely 1940's colonial has beautiful wood floors, a spacious rustic kitchen overlooking the garden, dining room, cozy living room with fireplace, a walk-through study, and four bedrooms. Relax on the large deck and enjoy the gorgeous backyard complete with pears, asparagus, berries and vegetable beds.
This exclusive and safe part of Lewiston is a stone's throw to Bates College and close to Thorncrag Bird Sanctuary and Central Maine Medical Center in a lovely family friendly neighborhood.
Kathleen was the perfect host! I enjoyed socializing with her and the other guest in the house's common spaces. The house was immaculately clean and the memory foam bed was lights out. Katheen was very responsive in the lead up to my visit, and flexible with regard to arrival time. If I find myself back in Central Maine this is where I will stay!
Matt
2016-07-02T00:00:00Z
Kathleen and John were fantastic hosts. We arrived quite late, but John came out immidiately to repark his car for ours. Kathleen showed us around, told us to use all the kitchen stuff and made us really feel at home. The room was excellent and in front of the big window was a tall foliating meaple tree - scenic. When we ask Kathleen for food recommandations she wrote us a very cute list where to go, so in the evening we enjoyed a lobster right next to the see. We loved our stay at their house, the area around portland (which is not far away) and can definitly recommend Kathleen and John. We both wished we could have stayed longer. We wish them all the best, Hannah and Fabian
Fabian
2015-10-09T00:00:00Z
Kathleen is one of the best Airbnb host I had so far, I had a great time staying with Kathleen before moving to my dorm. I absolutely love the house, the room is hommey, clean and, peaceful! I fully enjoyed my stay!!
Wenkai
2016-09-03T00:00:00Z
Kathleen's house is very quaint in a quiet neighbourhood. She and her husband are very friendly and welcoming. They gave us lots of useful advice about our travels through Maine. The room and bathroom were very clean and comfortable. We would definitely recommend this house to other travellers. Thank you Kathleen!
Shane
2016-10-18T00:00:00Z
Kathleen is a wonderful host with a lovely home! She went out of her way to make us feel at home, and the room we stayed in was very charming. The space was also exceptionally clean and quiet - a really relaxing place, refreshing place to stay near Bates College. My girlfriend had never been to Maine before and left with a very positive impression of it - in large part thanks to Kathleen and her awesome home.
Brandon
2016-08-23T00:00:00Z
We had a very positive experience. Hosts were helpful and thoughtful. Kathleen went out of her way to make some late night supper recommendations -- and made us a pot of coffee in the morning. Comfortable bed and spotlessly clean. Thank you!
Suzanne
2016-11-04T00:00:00Z
It's a lovely house with a garden. Kathleen and her husband are very nice people and wonderful hosts.
Natalia
2015-08-30T00:00:00Z
My stay at Kathleen's was excellent!! She is a fabulous host! The home feels comforting, homey and creatively inspired. The room is cozy, clean, comfortable, great view of garden and nice breeze. She took care of all my needs - picking me up from bus station and dropping me back at the end of the week, loaning me a bicycle and lock to use all week. I unexpectedly was treated to amazing homemade meals. We had a great time connecting. Kathleen is the best host and you will love staying in her home. Highly recommended!!
Carey
2016-07-30T00:00:00Z
Kamertype
Privé Kamer
---
Type woning
Huis
---
Geschikt voor
2
---
Slaapkamers
Lewiston, Maine, Verenigde Staten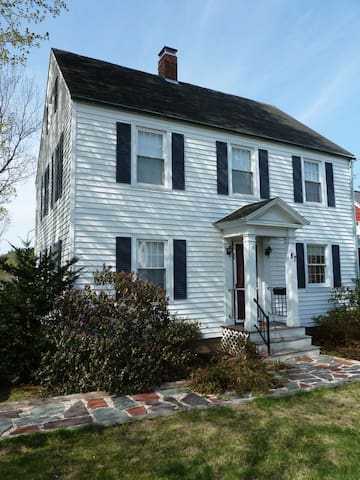 Are you looking for a quiet retreat in Maine? Enjoy the privacy and tranquility of this cozy bedroom in this beautiful remodeled 1940's colonial in lovely Lewiston neighborhood near Bates College. This beautifully furnished sunny bedroom accommodates 1 person.
This lovely 1940's colonial has beautiful wood floors, a spacious rustic kitchen overlooking the garden, dining room, cozy living room with fireplace, a walk-through study, and four bedrooms. Relax on the large deck and enjoy the gorgeous backyard complete with pears, asparagus, berries and vegetable beds.
I'm a elementary school teacher and my husband is a physician. We are both happy to help you with advice, recommendations, etc. during your stay!
Beautiful home, excellent host, and got a free upgrade!
Liz
2016-09-07T00:00:00Z
Kathleen and her husband treated me like an old friend who had called and asked to stay with them while in town for other events. They left me a key so I could get in at my convenience and leave the same way. The room was comfortable and just as described. The neighborhood is a quiet pleasant residential area half a block from Bates College which was my destination.
Helen
2016-10-22T00:00:00Z
Staying here with this couple is always my favorite airbnb experience.
Matt
2016-10-11T00:00:00Z
Kamertype
Privé Kamer
---
Type woning
Huis
---
Geschikt voor
1
---
Slaapkamers
Lewiston, Maine, Verenigde Staten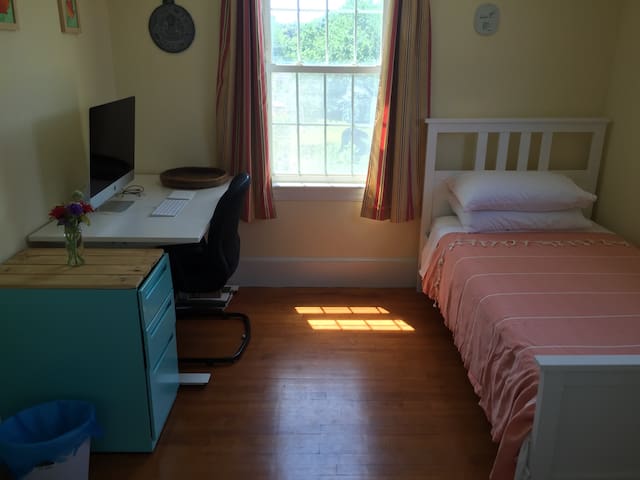 Welcome to the Inn at the Agora. This historic mansion, built in the mid 19th century, was fully renovated in 2014. The Kelsey Suite boasts a queen bed with luxury linens, private bath, and view of the picturesque courtyard. It can be rented as a suite for a family of 4 or 2 additional people by adding the Kelsey Annex to your reservation. There is an additional cost for the Annex of $75.
The Kelsey Suite includes a queen sized bed with luxury linens, private en-suite bath with tub/shower combination, and bay window overlooking the picturesque courtyard. The Annex to this suite offers a set of twin beds to accommodate 2 additional people. There is an extra charge for use of the Kelsey Annex. Each guest room provides WIFI, cable TV, hair dryer, alarm clock, writing desk, ample lighting, comfortable rocking chair, plush bathrobes and slippers, and evening turn down service.
The Inn at the Agora is centrally located in downtown Lewiston, in walking distance to The Franco Center, The Public Theatre, the Lisbon Street corridor, and a variety of fantastic local restaurants.
Nice alternative to a chain hotel. Good proximity to Lisbon Street restaurants and closer to Bates than most other options.
Kevin
2017-03-01T00:00:00Z
Kamertype
Privé Kamer
---
Type woning
Huis
---
Geschikt voor
2
---
Slaapkamers
Lewiston, Maine, Verenigde Staten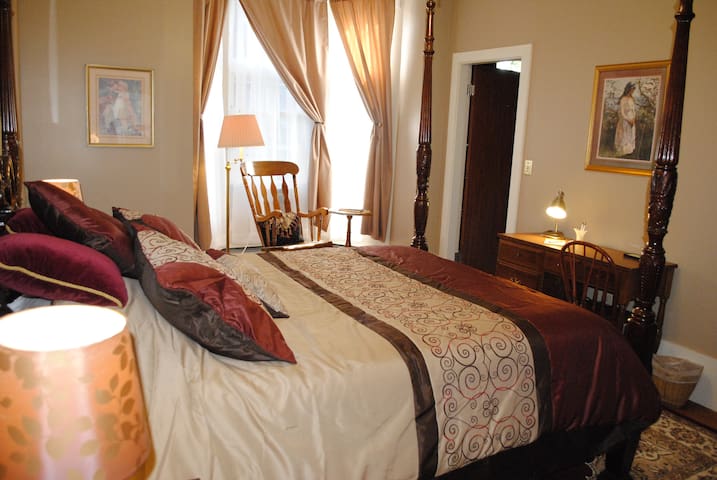 Beautiful 4BR house on Tacoma Lakes House 50' from water, amazing views 3 spring fed lakes joined by two bridges Brand new private dock , bring your boat All New Bedding Canoe/2 Kayaks- 4 Life Jackets (no kids jackets) Wifi / 4K Smart TV / Alarm System Screened in Porch w/peaceful views Gas Grille, Lawn Chairs VIDEOS: YouTube Type: Tacoma Lakes House Rental Beacon Boat Rentals (PHONE NUMBER HIDDEN) Weekly min = $175 per night 35% discount for 3wks + = $105 per night No Smoking or Pets
Lake watersports: Skiing, tubing, kayak, canoe, fish, swim, bird watch Coastal trips: Portland, Boothbay Harbor, Camden, Rockland, Bar Harbor Misc Trips: Whitewater Rafting, Sailing, Charter, Tours Hiking: Appalachians, Baxter State Park or Mt Washington Winter sports: Skiing, Ice Skating, Ice fishing, Snowmobiling
Our family's Christmas stay was wonderful. The home was ready with a decorated and lit Christmas tree, and we had everything we needed to make a full Christmas dinner, and many other wonderful dinners! It was warm, the beds were comfortable and it truly felt like a home away from home. Lawrence was always quick to answer any questions, check in was seamless, quick access to groceries and shopping, and oh so peaceful. A family Christmas vacation to be remembered for sure!
Kari
2016-12-27T00:00:00Z
Our family (7 adults and handful of kids 10 months to 13 years old) loved staying at this lake house it was clean and had almost everything we needed. It wasn't too remote yet felt away from it all. Lawrence was very helpful to answer questions and open to feedback. It was a great bonus to have the canoe and kayaks, the kitchen worked out well for us and there were lots of areas to hang out inside and out. There is a wonderful large yard to sit in and enjoy the view, was shady much of the day! We sat on the dock at night and watched shooting stars while swatting mosquitos. The lake is very peaceful especially during the week when we were there, hardly any other people out on the water, we saw loons, osprey and even a majestic bald eagle. For squeamish swimmers the water is only about 5 ft deep with a mucky grassy bottom until you get way out where it is deeper. There is an area to wade in but its rather pond like as well! This was fine with most of us! They had tons of fans which we used all over as well as the 2 ac units.. some rooms only have fan option fyi. The interior is a little dated but we had fun with it! Kids made a game out of counting the lighthouses in the decor! The wifi was a bit on and off (personally I just rather it be off! ) which for the connected person might be a thing. Overall a great value and nice place we would stay again! Thanks Lawrence!
Rebecca
2016-07-30T00:00:00Z
I booked the house for my colleagues, and they had nothing but praise. Lawrence was very easy to deal with and very quick to respond. Its a shame I never got to go.
Ben
2016-11-08T00:00:00Z
Lawrence made us feel right at home, he provided us with kayaks, and canoes, along with life jackets. The home was nice and clean, with a lush back yard. Plenty of air conditioning and beds, and blankets.
Clinton
2016-07-23T00:00:00Z
The house was just as described and just as shown in the pictures. The owner got back to me quickly with the confirmation and all the information I needed for the house making it a quick and effortless trip. When I arrived I was instantly greeted by the neighbor who extended and invite to me for the party they were currently having. It was a warm and welcoming environment all around. I felt right at home spending the days exploring the pond the house is on as well as the other surrounding lakes.
Melissa
2016-07-06T00:00:00Z
The house was comfortable and the location was great. Lawrence kept in touch to always ensure we had everything we needed. I would love to stay here again the next time I'm in the area.
Eric
2017-03-30T00:00:00Z
Kamertype
Gehele woning/appartement
---
Type woning
Huis
---
Geschikt voor
9
---
Slaapkamers
Litchfield, Maine, Verenigde Staten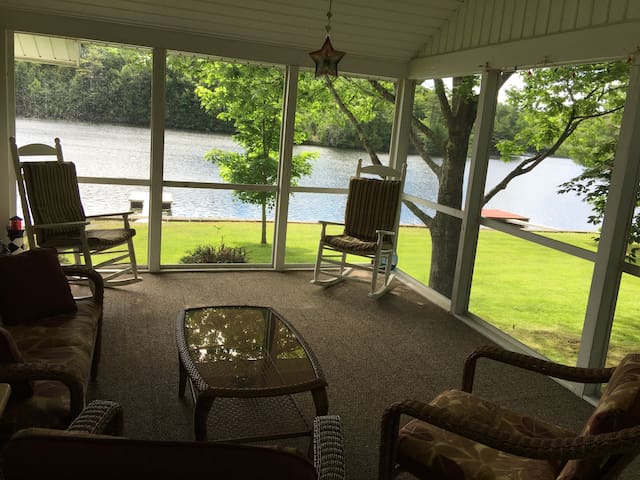 Beautiful heritage home built in 1840 on Lake Auburn outlet. Great for families and children, new kitchen and plenty of space. 2 queen beds, 1 twin and a pack n play available for infants. 2 parking spots plus street parking. Large yard with a dock on the lake. 45 minute drive to Portland Maine and 30 minutes to Freeport. We are located near shopping and amenities. If children are staying, they are welcome to use the toys in the play room.
Kamertype
Gehele woning/appartement
---
Type woning
Huis
---
Geschikt voor
6
---
Slaapkamers
Auburn, Maine, Verenigde Staten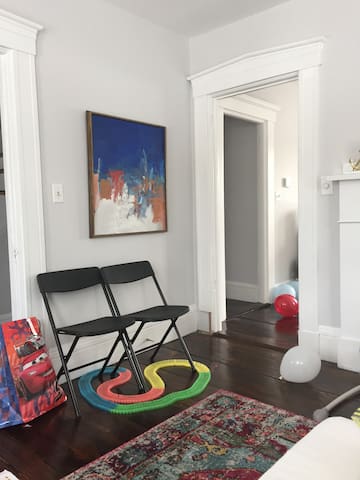 Right in the heart of Belgrade Lakes village is this cozy home with peeks of Long Pond! Lake access just steps away. Comes with boat mooring. Walk to Days Store, Village Inn, Long Pond Beach, Belgrade Lakes Golf Club and more. Colby College just an easy 15 minutes away.
Kamertype
Gehele woning/appartement
---
Type woning
Huis
---
Geschikt voor
4
---
Slaapkamers
Belgrado, Maine, Verenigde Staten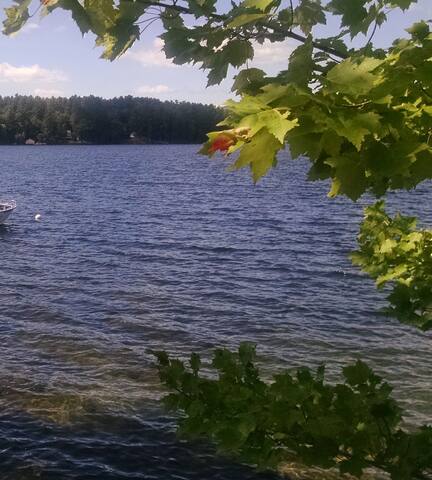 For those who want to live in luxury while enjoying Cobbossee Lake and Stream this 12+ room home features 5+ bedrooms, 4.5 baths, patio, etc. The home is immaculate with all rooms exquisitely appointed. The location is very private with 5.6 acres on a private road.
Large house, water
private
Donna was a great host - she met us when we arrived and was easy to reach with any questions. The house was perfect for our group of ten over a one week period in June - plenty of space to spread out between the house, the yard, and the lake. We all felt right at home!
Tom
2016-06-20T00:00:00Z
Donna and her home was amazing with great views of a lake and forest. Will love to come back
Ivan
2016-02-14T00:00:00Z
My family stayed here for July 4th weekend. Donna called in advance to see how far we were from the house so she could greet and show us around. She also came by a day later to check that everything was okay. The listing was as described and there were more than enough bedrooms and bathrooms for 7 adults and 4 children. The house was very spacious and brightly lit. In the beginning we were a bit concerned about no A/C during the dead of summer but it was actually very comfortable inside during the day and night with the ceiling fans in every room (as Donna has also assured us this wouldn't be an issue). Location-wise, it was in a nice, quiet, and a bit remote neighborhood (Drive to the closest supermarket was about 12-15 mins). Overall, we enjoyed our stay.
Lisa
2016-07-06T00:00:00Z
Donna was an excellent hostess, offering expert advice on the area and continuing to be available throughout our stay. She is extremely welcoming, and went way above and beyond. She met the first arrivals to let us in and gave us a tour of the home. The location is fantastic, with easy access to the lake and river while affording great privacy. 6 stars out of 5!!
Mike
2014-07-14T00:00:00Z
Donna's home is splendid. She met us at the house upon arrival and gave us a list of recommended things to do. Our group of 11 had a wonderful time! We spent a lot of time in the ping pong room, which we had no idea existed (what a surprise)! The house is conveniently located, with a grocery store and lake access nearby.
Rachel
2015-08-09T00:00:00Z
The house was absolutely beautiful. We rented this space to celebrate a friend's upcoming wedding and to have a nice low key girls retreat. The weekend was perfect! The master bedroom is stunning with a beautiful bathroom to match. The house was very clean and Donna had everything laid out very nicely for us. We were a group of 9 women had more than enough bathrooms to get us all out of the house on time in under an hour. That's a feat! All the rooms were spacious and beautifully decorated and Donna made us feel right at home. This is a small town, but Donna helped us find a local spa, some great restaurants and recommended some bars that we could check out. As others have mentioned it is hard to get cell service here, but I used it as a plus and a chance to get away from the constant ping of my phone for the weekend! The house is also a little removed from the water, but it's a very walkable distance and the docks and water were beautiful to hang out by and swim in. Overall this was an amazing experience and we had so much in this beautiful home. I would highly recommend renting this home to anyone who is looking for a beautiful quiet retreat for the week or weekend.
Samantha
2014-07-27T00:00:00Z
This was a gorgeous home right next to its own private Lake. Peace and natural beauty was everywhere and Donna was a great host who went out of her way to find out information for us about private boats and kayaks. Amazing time. Thanks again. Would definitely come back again.
thomas
2016-08-02T00:00:00Z
Nice location and huge house with plenty of room for a large group of people. Bedroom and bathrooms were spacious. Comfortable beds.
Alexandra
2017-01-01T00:00:00Z
Kamertype
Gehele woning/appartement
---
Type woning
Huis
---
Geschikt voor
10
---
Slaapkamers
Manchester, Maine, Verenigde Staten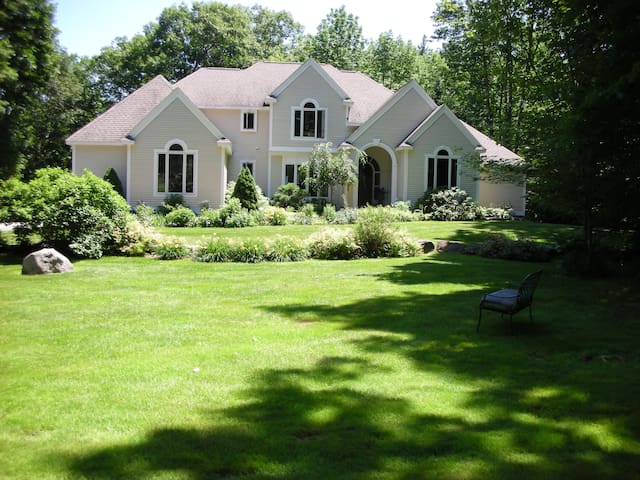 Camp Aljo was built in 2012. It is spacious, airy and is situated right on Lake Cobbosseecontee. Just a few steps to the water and the dock. The "camp" is filled with knotty pine floors and walls. Huge old fashioned farm table that seats 10 on the screened in front porch. Great fishing and boating and swimming right out the front door. Stunning Western exposure for sunsets and great lake views, the restaurants and galleries of Hallowell are a 10 minute drive away.
This new camp is wonderfully situated on Lake Cobboseecontee. This lake is 10 miles long, has wonderful water for boating, swimming, and fishing right through the fall months.
There are a few camps nearby but woods all around and in between camps. Camp Aljo is situated at the bottom of a 1/4 mile lane down to the lake from the Pond Road. Accessible by following Aljo Lane all the way to the bottom.
Private, quite and large. Everything our family was looking for when we had them come up for Florida due to a death in the family. Craig was great to work with!
Aaron
2016-10-05T00:00:00Z
This "camp" was absolutely everything we had hoped for...and then some. It really is much more of a home than a camp with the best of both worlds--you get the waterfront camp feel with the comforts of a real home. The house is spacious, clean and welcoming. It took all of five minutes to feel right at home. It has exceptional views and the front screened porch was a favorite spot for family meals. The dock was the perfect spot for a little morning yoga and a launch pad for excellent swimming and kayaking. The host is very responsive and made us feel very welcome. While there are neighbors, we didn't see anyone once (except out on the water). It is very private. The property is a very quick ten minute drive from grocery stores, mini golf and restaurants but other than needing to run out for a few groceries once, we didn't want to leave. It is truly a Maine waterfront paradise. We hope to be back to visit again next year!
Kayt
2016-09-06T00:00:00Z
Getting there is little bit tricky but Craig guided along the way nicely over the phone... location was calm and beautiful..
Siva
2016-10-10T00:00:00Z
Kamertype
Gehele woning/appartement
---
Type woning
Huis
---
Geschikt voor
8
---
Slaapkamers
Manchester, Maine, Verenigde Staten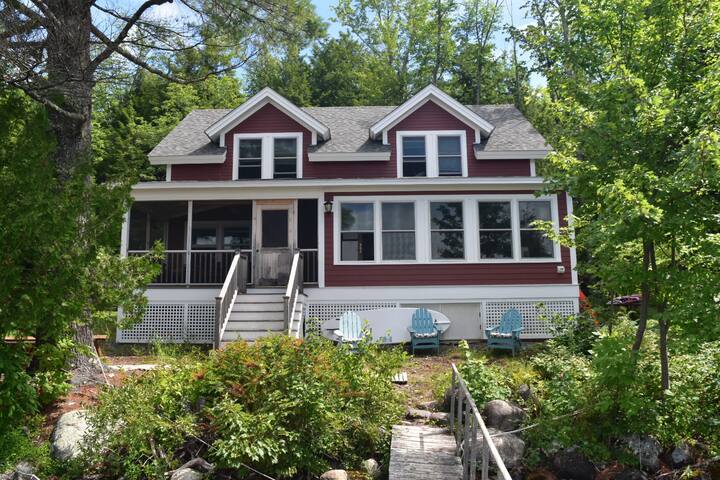 This lakeside 3 bedroom retreat with huge quarried stone fireplace defines a "Maine cabin". My grandfather built the Big House in 1944 with rustic knotty pine walls, high ceilings, a modern kitchen, a spacious screened porch ten feet from the water, and spectacular lake views from every room in the house. Truly a rare and unique property in an age where newer buildings have large setbacks from the lake's edge.
Trust our guests when they say that photos can't convey the picturesque, natural setting of the house, or the feeling that one gets from spending time and living Lake Life on Mitchell's Point. "All you need is Love + the Lake"...
This was my family's second time vacationing at Echo Lake and once again we had a fantastic two weeks. We felt that the house was perfect last year, but David has made a few improvements that really had great impact. There is a new, professional grade cooktop in the kitchen along with an extended island area allowing for 2 people to sit in there while you are cooking. David also connected the grill to the propane tank, so you never have to worry about running out of propane - a great thing because once you get to Echo Lake you don't want to leave! The screened porch has also been upgraded with a new screen system. I can't say enough about how wonderful the screened porch is. We spent many mornings and evening enjoying the loons and the lake from the porch! We had cool weather for a few days this year allowing us to use the fireplace. I think the fireplace is one of the most beautiful we have ever had the pleasure to use. The Roku allowed us to watch sports (F1, Wimbledon, and the Euro Cup) during the cold weather, which worked out great. David is an exceptional host. He truly loves the lake and can provide you with answers to any questions that you may have. My teenage boys heard about free donut Tuesday at Lakeside Orchards from David and needless to say went on Tuesday to enjoy them! You can also get fresh produce while you are getting donuts. David also loves dogs and welcomed our golden retriever to the house, which is rare in rentals, but wonderful for us because it wouldn't be a lake vacation without our dog that absolutely loves the water. The bottom line of this review is that I can't say enough wonderful things about this property or David. I just wish we could rent it for the whole summer and never leave!
Suzanne
2016-07-17T00:00:00Z
My family and I stayed at David's lake-house for a week in late August- the place is truly paradise. The house has panoramic views of the water from every window, and the interior (which you can't tell from the pictures) is absolutely gorgeous- tastefully designed and styled in every way: large bedrooms, beautiful architecture, with an open common area with great natural light and a beautiful stone fireplace. We spent the days lounging and fishing off the dock, reading on the porch, kayaking and grilling dinners. There is also a large tent set up on the edge of the property, right by the water for those who want to sleep outside for a night listening to the loons! David, in addition, was the perfect host (he even had a fire going for us when we arrived!) extremely helpful but non-intrusive - by far our best host on the site yet. My whole family hopes we can return next summer! If you are looking for a secluded getaway, wonderful host, and beautiful house, this is it. The area is especially unique in that it has not been built-up like many other lakes - absolute serenity! While we loved being there for swimming and kayaking during summer, I imagine it would also be a beautiful winter get-away. Thanks so much David!
Jamie
2014-08-24T00:00:00Z
We had a wonderful stay at this gorgeous lake house for the second year in a row! David is a fantastic host and very friendly, helpful and knowledgable about the property, lake and surrounding areas. We only wish we could've stayed longer!
Sheila & Raynor
2016-08-28T00:00:00Z
David's house on the Echo Lake is a true gem. Located on its own small peninsula,the house is surrounded by water and is quiet and secluded. Nestled in the trees, it is sheltered but also has great views of the lake. Loons call and eagles fly by. The house itself is rustic in feel and charm (and thankfully free of kitch, and thoughtfully updated with a great kitchen, sonos and wifi. The three bedrooms are all spacious with comfortable beds. A new dock on the lake offers a great spot to hang out on the water. It's a perfect place to spend time with family and friends. David is a great host. He is responsive to pre-trip questions, made us feel right at home, and was present but not intrusive. Just make sure you plan enough time to enjoy it - we wished we had stayed longer.
jim
2016-05-23T00:00:00Z
David was an excellent host. We visited his cabin Columbus Day weekend and since it was a bit on the chilly side he had a fire going in the cabin when we arrived. His cabin on Echo Lake is a truly beautiful place!! If you have the chance you should definitely visit.
Scott
2015-10-12T00:00:00Z
David's place in Maine is truly lovely. I honestly did not know a place could be so peaceful and relaxing. We were there in late July and the weather was perfect: warm during the day but cooled off at night. Great for a daily swim in the beautiful lake. I echo the previous reviewers advice to stop at the grocery store beforehand because, once you arrive, you won't want to leave. We grilled every night. Can't wait to go back!
Claudia
2015-07-25T00:00:00Z
This is one special place, it felt like having my own vacation home away from it all. Situated under the cover of pine trees at the very edge of a fairly large lake, it's completely isolated. My family spent their days swimming, reading & kayaking. The only sounds you hear are the lapping of the water the loons and an occasional water skier. Farm stand markets are close by for extra provisions and the roads in the area are great for long bike rides. I found house well kept, spacious with just the right amount of open space and private rooms for everyone to be comfortable. The host is adept at being available yet unobtrusive. We made many a wonderful meal in the kitchen and outdoor firepit. Can't wait for the next visit.
seth & cat
2014-07-27T00:00:00Z
This lakefront Maine cottage is actually a little MORE beautiful and perfect than the posted photos suggest. The location is beautiful, serene, peaceful. The house is welcoming, and extra special. We were extremely pleased with the house and with David's hosting. I can't recommend the experience too highly. From the enormous living room fireplace, to the mirror-calm lake itself, everything about this weekend exceeded my expectations. The drive down the 1 mile dirt road to the house was a great mood setter. Piney woods, Loons, grilling on the back deck, coffee on the dock as the mist lifted off the water. It's all here. Do yourself a favor, book this property.
Gideon
2015-06-22T00:00:00Z
Kamertype
Gehele woning/appartement
---
Type woning
Huis
---
Geschikt voor
6
---
Slaapkamers
Fayette, Maine, Verenigde Staten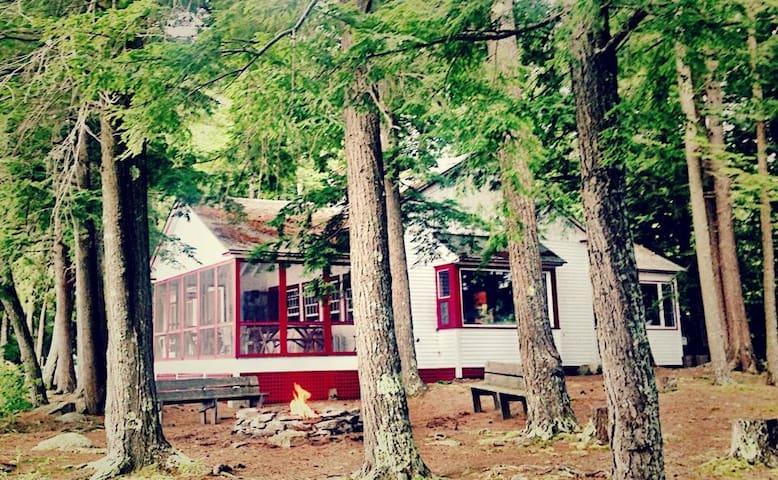 If you're looking for a cozy Maine family camp, you've found it! Enjoy the day swimming, kayaking and fishing. It's all right there. Paddle up Jug Stream and you'll be on Annabessacook Lake. Relax in the hammock and watch the activity or sit on the back deck. Catch a glimpse of the blue herons or loons as they make their way by the camp. You're only 20 minutes from Augusta and just about an hour from Portland. The camp is less than 5 miles from the Theater at Monmouth.
One tandem kayak available with adult life jackets. Fishing poles and some worms usually available. Dock space for your own small boat. The lake has a public launch available.
Kamertype
Gehele woning/appartement
---
Type woning
Huis
---
Geschikt voor
6
---
Slaapkamers
Monmouth, Maine, Verenigde Staten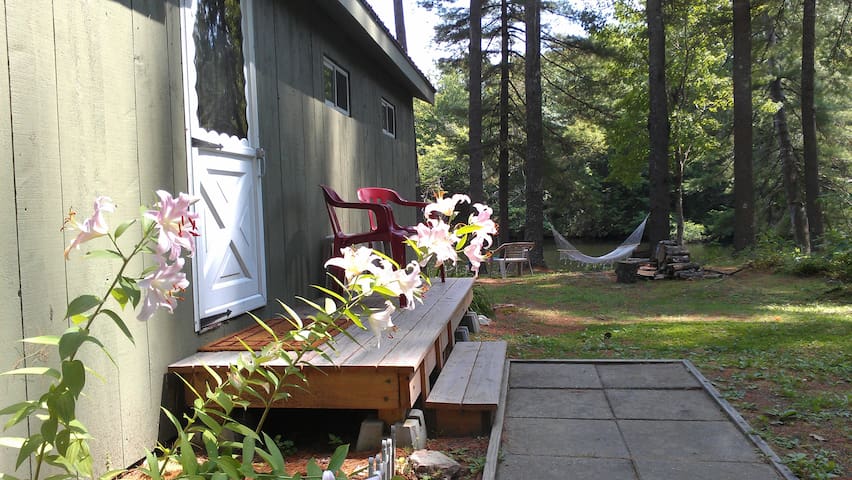 Rental includes use of 2 kayaks and a canoe. Fully furnished including bedding and linens. Gas grill and fire pit. Three docks, public boat launch at Great Pond Marina.
This stay was my family's first airbnb experience, so I was anxious. At $2,000 ish/week, this is an investment. For my family, this was an excellent investment. The house is beautiful. The lovely path to the lake is short and shaded and soft with pine needles and mulch. The hammock is strong. The porch is shaded and comfortable when the afternoon gets hot. The fire pit is s'mores ready. The house is a home, with all you need to sleep well, prepare meals and just have fun. We were six adults: mom, dad, and four adult children. The three bedrooms served us well with the exception of the third/children's bedroom. Although the mattress was sound, the "support" is a piece of plywood, suitable for a child of 10 but not for MY child of 28. I think a bunky board or other box spring type of foundation would work well. Otherwise, the listing should make it clear that the beds in the third bedroom are for kids. There is absolutely no sound-abatement in this wonderful house, so everyone hears every single thing that everyone else says (and does). This wasn't a problem for us, but it might be for a different group of guests. The house does not have an "assigned" or dedicated dock. The house is part of a homeowner's association that owns three docks. If the dock closest to the house is occupied, try one of the other two docks. When we wanted to swim and sun, we were able to find an open dock. We are already planning two weeks next summer. I hope that says it all.
Melissa
2016-07-16T00:00:00Z
Kamertype
Gehele woning/appartement
---
Type woning
Huis
---
Geschikt voor
8
---
Slaapkamers
Rome, Maine, Verenigde Staten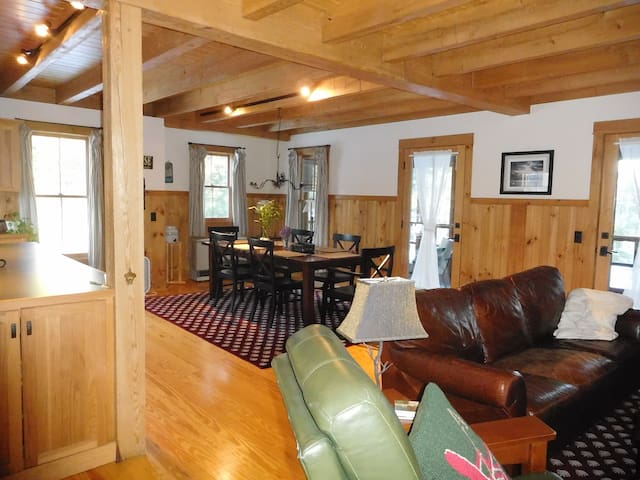 Beautiful year-round home, located on waters edge with all the popular and modern amenities to feel at home. Located just 10 yards from the water's edge, this home is sure to please.
Located right on the water's edge in Livermore, Maine! Enjoy beautiful views from the spacious deck overlooking the water.
Located in a safe and friendly community; our unit is situated in Central/Western Maine. We are close to biking and hiking trails, fishing, golf, and shopping areas! We are also within an hours drive of casino gaming, the state Capital, and the Maine coast!
Tim and his family are so lovely, and greeted us on arrival. The house is incredibly clean! The was a fire place in the back yard, along with deck chairs, beanbag and washer toss games, a picnic table and grill for outdoor cooking. The neighbors were welcoming and one woman even brought over a few toys for our son to borrow. The pond is shallow enough at the shoreline so as to make swimming easy for the kids, and a dock to fish off of too. There were ample linens including beach towels. There was also plenty of pots, pans, dishes, etc. We were pleased to find some family games and puzzles to keep everyone entertained. Wifi signal was great, cable TV was available (although we were to busy to find much use for it!) The queen bed in the master bedroom was comfy and I assume the two beds up in the very large loft area (doubles or queens) were cozy,since the kids slept well. We had a great time and the only drawback for us was that the property is on a fairly busy route. We live in a rural area and aren't accustomed to traffic noise. But even given that, we had an amazing time and slept well. Ceiling fans (and portable fans as well) in each room kept things cool and nice for sleeping, although there is an air conditioning unit in the living room if needed. Thanks for your hospitality Tim and family!
Pam
2016-08-08T00:00:00Z
Tim was very welcoming, and the cottage fit our needs exactly. We were visiting family and needed a place for four of us to stay. There was plenty of room, hot water, a washer/dryer, a fully stocked kitchen and loads of other amenities.
Joyce
2016-08-15T00:00:00Z
Kamertype
Gehele woning/appartement
---
Type woning
Huis
---
Geschikt voor
6
---
Slaapkamers
Livermore, Maine, Verenigde Staten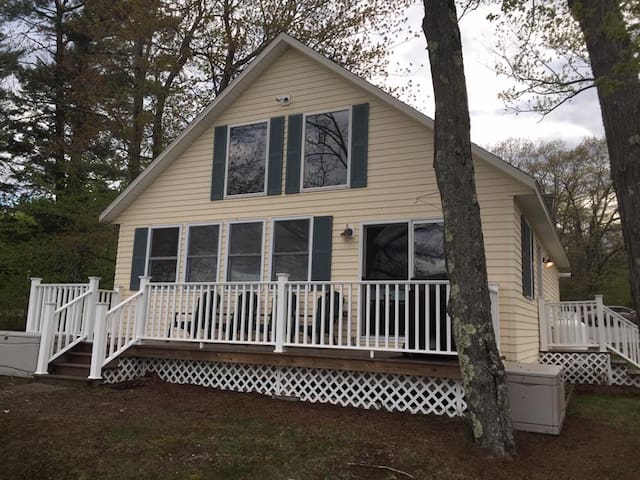 1

–

18

van

50 Huizen te Huur