Casa Meme Papou is gelegen in het Morne schiereiland, dat is een Unesco World Heritage site. De villa ligt aan de voet van de majestueuze berg Le Morne Brabant en ligt op 1,5 km van de adembenemende stranden en de wereld-beroemde 'One Eye "kite-surfen plek. De villa beschikt over een prachtige tropische tuin en heeft 3 slaapkamers, 3 badkamers, een volledig uitgeruste open keuken, ruime lounge, tv-kamer, veranda, een zwembad, een wasmachine en een dakterras met prachtig uitzicht op zee en de bergen.
Het gebied waar Casa Meme Papou ligt is een zeer rustige omgeving. Het mooie strand van Le Morne is een 3 minuten rijden en zijn ook gemakkelijk te voet bereikbaar. Het dichtstbijzijnde stadje ligt 3 km, La Gaulette. Dit is waar u een mooie supermarkt te vinden, een aantal restaurants en bars, een geldautomaat, apotheek en arts.
Kamertype
Gehele woning/appartement
---
Type woning
Villa
---
Geschikt voor
6
---
Slaapkamers
Le Morne, Rivière Noire District, Mauritius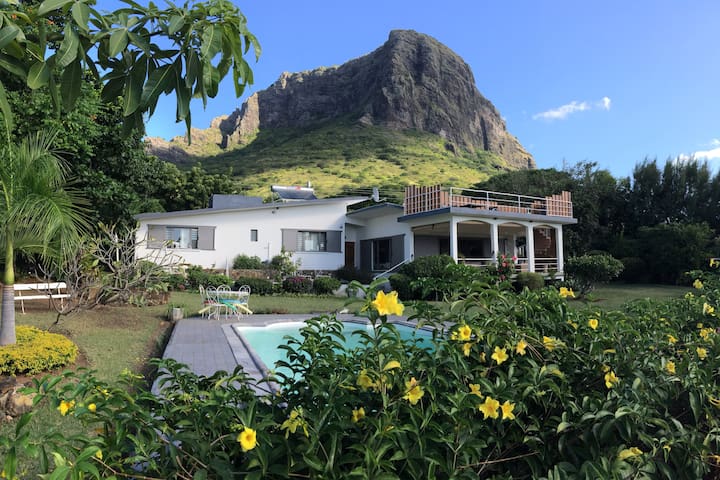 Deze drie slaapkamer villa is rechtstreeks gebaseerd op de legendarische berg van Le Morne (Le Morne) Brabant. De villa biedt een prachtig uitzicht op de oceaan en de bergen rond.
Deze drie slaapkamer villa is rechtstreeks gebaseerd op de legendarische berg van Le Morne (Le Morne) Brabant. De villa biedt een prachtig uitzicht op de oceaan en de bergen rond. Je hoeft alleen maar naar het terras in te voeren om te begrijpen wat vandaag: golven of wind waait
The host canceled this reservation 33 days before arrival. This is an automated posting.
Brenda
2016-06-01T00:00:00Z
The place is perfect for the independent traveller and his friends or family. It's got a fantastic view over the lagoon and has lovely outdoor spaces for chilling, drinking cocktails or braaing [that means cooking!] on the gas webber. Such a great location. But if you are looking for the hustle and bustle of Mauritian street life and the convenience of shops in walking distance, this in not the place. You will need a car or scooter, which is easily arranged through the friendly and extremely useful Pritish who speaks perfect English and French and is only a phone call or (SENSITIVE CONTENTS HIDDEN) away [the wifi is very good btw]. For those interested in Kite Surfing, the location is close to Mauritius's most popular kite-surfing lagoon. Again, ask Pritish to help you organise some lessons if req'd. Prepare to drink sea. The place is 100% fully self-catering so you'll need to stock up on good cheeses, baguettes and fine island rum from the massive supermarket in La Gaulette. There's also a shop near the supermarket that sells fresh tuna which is another good reason we are most likely going back as soon as we can. Thanks Sergey!
Ken
2016-08-29T00:00:00Z
In every Paradise there is a Snake. In Le Morne, the Snake is called Mosquitos. Everything is beautiful. View, facilities, surroundings. You can barbecue outside, cook in the Kitchen - you are close to many precious sights. You have peace and quiet except from nosy Gardeners to the East if you sunbath and swim in the Pool naked. The mosquitos are the only real concern. But they are aggressive and hungry. And the House could do with some Aircondition and maybe a general makeover. All in all this is indeed "a rare find". You are 20 minutes away from a trip to swim with Dolphins. You can kitesurf, play Golf and visit the Grand River Gorges National Park. Take also a trip down the South Coast along beautiful, abandoned public beaches and see the Crying Rock in Souillac and "The Fall" (waterfall) in Surinam. Don't bring much clothing. Only to protect yourself against Mosquitos in the Evening.
Peter
2016-12-01T00:00:00Z
Comfortable, spacious and clean house with great view on the bay; the local contact helped organize cars, cleaning aso; rental car highly recommended to get to the beach, kite spots, supermarket, restaurants!
Manuel
2016-10-16T00:00:00Z
Très belle situation. Maison grande et bien équipée. Attention accès au parking très raide et pas accessible avec une voiture break. Petites améliorations à faire sur les lumières dans les chambre et dans le salon. Une vue magnifique et un quartier très calme. Situation idéale pour accès aux plages du Morne et pour le kite surf. Restaurants et super marché à 10 minutes en voiture à la Gaulette. On reviendra! Thank you Sergey.
christian
2016-09-17T00:00:00Z
La villa est situé dans un quartier fantastique juste à coté du spot de kitesurf, la vue est époustouflante. La villa est simple mais très confortable
silvia
2016-08-21T00:00:00Z
Просторная вилла с панорамными окнами и видом на океан! Все, необходимое для комфортного проживания было подготовлено: посуда, постельное белье, кофе, чай, специи. Трижды в неделю приходил садовник - подметал, подстригал, чистил бассейн. Вилла не новая, но вполне ухоженная. Чувствовали себя как дома!
Alexey
2016-09-24T00:00:00Z
Logement très bien situé pour ceux qui recherchent le calme avec une vue à couper le souffle. La maison est très propre et bien entretenue. Nous recommandons vivement cette maison.
Philippe
2017-02-23T00:00:00Z
Kamertype
Gehele woning/appartement
---
Type woning
Huis
---
Geschikt voor
6
---
Slaapkamers
Le Morne, Black River, Mauritius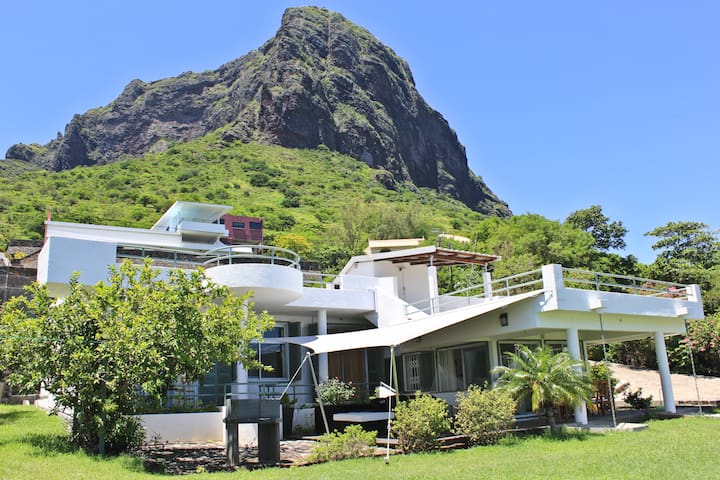 paradijs tussen de zee en de bergen. Kalmeren met zwembad en jacuzzi. Groot terras met uitzicht op de lagune. Locatie geschikt voor kite en windsurfen. gratis wifi. 24 uur CCTV-bewaking Leveren verse producten van de zee op aanvraag Tot uw dienst: Gracia (huishoudelijke en keuken) en Vikash (winkels, zwembad en tuin)
Unieke plaats tussen montain en de zee. Kalmeren met overloop zwembad. Groot terras met uitzicht op zee. Gratis wifi. Meest geschikt voor kiters.
Onderverdeling accommodaties zijn vrij ver van elkaar.
Villa simple avec une vue exceptionnelle entre mer et montagne. Gracia est sans conteste le 2 ème atout de cette location. Elle nous préparés de bons petits plats mauricien. Elle est toujours souriante et d'une grande gentillesse. Jean Phillipe nous a bien accueilli. Bon rapport qualité prix. Nous avons passé un agréable séjour.
Tonazon
2016-03-30T00:00:00Z
Superbe emplacement, accueil chaleureux, piscine impeccable
Edouard
2017-04-04T00:00:00Z
We can highly recommend this house for you holidays on Mauritius! Special thanks to Jean Philippe for warm welcome - there was a starting list of food with all necessary things, waiting for us at the house at our arrival! After very long way it's so important! I want to mark that the owner is very attentive persone - he provided us with all necessary contacts (for taxi, fishing, restaraunts, car-rent), he was always in touch to help us any time. The situation of the villa is rather convenient - right between public beach and small city with supermarket and minibank. There is a spectacular view on the ocean from the terrace! The road is close, but it's not noisy and there is no any traffic at night. The house is surrounded by trees, so you feel like there are no any neighbours around. The house is not new but all the systems worked well and we didn't have any problems. There are a lot of plates and all kitchen utensils, enought chairs and tables for big company, huge territory to play or sunbathe. According to Mauritius, if you planning to travel a lot its better to rent a car as taxi is rather expensive. Internet is not very quick.
Natalia
2017-01-15T00:00:00Z
This is a great option for anyone who is looking for a genuine experience of south western Mauritius. The house is perfectly located in le Morne with beautiful ocean view and surrounded by a lush garden. It is near the beach, a small city centre and the mountain. There are many activities to do in the area. Renting a car is cheap, through Jean Phillies recommendation we paid half prize compared to what the large firms at the airports charge. A car was a necessity for us, all though we did see tourists using the public transportation system and there were bus stops nearby. I would highly recommend the option of renting a private villa and to stay away from the large resort as you will learn and experience a lot more about the country this way. The host Jean Phillipe is very personable, friendly and service minded. He stopped by a few times just to see how things were going and was always only a phone call away if we had any questions. All his recommendations of activities were top class. All the people he connected us with were genuine, friendly and professional. The cook Gracia made superb local food and was very friendly. Coming home to a home made dinner everyday was amazing. Not only was the food more delicious than the restaurants we tried, but as a family with a small child is was also nice to be able to just relax at home and not have to worry about going out for dinner at night. The house itself is a good size two bedroom villa. The interior is simple but is has all necessities, it was clean and had a homely feel. Since it is a tropical climate bugs, ants, mosquitoes and lizards are to be expected, but it was not to an extent that it bothered us. The area felt very safe and we were completely relaxed around the house. This was one of our best holidays ever and Jean Phillipe played a large part in that. THANK YOU! Ingrid, Mikkel and Gusten
Ingrid
2017-02-04T00:00:00Z
Accueil très chaleureux, maison simple avec une jolie terrasse, jolie vue et une piscine très agréable. Gracia fait très bien a manger! Le coin est tranquille, endroit pour se reposer ou pour profiter de la mer, kite, paddle...
Anna Laura
2016-03-20T00:00:00Z
Super Willkommensgruss von der Köchin Garcia. Das Haus hat unsere Erwartungen übertroffen in dieser wiuderschönen Gegend am Fuss des mont Brabant.
Christoph
2016-07-03T00:00:00Z
Très bon séjour passé au Morne. La maison est situé dans un cadre exceptionnel au pied de la montagne patrimoine mondial de l'Unesco entouré de la plus belle plage de l'île et d'un super spot pour le kitesurf. Très bien intégré dans la nature, au calme, il s'agit de l'endroit parfait pour se reposer. Proche de toutes les commodité (5km). Jean Philippe propose un super accueil, met en relation avec différents intervenants très compétant (location de voiture, taxi...). Les services proposés dans la locations sont extras l'entretien des extérieurs et le ménage quotidien est top. Pour la partie repas du soir assuré par Grazia il s'agit du véritable plus de la location. on a dégusté d'excellent plat autour du poisson (poulpe, langouste, poisson grillé...).
Emmanuel
2017-03-22T00:00:00Z
True Mauritian experience. Great house, great hosts and what a location!!! It is not a new house, but it worked and all the amenities worked too. We really felt at home there. Their is everything you need if you are not looking for a brand new 5 star hotel. I would definitely come back. Thank you Gracia and Jean Philippe La maison est super, l'accueil est parfait et l'endroit est magnifique. Certe la maison n'est pas récente mais si vous ne recherchez pas un hotel 5 étoiles, il y a tout ce qu'il faut, et tout fonctionne. Je reviendrai avec grand plaisir. Merci Gracia et Jean Philippe.
mikael
2016-05-03T00:00:00Z
Kamertype
Gehele woning/appartement
---
Type woning
Villa
---
Geschikt voor
4
---
Slaapkamers
Le Morne, Black River, Mauritius
Comfortable apartments in a large villa in Le Morne with swimming pool Well suited for two people or families with children. 5 minutes drive from the world-famous spots One Eye and Manava
Wonderful neighbourhood, near excellent beaches and great views of Le Morne from the peaceful garden. Hosts great, welcoming, friendly and helpful but plenty of privacy including use of large pool.
J
2016-04-01T00:00:00Z
I had a fantastic time staying with Sergey and Tatiana. Originally I had booked for 3 days, but then I ended extending my stay with them to 5 nights. They were excellent hosts, really helpful, welcoming, and I felt safe travelling as a single woman. They invited me for dinner, brought me fruit, had snorkel gear and SUP board that I borrowed. The highlight was definitely the Russian Banya (sauna/steam room he built). If he offers to open it, I would recommend. It takes time to heat up. The pictures are accurate, if that suits your needs.. They are located a 5 minute drive from a lovely beach in Le Mourne. I had a relaxing time and would stay here again.
Tanis
2016-05-18T00:00:00Z
Der Aufenthalt war spitze, es gab nichts zu bemängeln. Am besten mit Auto anreisen oder wie wir vorher Lebensmittel für den Zeitraum einkaufen, denn der nächste Supermarkt ist ca. 5 km entfernt. Der öffentliche Strand ist traumhaft und zu Fuß ca. 25 min entfernt. Es fahren auch Busse zum Strand. Guter Ausgangspunkt für den Aufstieg auf den Mont Brabant.
Patrick
2017-02-13T00:00:00Z
We had a fantastic time at Sergey and Tatiana's. The place had all we could need and was very clean. They got some shopping in so we had all fresh food when we arrived. Everything is as new and clean as it appears in the pictures. Sergey treated us to a Russian sauna which was a great experience. Sure we will be back for longer. Location was great for chilling and boarding. Oh and they brought us lovely fresh tuna too!
Brian & Hannah
2015-11-25T00:00:00Z
Sergey is very welcoming and has a great hospitality. He reacted immediately on our request and did everything that we felt happy. The room are as shown on the picture.
Maria
2016-04-27T00:00:00Z
Kamertype
Privé Kamer
---
Type woning
Villa
---
Geschikt voor
3
---
Slaapkamers
Le Morne, Black River, Mauritius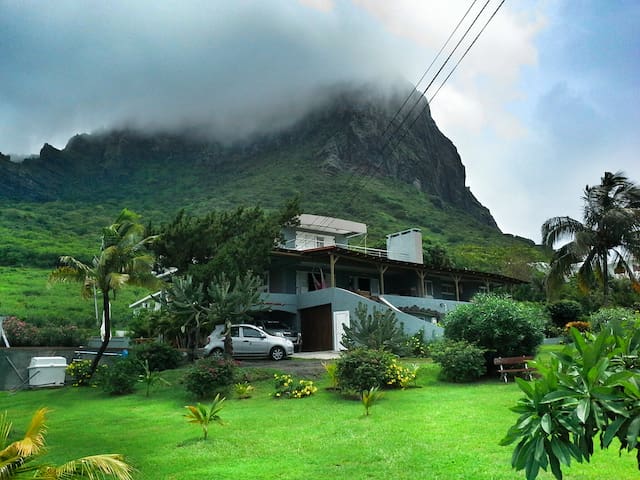 In UNESCO World Heritage site Le Morne experience the best natural highlights of the island Romantic & Contemporary stylish studios Each has private dining terrace Ensuite shower room Private kitchen Housekeeping WIFI & stunning shared roof deck! The kite surf lagoon is ranked the best in the world for learners and #5 in the world for the experienced. With world class beaches, Hiking, Snorkeling, Kayaking and wildlife. Nestled in the authentic Mauritian village of Coteau Raffin near La Gaulette.
Breathtaking views in every direction, this two storey villa completed in 2011, has been designed to take full advantage of the Indian Ocean breezes. Each spacious studio has a private outside dining terrace, ensuite shower room and kitchen. Fan Air con ( 100 rupees per day surcharge) Free WIFI Relax & take it easy with our maid service (3 x weekly) There is a stunning shared roof terrace with 360 degree panoramic sea & mountain views with a BBQ giant sunbeds Cool off shower & dining area Contemporary styling throughout.....with a touch of luxury. Located close to the best natural highlights this beautiful island has to offer such as the 5 mile stretch of stunning beaches at Le Morne & the pristine forests & waterfalls of Chamarel our studios are close to all amenities There are no bad restaurants in this area! A 10 minute drive to the world famous kite boarding & wind surfing Le Morne Brabant. For those less adventurous who prefer to slumber under a tree with a good book Le Morne also has the added benefit of more sheltered swimming and sunning beaches, the best snorkeling we have found yet on the island The ocean here is a comfortable temperature and water clarity about 20 feet . There are easy and challenging hikes and walks over streams and waterfalls or climbing to panoramic views of endless forests and Indian Ocean Found in the authentically Mauritian hamlet of Cotteau Raffin, La Gaulette, 3 kilometres to the pristine beaches of Le Morne, a UNESCO World heritage site of outstanding natural beauty....share the same stunning stretch of sand as the 5 & 6 star hotels at a fraction of the cost! Close to all the amenities and activities required for a perfect holiday experience , this location is hard to beat ! Each studio sleeps 2 has a 5 night minimum. All prices are displayed in GB pounds sterling Studio have en suite bathroom and kitchen and maid 3 days a week. Iron and ironing board on request. Every studio has a fan Air con (available @100 rupees per day), Wifi. Room Safe. Wardrobe-10 hangers. Dining Table 2 Chairs. Security lights on exterior of Villa with 24 hour CCTV recording (Ideal for outside storage of oversized sports equipment.) BEDROOM Super King Sized Bed ( with 100% cotton bedding changed 1x per week 4 hollow fibre pillows)
Iedereen die de keuze van deze locatie is vooral geïnteresseerd in de natuur, is rust en watersporten zoals Kite & Windsurfing Deze enigszins slaperige dorpje voornamelijk bewoond door een lokale vissersgemeenschap en andere Mauritianen. Er is een goede balans van de bezoekers vooral tijdens het kitesurfen seizoen wordt deze zak van Mauritius echter niet overspoeld met toerisme. Er is genoeg te doen en te zien en een goede variëteit aan plaatsen om te eten en rondhangen. Deze locatie is het meest geschikt voor mensen op zoek naar overdag actie.
Mooie kamer, prachtige sterren hemel op het dakteras en een geweldige excursie gedaan met wilde dolfijnen. (echt een aanrader om te doen!!) foto's klopen met de werkelijkheid.
Jasper
2016-02-02T00:00:00Z
We had a lovely week at Trisha's apartment. The apt is lovely with a balcony with great sea and mountain views. Victor who manages it is lovely and very friendly and keen to make sure that everything is good. Le Morne area is really lovely and staying in such an unspoilt area was a joy! Make sure you take a trip up Chamerel and try out some of the restaurants up there, very good! Thanks for making our stay so enjoyable and I highly recommend your apartment! Cheers Jane & Ken
Jane
2014-11-10T00:00:00Z
Everything was perfect, we had a very nice holiday in Mauritius. Trish and Kev have been very helpful and friendly in organising everything! Thanks a lot!!!
Rainer
2016-01-24T00:00:00Z
What a nice place! We stayed 4 days in this apartment. We had a beautiful view on the Le Morne Brabant, it is 5 minutes drive to the supermarket and not even 10 minutes drive to the beach of Le Morne. It is a beautiful stay in a calm neighborhood. The room was nice, bed was sleeping good and the bathroom was also okay! It is a nice place because you are sitting next to nature of Le Morne Brabant and you can do/see things easily!Trish and Kev arranged for us swimming with the dolphins, this was amazing!! You can park your car on front of the apartment, I prefer to rent a car so you can see more of the island and have the freedom to do/see things.
Silvano
2016-07-30T00:00:00Z
Logement correct. Chambre plutôt confortable. Cuisine un peu vieillotte et aspect général extérieur/ quartier/ environnement moyen.
David
2017-03-21T00:00:00Z
Nous avons passé une semaine de rêve à la Gaulette dans le studio de Trish et Kev. Le studio est très bien aménagé avec sa grande chambre et son petit balcon pour l'apéro ( bière locale Blue Marline, un régal) et une très grande salle de Bains. La Maison jouit d'un très joli toit terrasse pour profiter d'une vue Splendide sur le Morne Brabant. Le ménage est fait régulièrement par une femme de ménage. La location d'une voiture ( conduite à gauche très difficile au début) est indispensable pour naviguer et se déplacer jusqu'à la magnifique plage du Morne à 2 km ( la plus belle de toutes celles que nous avons faites pendant les 15 jours de notre séjour), faire une Rando au Morne Brabant, aller nager avec les dauphins dans la Baie de Tamarin (inoubliable), Aller à Chamarel, la Vallée aux sept couleurs et au lac sacré ,aller dîner à la Gaulette au petit Resto de " chez Millis",.... Et pour couronner le tout Trish et Kev ont été adorables.Nous recommandons cette destination aux personnes qui veulent véritablement découvrir Maurice, proche des Mauriciens ( tous très agréables) et loin des complexes hôteliers ou l'on à tendance à rester enfermé..
Laurent
2015-10-24T00:00:00Z
Très bonne première expérience avec AirBnb ! Trisha a géré notre arrivée et notre départ de manière chaleureuse et s'est montrée disponible pour organiser certaines activités. Le studio que nous occupions (au 2ème étage) est composé d'une chambre spacieuse avec balcon, d'une petite cuisine toute équipée et d'une salle de bain. Une femme de ménage passe tous les jours. Les 4 studios partagent un toit terrasse permettant de prendre un apéro ou d'organiser un barbecue le soir. Ce coin de l'île est parfait si vous recherchez le calme et voulez éviter les "grandes villes". Les plages au pied du Morne sont parmi les plus belles de l'île. La location d'une voiture est une nécessité. Victor qui gère une petite agence de tourisme dans le coin peut s'occuper de votre transfert depuis l'aéroport et vous louer une voiture pour des tarifs raisonnables. Satisfait de mon séjour, je n'hésiterai pas à y retourner à l'occasion. Merci à Trisha & Victor !
Audren
2015-05-09T00:00:00Z
la description du logement est conforme à la réalité les contraintes horaires qui peuvent paraître pesantes n'ont pas posé de problème d'organisation mais nécessitent peut-être d'adapter les horaires de vols
Isabelle
2015-10-07T00:00:00Z
Kamertype
Gehele woning/appartement
---
Type woning
Appartement
---
Geschikt voor
2
---
Slaapkamers
La Gaulette, Black River, Mauritius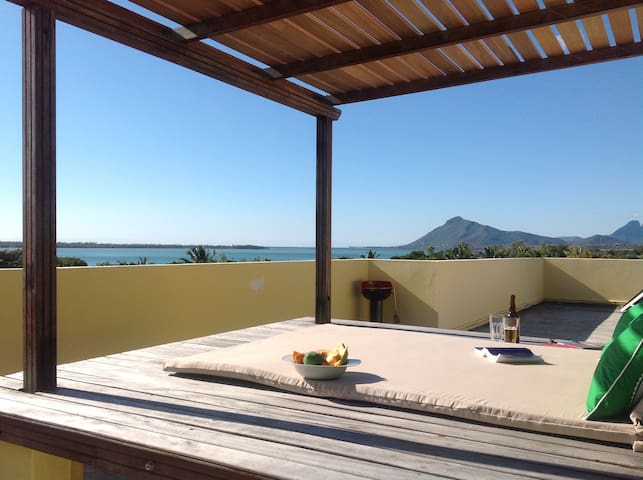 Schitterende villa met zwembad en uitzicht op zee. Gunstig gelegen op 5 minuten rijden van Le Morne strand, en een van de beste plekken in de wereld kitesurfen, de villa biedt echte diensten voor u om uw vakantie te genieten in alle rust!
Morne De villa biedt een echte vakantie-ervaring, pros diensten, neem dan contact op de site om u te begeleiden naar uw vertrek te zorgen dat u een aangenaam verblijf op ons eiland! Diensten inbegrepen: - Een lokale welkome maaltijd bereid door onze "chef Betty" - Een koelkast met nodig is voordat go shopping -Een meid 09:00-12:00 elke dag (behalve zondag) -Een tuinman voor het onderhoud van de tuin en het zwembad -De wifi inbegrepen -De linnengoed is natuurlijk inbegrepen Optionele diensten: - De eigenaren bieden ook de mogelijkheid van een shuttle van de luchthaven bij aankomst en vertrek. - Boottochten etc. Inbegrepen diensten: - Een lokale heerlijk "welkome maaltijd" gekookt door "Chef Betty" - Koelkast met alles wat u nodig heeft na de vlucht lang als je kunt uitrusten voordat je wat te eten -Een dienstmeisje elke dag van 09:00 tot 12:00 (behalve op zondag) -Een Gardner te zorgen voor de tuin en het zwembad nemen -Wifi opgenomen -Handdoeken en linnen zijn uiteraard inbegrepen Optionele diensten: - De eigenaren bieden u de mogelijkheid om een pendeldienst van de luchthaven te organiseren op een zeer interessant tarief. - Informatie over autoverhuur. - Boottochten in de lagune etc.
Beach / Strand: 5 min drive / met de auto One Eye kitesurfen spot: 5 minuten met de auto / met de auto Tamarin Village (supermarkt, restaurant, apotheek etc ...): 5 minuten met de auto / met de auto Golf: 3 min
Nous avons été très bien accueillis par les parents de Jean-Christophe qui ont été disponibles dès que nous en avions besoin. La maison correspond très bien aux photos, elle est très spacieuses avec une très belle vue, belle piscine et beau jardin, dans un quartier calme de l'île. Même s'il faut une voiture pour se déplacer, tout est à proximité en quelques minutes. Nous reviendrons sans hésiter !
elise
2017-01-08T00:00:00Z
Super séjour, la maison correspondait à l annonce et nos attentes. Tout était fonctionnel et bien agencé. Nos hôtes étaient toujours disponibles pour nous conseiller avec beaucoup d attentions amicales. Je conseille leur maison sans hésiter !
Cécilia
2016-10-09T00:00:00Z
Nous avons été reçu par les parents de Jean-Christophe qui habitent juste à côté. L'accueil a été remarquable ! Un couple très chaleureux, très serviable et très accessible tout en discrétion. Ils nous ont fait goûter quelques spécialités délicieuses et nous les en remercions chaleureusement. L'endroit est un peu en retrait dans l'île mais c'est ce qui fait son charme. Un site magnifique face à un golf et face à la mer, sans trop de touristes... que demander de plus ? L'endroit idéal pour passer quelques jours de repos en famille.
Emmanuel
2016-12-29T00:00:00Z
Kamertype
Gehele woning/appartement
---
Type woning
Huis
---
Geschikt voor
8
---
Slaapkamers
Le Morne, Black River, Mauritius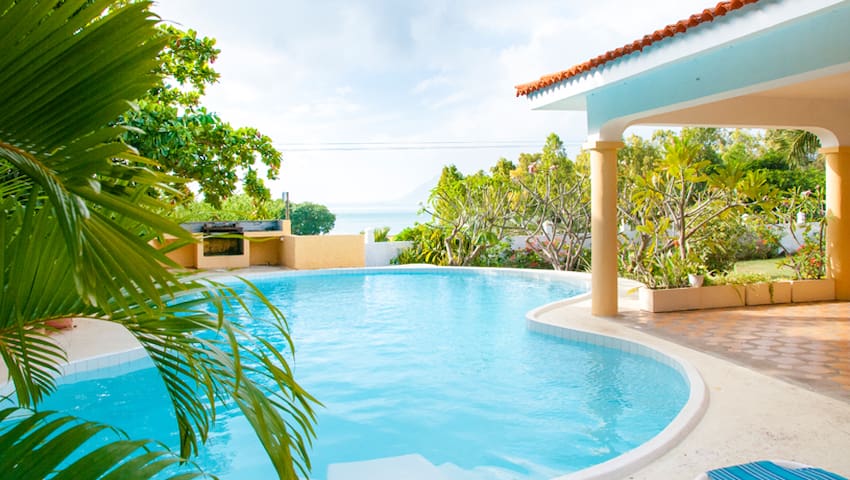 Villa at the foot of Le Morne (Unesco heritage site) overlooking the south-west lagoon magical sunsets. Close vicinity to Kite-Surf paradise, prestigious hotels, Golf courses, diving centers big game fishing & horse-riding. You will appreciate the villa for its magnificent views on the lagoon and mountain, pristine sunsets, huge outdoor living areas, private pool, BBQ corner, tropical garden and proximity to kite-surf paradise. The villa is equipped to sleep young children too.
The villa maximizes the space for outdoor life with a huge terrasse, an outdoor dining room, a BBQ corner, a private swimming pool and a tropical garden. The 3 bedrooms, each with its own en-suite bathroom are spacious and comfortable. The villa also features a large & well-equipped kitchen, lounge & TV corner, in-door & outdoor dining room, private swimming pool, BBQ corner, 2 car ports and an entrance gate.
The villa is located at the heart of a secluded and tranquil residential area where you will have an ideal setting to relax outdoors. The spectacular public beach of Le Morne is located just 3 mins away by car. The site of Le Morne is a world heritage Unesco site. On the other side of the mountain a steep footpath climbs to 'the Cross' view point, which overlooks the lagoon at 300mts. Kite Beach with its many famous kite-surf schools is just 5 mins away. The Paradis golf course is just round the corned and several other courses are easily accessible by car. Several prestigious hotels are located along the beach front providing exciting water-sports & entertainment opportunities & exquisite cuisinne. (prior arrangements with management and advance reservations needed). The 'Haras du Morne' also just round the corner provides exciting horse riding sessions. The South-West coast of Mauritius provides an overwhelming number of activities such as big game fishing, dolphin excursions, scuba-diving, sea kart excursions, catamaran day trips, snorkelling on the reefs. Go for a walk along the Black River Gorges National Park foot paths, experience hindu spiritual moments at Grand Bassin hindu temple, visit the Chamarel tourist area and drive on the wild south coastal road for a picture safari experience....enjoy the sun !
Kamertype
Gehele woning/appartement
---
Type woning
Villa
---
Geschikt voor
6
---
Slaapkamers
Le Morne Brabant, Rivière Noire District, Mauritius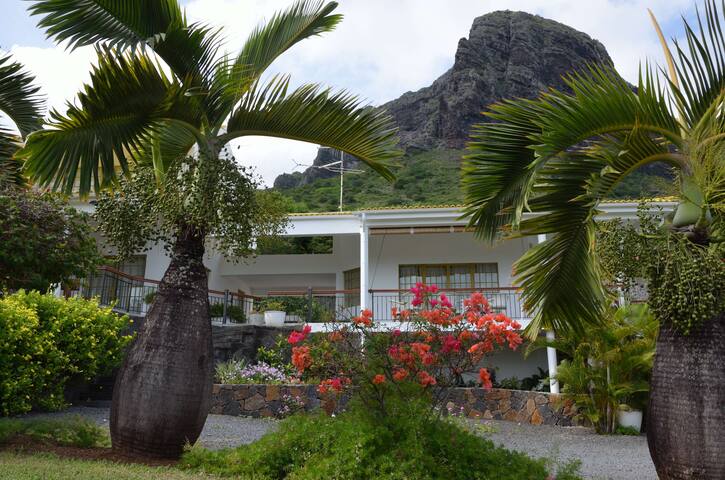 Appartement au Morne dans village avec 2chambres. 1 parentale et 1 chambre avec 2 lits et lit bébé Cuisine équipée ouverte sur grand salon avec balcon Tv câblée, internet. Grande SDB avec douche et baignoire. Proche école Surf. Cuisine et ménage possible en supplément à régler sur place.
L'ambiance mauricienne typique. Les promenades le long de l'océan indien
The host canceled this reservation 82 days before arrival. This is an automated posting.
José
2015-10-01T00:00:00Z
Our first time im Mauritius and it was wonderfull! The Apartment was really nice and had everything in it, that you need! The tv had also english chanells, which was really nice for the evening :) Valerie herself wasn't there, but her family lifes right downstairs and took GREAT care of us! The only thing might be that even the house is right on the water its more like for Kite-Surfing... If you want to go to a beach and sunbath you have to go by bus couple of Station, which was fine for us :)
Alwina
2015-11-09T00:00:00Z
Kamertype
Gehele woning/appartement
---
Type woning
Huis
---
Geschikt voor
4
---
Slaapkamers
Le Morne Village, Rivière Noire, Mauritius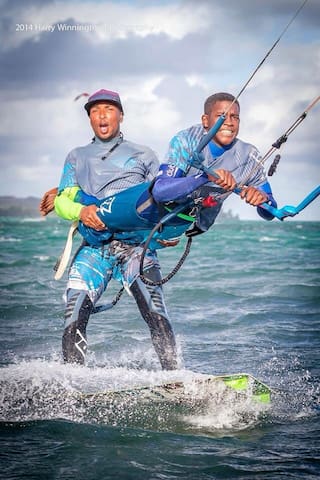 Situated at La Gaulette in a very peaceful and quiet environment - this 2017 complex is comprised of 4 fully equipped, modern and independent studios with breath taking views over the mountains and the ocean. Each studio has its own terrace with view. The roof top is a common area and is comprised of a jacuzzi and bbq area. Property is gated and under 24/7 CCTV surveillance. Free wifi and house keeping is provided. Free parking and a secured storage area is also available to all guests.
The property is situated in a very quiet place. You will enjoy the calm environment. No sound of vehicles and dogs barking to disrupt your sleep.
The property is situated in a very quiet and safe place. You will enjoy the calm environment. No sound of vehicles and dogs barking!! There are several similar rented property in the vicinity. One Restaurant is within walking distance (one minute) of the property. Other Restaurants are found in the shopping complex situated 5 minutes drive away. A UNESCO heritage cultural space is found within 5 minutes drive. Le Morne beach one of among the best in the world is also 5 minutes drive.
Kamertype
Gehele woning/appartement
---
Type woning
Appartement
---
Geschikt voor
2
---
Slaapkamers
La Gaulette, Rivière Noire District, Mauritius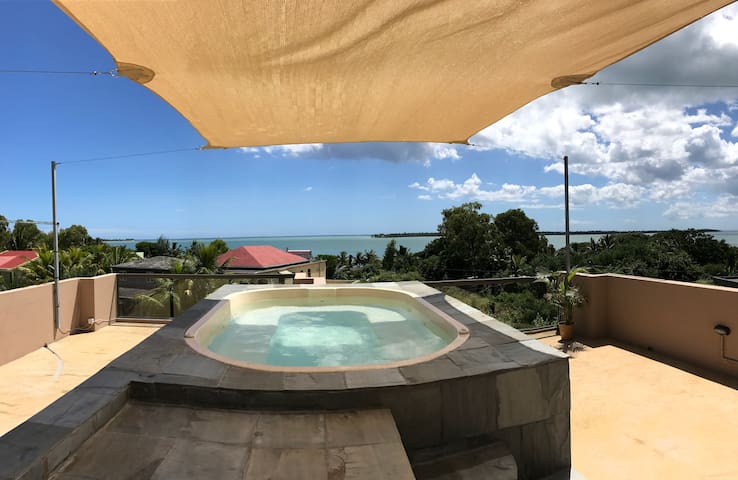 Slechts een paar minuten van de prachtige Le Morne strand, dit comfortabele, moderne en recent gebouwde een slaapkamer studio is gelegen in een privé-gebied. Supermarkten en restaurants liggen net om de hoek, en er zijn 2 studio's die naast elkaar, die ook geweldig voor een groep boeking kan zijn. De winderige kant van Le Morne strand staat bekend als een van de beste windsurfen en kitesurfen plekken in de wereld te zijn. Als je een golfer bent, zijn er drie golfbanen rond dit gebied!
Geschikt voor alle gasten op zoek naar het comfort van een hotelkamer voor veel goedkoper! Wij kunnen ook zorgen voor een gratis extra matras voor kinderen tot 12 jaar oud.
Coteau Raffin is een hele lieve badplaats naast La Gaulette en u zult genieten van de rustige omgeving en de vriendelijkheid van de lokale bevolking in het gebied verblijft.
An amazing holiday and a nice place to stay. I would definitely stay with kit again. The pictures reflect correctly the modern and high standard of the studio. The location is great and easy to go by car from there to any part of the western coast. No negative comments whatsoever .
Edgar Yves
2017-02-16T00:00:00Z
Amazing studio in an nice location. Kit was awesome, really helpful in all the contacts we have. The studio is very comfortable (good wifi, kitchen, bed, bathroom and garden). Stays in the wildest part of the island, the beautiful Le Morne. Near to a big supermarket and local fruit vendors. Is really close to a nice (5m walking) restaurant which serves delicious food. If you have bicycle, you can reach one of the most beautiful beaches of the island (Le Morne public beach) and his beautiful sunset (about 15minutes flat path). You can also do trekking to the top of Le Morne. Kit is really helpful to give informations and all kind of contacts. Near there you can go to see the Dolphins (Excursions depart from Grand Riviere Noire). I really suggest you to go there. Had a blast there.
André
2017-02-28T00:00:00Z
Diese kleine Unterkunft hat alles was man zu zweit so braucht. Von la gaulette aus hat man mit le morne einen zauberhaften Strand fast vor der Tür. (Mit dem Auto ca. 7min.) Außerdem kommt man vom Studio aus gut und schnell überall hin und kann die Insel super erkunden. Kit kann einem bei vielem behilflich sein und ist über (SENSITIVE CONTENTS HIDDEN) immer gut erreichbar. Die Unterkunft liegt nahe der Hauptstraße, welche man aber nicht viel hört. Bei den Nachbarn im Ort läuft schon mal laut Musik aber an sonsten und wenn man eh viel unterwegs ist, ist es eine kleine schöne Ecke. Das zweite Studio ist genau neben an, wovon man aber nichts hört oder mitbekommt. Selbst auf der terasse hört man durch die versetze Bauweise kaum etwas. A shortform in english. ;) The studio is just perfect if you want to travel around the Island. It is close to the best beach at le morne, which is 7 minuites away by car. You can call or (SENSITIVE CONTENTS HIDDEN) to Kit and he will allways help you. The second Studio is just next to yours but you don't hear anything. It was a pleasure to stay at Kits Studio! Thanks!
Anni
2017-01-14T00:00:00Z
Kit provides accommodation in a new studio in a small village near the beautiful beach of Le Morne. The equipment is new and provides everything they need two people during the holiday: kitchenette with equipment (dishes, 2 gas-cooker, ovens, microwave, kettle, fridge with freezer), bathroom with shower and toilet, in the room are: the double bed, wardrobe and 2 armchairs, further there is a terrace with dining table and a small garden. Next is small room for laundry with washing machine. After fine-tune a few details of the studio equipment, it will be the perfect place for relax. Thanks very nice and pleasant person Kit we had 2 beautiful weeks on Mauritius. Kit took care of us well: provide transport from/to the airport, rent a car, bought the local SIM card for us, take care of when we had a puncture on the tire…... He advised us to interesting destinations in this beautiful island. Thank you for everything, Kit.
Jan
2017-01-30T00:00:00Z
We thoroughly enjoyed our stay at Summerdays studio!! It was simple, really clean, affordable and in a quiet and serene area. Kit was friendly, kind and helpful. Our only regret is that we didn't stay there longer. We highly recommend staying there.
Letitia
2017-02-23T00:00:00Z
On arrival in Mauritius was already provided for everything. I have rarely felt so safe. Kit has catered for everything and made for a very relaxing holiday. Thanks again, everything was just super. The accommodation was modern and clean. The kitchen was well equipped and the supermarket was almost around the corner. All in all tip topp. Price performance is outstanding. A rental car is however absolutely necessary.
Wolfgang
2017-03-08T00:00:00Z
Kamertype
Gehele woning/appartement
---
Type woning
Appartement
---
Geschikt voor
2
---
Slaapkamers
Coteau Raffin, Rivière Noire, Mauritius
Unsere kleine und charmante neu Creole gebaut Stil Doppelhaus befindet sich in der authentischen und schönen Fischerdorf von Le Morne Village mit direktem Zugang zum Strand nur über die Küstenstraße vor dem Haus befindet. Großer Wert wurde auf die Erfüllung ökologischer Aspekte in der Designphase gelegt. Ein Beispiel dafür ist die Installation einer Solaranlage zur Warmwasserbereitung für Küche, Bad und Waschmaschine. Das Haus besteht aus zwei Wasserabfallkreisläufe mit zwei biologischen Kläranlagen, eine für Speisefette aus der Küche und eine für Sanitär wast Wasser. Jede Wohnung ist eine Maisonette Maisonette, die obere Etage verfügt über zwei Schlafzimmer und ein separates Bad. Ein Schlafzimmer ist mit einem Kingsize-Bett und Meerblick ausgestattet, während das zweite Schlafzimmer mit zwei Einzelbetten und Blick auf die Berge ausgestattet. Sie finden den geräumigen Wohn- / Esszimmer, Bad und Küche im Erdgeschoss, wo sich auch für Tür Speise ein Patio ist. Infrastruktur: Le Morne Village ist abseits der ausgetretenen Pfade, also ist es ein Ort, um das Gefühl der Creole Seele und die ursprüngliche Art zu leben auf der Insel zu entdecken. Das Haus in einem mauritischen Fischerdorf gelegen - dies bedeutet, dass Sie die normalen Geräusche des täglichen Lebens im Dorf also Musik hören können, unter der Badewanne singen, akustische Gitarre und Bongos spielen, Kinder usw. An den Wochenenden Parteien werden manchmal auf den gehaltenen Strand oder an den Häusern der Menschen. Manchmal jedoch ist die Ruhe nur durch glückliche Kinder unterbrochen mit Mutter gestohlen Vorhänge spielen - verwendet als Segel auf einem alten Surfbrett, die riesige Lagune von Le Morne zu entdecken. Sie finden den nächstgelegenen Supermarkt im Nachbarort La Gaulette, ca. 8 Minuten mit dem Auto. Lebensmittel, lokale Gerichte und Getränke können in der Snack-Shop direkt neben der Hütte gekauft werden. Wenn Sie ein Meeresfrüchte vom Grill auf der Terrasse zu haben möchten, können Sie am Strand frischen Fisch und andere Meeresfrüchte von den Fischern kaufen direkt gegenüber von der Hütte. Es gibt eine Bushaltestelle nahe der Hütte, aber wir empfehlen, auf der Insel einen Mietwagen für eine bessere Mobilität während Ihres Aufenthalts. Der Surfspot: Die beste Reisezeit auf der Insel für das Surfen ist von Mai bis Oktober, in diesem Winter auf Mauritius ist (22-25 Grad), und Sie haben zuverlässige Winde. Midsummer ist von Dezember bis Februar, toller Strand Wetter mit rund 30 Grad, aber Windverhältnisse ändern sich! Sie finden alles, was das Herz eines Surfer macht höher schlagen: Flachwasser, und einem flachen Bereich, direkt vor dem Haus und nicht überfüllt. Nach einer Vorwind Reise von 10 Minuten können Sie Wellen für Anfänger (wenig Riff), Wellen für Fortgeschrittene (manawa) und Experten Wellen (ein Auge) zu finden. Je nach Windrichtung Surfen und Kite-Surfen ist möglich, direkt von der Haustür.
Het cottage is perfect voor als je met de locale mensen wilt mengen, of als je komt om te kiten. Voor bezoek aan andere plaatsen heb je wel een auto nodig, maar ook dat kan door Frederic worden geregeld.
john
2016-11-13T00:00:00Z
The host canceled this reservation 70 days before arrival. This is an automated posting.
Susanne
2017-01-04T00:00:00Z
Unser Aufenthalt in den Beach Cottages war wunderbar. Frederic hat bereits im Vorfeld all unsre Fragen super gut beantwortet, hat dafür gesorgt, dass wir vom Flughafen abgeholt werden. Das Cottage ist genau so wie beschrieben, ein wunderbares Apartment mitten in dem kleinen Ort Le Morne. Frederic hat uns auch sehr geholfen, in dem er uns mit David Larusee - einem sehr guten Kitelehrer in Kontakt gebracht hat. Wir kommen gern wieder!
Katharina
2014-10-25T00:00:00Z
This was a lovely place to stay, perfect location to learn to kitesurf. Frederic and his family are excellent hosts and made it easy for us to get all the things we needed. From the moment we arrived we felt welcome in Le Morne Village. Highly recommend.
Jojo
2016-05-24T00:00:00Z
We had a wonderful stay at Frederic's house in Le Morne Vilage. The location is gerat just at the beginning of the village and gives you a taste of real life on Mauritius. We enjoyed to wake up every day with a view on the lagoon. The house is very nice and Frederic & his family took good care of us.
Martin
2015-12-14T00:00:00Z
The host canceled this reservation 106 days before arrival. This is an automated posting.
Stephanie
2016-05-30T00:00:00Z
Great place, nicely furnished, well equipped, clean, very good responses from Frederic on questions, well organized, great for kitesurfers, great value!
Philipp
2013-06-22T00:00:00Z
une belle expérience à maurice!! une belle adresse pour découvrir la vie mauricienne!! le cottage est très bien tenu propre super
Aline
2016-12-15T00:00:00Z
Kamertype
Gehele woning/appartement
---
Type woning
Huis
---
Geschikt voor
4
---
Slaapkamers
Le Morne, Black River, Mauritius
Dit Kamer aanbieding is voor slechts 1 persoon. Het tarief is 29, - Euro. Neem eerst contact met ons, als u graag van deze kamer te boeken voor 2 personen. 2 personen moet het tarief van 41, te betalen - Euro.
Wij bieden particuliere een- en tweepersoonskamers met eigen badkamer en studio's met een volledig uitgeruste keuken in een rustige en gezellige familiale sfeer in een mooi huis omgeven door een weelderige tropische tuin en met toegang tot panoramische patio. Geniet van het uitzicht op de Indische Oceaan en de nabijgelegen bergen en de beroemde Le Morne Brabant, een UNESCO World Heritage We zijn La Reine Creole, een familiebedrijf BnB. Babies / Kids / kinderen zijn welkom!
We leven een gemeenschappelijke mauritiaans omgeving. De omgeving is kalm en rustig. Natuurreservaten zijn in de buurt. Een World Heritage Site ligt op 4 km van ons.
A very beautiful and arty house, with a wonderful garden, a choice of terraces, and a lovely host family.
keith
2015-11-20T00:00:00Z
The house is beautiful and located in very quiet area, room is clean and comfortable, too bad weather was't that nice to have breakfasts in garden. Bus stop is almost opposit the house but the best way to discover south of the Island is rent a car. I want to thank Corinne for all good tips, lovely talks we had and tasty breakafasts and banana cake.
Izabela
2016-07-16T00:00:00Z
Fantastic hoste
Dafna
2017-01-17T00:00:00Z
Bon accueil dans la jolie maison de Marc, Corinne et de leurs enfants. Le secteur de Coteau Raffin (avec quelques petites épiceries) et le village de La Gaulette sont accessibles à pied. Des déplacements en bus sont aussi possibles mais il est peut-être préférable d'avoir une voiture. Merci pour le sympathique séjour.
Marie
2016-02-02T00:00:00Z
Went for surfing and was good experience with la Rene creole for staying , quiet and good to chillout and rest.
Karim
2016-07-23T00:00:00Z
Un super séjour à la Reine Créole, accueil très chaleureux de Marc et sa femme! Une belle case située dans un jardin tropical splendide. Une chambre spacieuse / propre et bien amménagée .Un petit déjeuné copieux pour bien attaquer les journées de Kitesurf lors de mon séjour ! Bref je n'ai pas regretté mon choix, vous ne regretterez pas non plus :)
Nolwen
2015-09-04T00:00:00Z
enjoyed my 3 weeks at la reine creole immensely. hosts corinne and eleana took me in almost as a member of their family and made my first visit to mauritius unforgetable. description and pictures are not only accurate but in reality even more beautiful. no wonder they host so many repeaters - i will certeinly become one of them.
Erich
2015-07-01T00:00:00Z
I stayed at Marc's for almost two weeks and loved it. He and his wife were super nice and caring hosts. The room is completely independent and has access to another area that connects to the terrace, which in practice nobody else uses. Two birds will come and visit you in the morning during breakfast and will appreciate a small fruit donation. The entire house is tastefully decorated with very well-maintained gardens. Two turtles live in part of the garden. It's a quiet and peaceful place. I came for kitesurfing, and this turned out to be the perfect place to stay in order to access the top-notch "one eye" spot (as well as others) on Le Morne. The accommodation is located in La Gaulette, which is the closest town to Le Morne and most kiters stay around here. Le Morne is a few kilometers away - a beautiful ride - but you will need a car (or scooter), which you will be able to rent from Marc. La Gaulette also has a big supermarket (1.5 km away), 5 kiteshops and a few restaurants. A bigger town (Black River / Tamarin) is about 10km away and it has more on offer. I would highly recommend staying here - it was a great time and the comfort of this accommodation and friendly hosts certainly contributed towards that.
Filip
2016-06-15T00:00:00Z
Kamertype
Privé Kamer
---
Type woning
Bed & Breakfast
---
Geschikt voor
1
---
Slaapkamers
La Gaulette / Coteau Raffin, Rivière Noire, Mauritius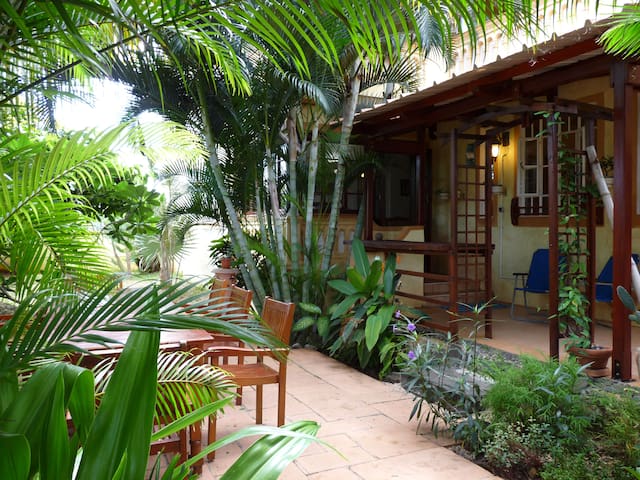 Bungalow with pool ,special place for sun bath,situated near Le Morne mountain ,not far away from Le Morne Plage & Le Morne aquatic leisure seaside
Kamertype
Gehele woning/appartement
---
Type woning
Villa
---
Geschikt voor
6
---
Slaapkamers
Tamarin, Rivière Noire District, Mauritius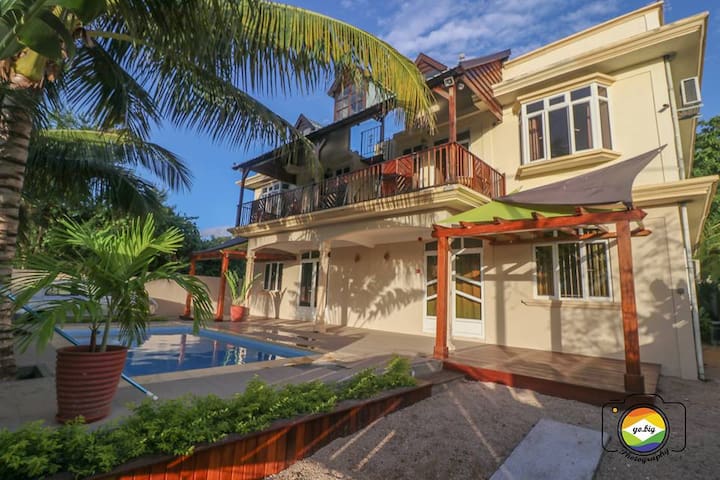 suite room for rent in a creole style home, overlooking the lagoon in an authentic fishing village on the south west coast of Mauritius. Deguster possibilities of fresh fish of the day that will accommodate the head has the typical Mauritian sauce in a friendly atmosphere. The room and breakfast 38 Eur and possibility of meals Menu Eur 20 per person. The room has a double bed and a single bed and a small private bathroom.
An authentic experience of village life - see the "real" Mauritius and the simple way of life. Staying in a nice room but with no air-conditioning. There is no beach for swimming, but a very nice view of the sea. A one hour walk takes you to the kite-surfing spot and the white beaches of Le Mourne. You will be hosted by a five star cook with an excellent sense of humor - trying his three course menu is a must have. You can eat there even if you don't stay there, if you let him know in advance. Best dinner during our holiday on Mauritius.
Gabriella
2016-01-06T00:00:00Z
Accueil chaleureux et cuisine succulente. Merci pour ces bons moments en toute simplicité!
emilie
2015-10-03T00:00:00Z
Plein centre d'un village très bruyant, aboiement de chiens permanent, voisinage, route très passante
Jean-Yves
2016-11-29T00:00:00Z
The host canceled this reservation 5 days before arrival. This is an automated posting.
Vincent
2016-11-01T00:00:00Z
Situé à proximité du morne. Un bon rapport qualité prix et une table d hôte que je recommande
Maxime
2016-11-17T00:00:00Z
Le nom du logis porte bien son nom, vous aurez le loisir de déguster votre petit déj, face à la mer. C'est superbe. Maison très jolie, avec du caractère, aérée, terrasse très agréable. José est un hôte avec qui nous avons été très à l'aise, un ti'punch coco après 3h de bus nous a remis en forme,nous avons passé des soirées vraiment excellentes. Il cuisine divinement bien, nous nous sommes régalés. Ce coin de l'île Maurice est magnifique et relativement préservé du tourisme de masse. En 45 minutes à pieds, il y a une plage-ou spot pour le kitesurf. Je conseille fortement ce logement et j'y retournerai j'espère bientôt avec grand plaisir et les yeux fermés. Merci José.
Hélène
2015-11-08T00:00:00Z
Nous avons été admirablement accueillis par un punch maison plutôt exceptionnel, comme l'ensemble de la cuisine de notre hôte qui vaut clairement le détour. José a été formé à l'Ecole Hôtelière de Paris et a travaillé pendant 30 ans dans des brasseries parisiennes prestigieuses. Il propose aujourd'hui une cuisine mauricienne raffinée composée de produits de la mer pêchés du jour par les pêcheurs du Morne et préparée avec maîtrise et créativité. Le quartier est populaire, à 1000 lieux de l'ambiance des hôtels de luxe situés de l'autre côté de la baie. Une ballade à pied de 30-40 minutes le long de la plage nous amène chaque jour au spot de kitesurf du Morne. A recommander absolument aux gourmets désireux de vivre une expérience mauricienne authentique sans s'éloigner du spot du Morne.
Pablo
2015-06-09T00:00:00Z
J'ai passé un très agréable séjour dans la belle maison de José. Sa cuisine est incroyable, et sa terrasse face à la mer est parfaite pour passé une soirée tranquille.
Cyntia
2016-01-01T00:00:00Z
Kamertype
Privé Kamer
---
Type woning
Bed & Breakfast
---
Geschikt voor
2
---
Slaapkamers
Le Morne, Black River, Mauritius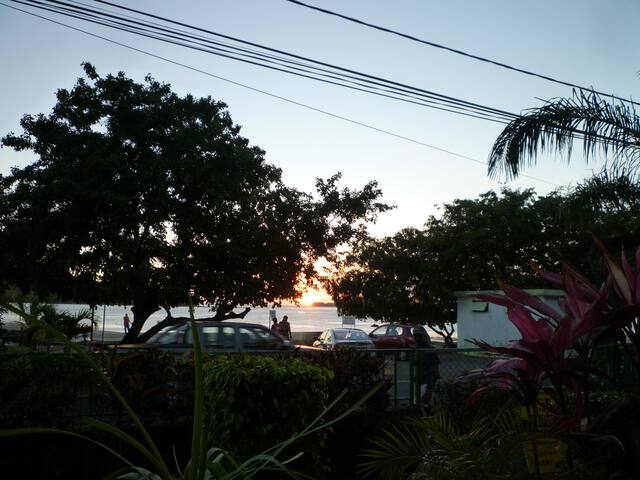 1253sqm of beachfront indulgence! Two bedrooms with private en suites and plunge pools, additional 64sqm infinity pool, dining room for 12 guests, two living rooms, outdoor bar, private gym & sauna, kitchen, and dedicated Butler Team.
Kamertype
Gehele woning/appartement
---
Type woning
Villa
---
Geschikt voor
4
---
Slaapkamers
Le Morne, Black River, Mauritius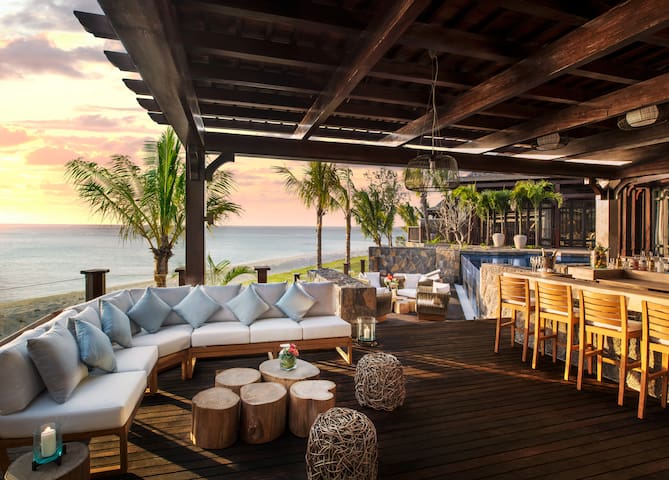 The apartment is found just opposite the sea. With a direct view on the sea from the terrace.
Kamertype
Gehele woning/appartement
---
Type woning
Appartement
---
Geschikt voor
4
---
Slaapkamers
Port Louis, Port Louis District, Mauritius
Looking for a peaceful holiday...Don't wait and book now for a complete furnished villa with 2 main bedrooms (additional one for kids), 2 bathrooms with bath tubs and Jacuzzi.. Modern kitchen, dining and living room with view on pool and mountains..
Modern with a mixture of rustic design in the middle of mountain views and also easy access to shops, restaurants, hotels and beautiful white sand beaches For fan of kite surf, you are in the right place!!!
Alles was top geregeld, we waren zelfs iets vergeten wat later nog is achterna gestuurd
wichard
2016-08-10T00:00:00Z
We've stayed at the house for two weeks and it was great! Anjeny and her family are very nice people, always replying to messages and offering help. The house is exactly like on the pictures, spacious, clean, very nice. The location is awesome for kite surfing, hiking and in a good distance to nice beaches. The pool is big and very refreshing during the very hot mornings. I can highly recommend Anjeny'a place!:) Thanks for having us!
Tomasz
2017-01-23T00:00:00Z
jolie maison, avec une belle piscine agréable, deux belles salles de bain dont une très grande avec jacuzzi, quartier pavillonnaire calme. Environnement calme.
Anthony
2016-12-25T00:00:00Z
We spent a good week in La Gaulette. The house was clean, quite big and the outside was also nice. The swimming pool was a bit cold but in september it seems normal. Someone was waiting for us and could help us if we had any issue. Anjeny is available and took some Time to be sure that we were well installed. A supermarket is just near the house, 3 min walk. You have to take the car to reach the beaches (north near flic en flac, or south near le Morne). Enjoy Mauritius !!!
Jessica
2016-09-30T00:00:00Z
die Unterkunft ist großzügig, schöner Pool und sicher. Alles perfekt für einen entspannten Urlaub. Das Preis/Leistungsverhältnis passt und alles notwendige findet man in der Umgebung (Supermarkt, Restaurants). Es empfiehlt sich ein Mietauro zu nehmen, denn man ist somit in 10 Minuten an einem sehr schönen Strand (le Mourne) und kann die Aktivitäten der Insel erkunden. Wunderbare Gastgeber, die mit Rat und Tat zur Verfügung stehen. Es ist ob man bei Freunden auf Besuch ist. ******* The accomodation is very spacious, has a big pool and safe environment. All is perfect for a relaxing holiday. The Price/service is absolutey okay and all necessary things you'll find near by (supermarket, restaurants etc.). It is recommended to take a car to explore the island and drive only 10 minutes to a very nice beach (le Mourne). Great hosts who help with anything you might need. it's like staying with friends.
Thomas
2016-12-08T00:00:00Z
Nous avons adoré notre séjour chez Angeny. La maison est magnifique, la piscine et le jacuzzi sont très appréciables, les alentours sont très calmes. Nous vous remercions, nous avons passé des vacances inoubliables ! Angeny est un hôte très soucieux du confort de ses locataires et c'est une qualité fort appréciable.
Marianne
2016-12-17T00:00:00Z
Calm, confortable and Clean house, close to main sites in la Gaulette. It was Perfect for our 5 days Kite trip in le Morne. I recommand.
Yassine
2016-07-30T00:00:00Z
If you seek comfort, tranquility, privacy, space, cleanliness, good wi-fi, excellent value for money and hospitality in Mauritius this is the perfect house for you! So closed to supermarket, restaurants and kite shop, the villa have everything you need like your home! You don't meet the host but he never leave you alone! If I have to force myself to find something negative, it's almost impossible! Okay, it's no so closed to the beach, but in the island only the resorts are just two steps from the ocean! But if you want enjoy Mauritius still need a car!
Cristina
2016-08-25T00:00:00Z
Kamertype
Gehele woning/appartement
---
Type woning
Huis
---
Geschikt voor
6
---
Slaapkamers
La Gaulette, Black River, Mauritius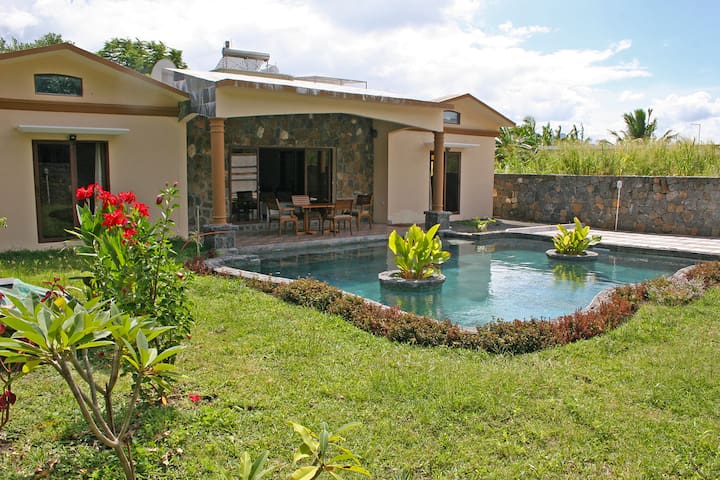 Our Luxurious and comfortable 2 bedrooms villa is situated on the hillside of the La Gaulette village. It comfortably fits 4 and is located in a calm and safe area, 4 km away from the surf spot of Le Morne.
The travelers will have access to the common area to the parking spaces and the swimming pool and also is provided the possibility to keep their belongings or equipment in the secured store downstairs.
The neighbourhood is calm and serene.
Jay's villa was super nice and comfortable, well equipped, it had everything we needed. The rooms and pool were both very clean. The supermarket was 3 mins away by car, the beach was 15 mins away by car. Jay was so kind that he provided us the bottle of water and juice when we arrived. I can highly recommend to everyone to stay at his villa. Jay, thank you so much again for making us stay.
Yuko
2016-03-10T00:00:00Z
La Gaulette is the surfer's paradise and really close to le Morne (10min by car). We absolutely liked the place, it was super clean, well kept and our hosts were super supportiv. Babyseat, Babybed- we immediately got everything we asked for. There was also a daily housekeeping and our hosts even organised a hairdresser for me. We felt very welcomed and totally recommend the place.
Elisabeth
2015-11-19T00:00:00Z
The perfect place to be on that wonderful island Mauritius. With spectacular view to the sea to make sundowner cocktails, a nice pool, fully equipped kitchen and high level bathrooms and loads of space. Jay and Reshma are wonderful hosts, 100% reliable concerning airport pickup/ car rental/ child seats etc... and were that nice and motivated to help with every little problem. I can only recommend this beautiful accomodation. Thanks again to Reshma and Jay for this dreamful stay in your great villa. Hubsi and Steffi with Paulina and Valentina
Hubertus
2016-08-27T00:00:00Z
Jay and Reshma were perfect hosts. They responded quickly to my booking request, and met me near to the property, to help me find it. Jay provided a good introduction to the property and the area. Gave me some good hiking info on local hills, and then left me to enjoy the villa. The villa itself it beautiful. Great views, great location, and constructed to a high standard. With two king beds it provides comfortable accommodation for four guests. Jay and Reshma were perfect hosts.
Marcus
2016-01-18T00:00:00Z
Nous avons passé 4 nuits, l'appartement est parfait, les photos le reflètent exactement, la literie est de très bonne qualité. La petite piscine est très cosy. Le quartier est calme, un supermarché à proximité. Nous avons réservé une cuisinière pour une soirée, le repas mauricien a été préparé devant nous et c'était très bon. En bref excellent séjour.
Gervais
2017-01-29T00:00:00Z
Logement parfait en termes de confort et situation geographique
Marc
2016-12-22T00:00:00Z
We love the blue pearl villa very much。 The house is very beautiful and is able to see the most beautiful sunset in Mauritius. It's very near the supermarket and the Le Morne. Also jay and his family are very kind and hospitable.
莎
2016-01-03T00:00:00Z
Fantastic stay. Nothing negative to say, very clean, new. I would stay here again without any hesitation.
Mathieu
2017-03-06T00:00:00Z
Kamertype
Gehele woning/appartement
---
Type woning
Villa
---
Geschikt voor
4
---
Slaapkamers
La Gaulette, Black River, Mauritius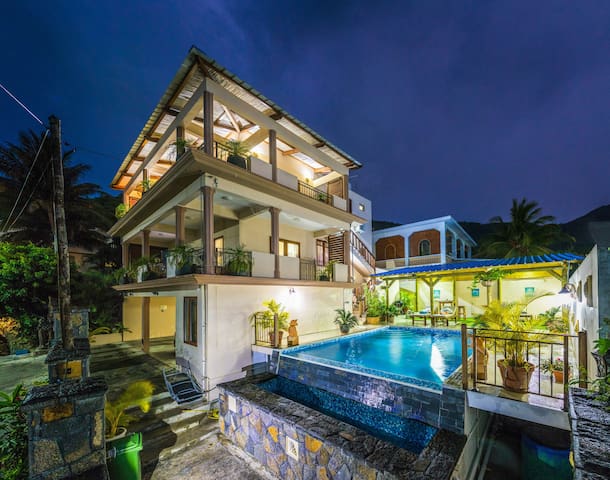 1

–

18

van

150 Accommodaties